Have you ever wondered how to craft a beer pong table yourself? Or are you looking for ideas to create the project at an affordable price? You're lucky to read this blog. In this write-up, we made a list of beer pong table plans you can successfully pull off.
Get ready to host the best drinking game by creating the best beer pong table. Whether you like it personalized and straightforward or you want to express a bold statement, all of our beer pong table plans are simple, fun, and easy to make. Take your pool party to the next level with these 15 Best Beer Pong Table Plans!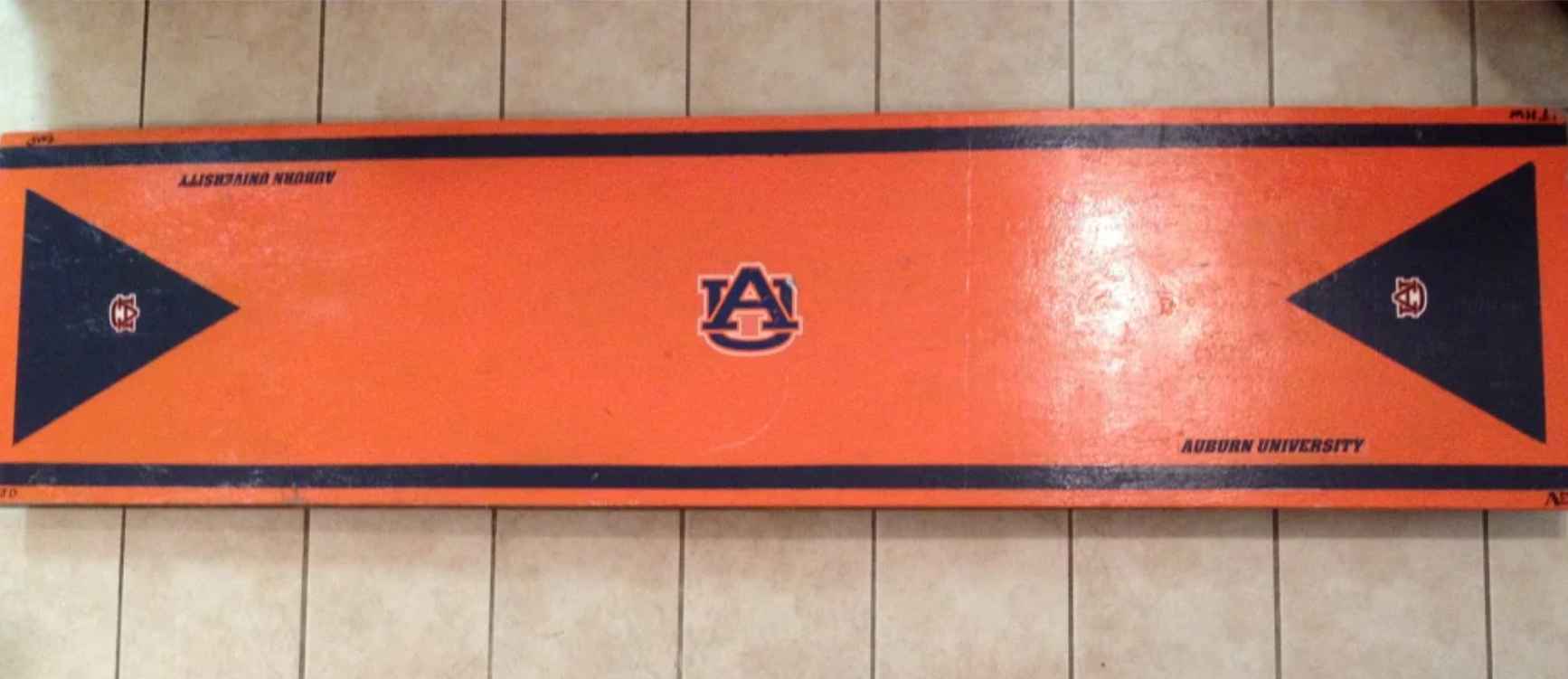 If it's your long-term goal to build a beer pong tabletop, our number one DIY craft got your back. With detailed steps to follow, you'll successfully pull off a collegiate beer pong table you never thought you would have.
For this project, you must keep items in hand: one piece of 8×2 plywood, three paint brushes, sandpaper, tape, white primer paint, a ruler, a black marker, and a can of polyurethane.
Express a bold statement by adding some college decals. So, no stopping you from enjoying the infamous college drinking that came with this DIY Beer Pong Tabletop!
2. DIY Floating Beer Pong Table
Have you ever gone to a summer pool party? You would undoubtedly agree with me when I say that it would never be complete without a drinking game inside the pool. So, in this YouTube video tutorial, Craig Seidl teaches us what to do to have our DIY inflatable or floating beer pong table.
Save yourself a thousand hassle and gather the following materials: 4×8 Foam Insulation Sheet, Zip Ties, Pool Noodles, Beer Pong Cups, Marker, and Beer Pong Cups. Of course, let's not forget the essential thing: cold beers! And yes, this craft might take roughly one hour to assemble. Have your friends come over for help!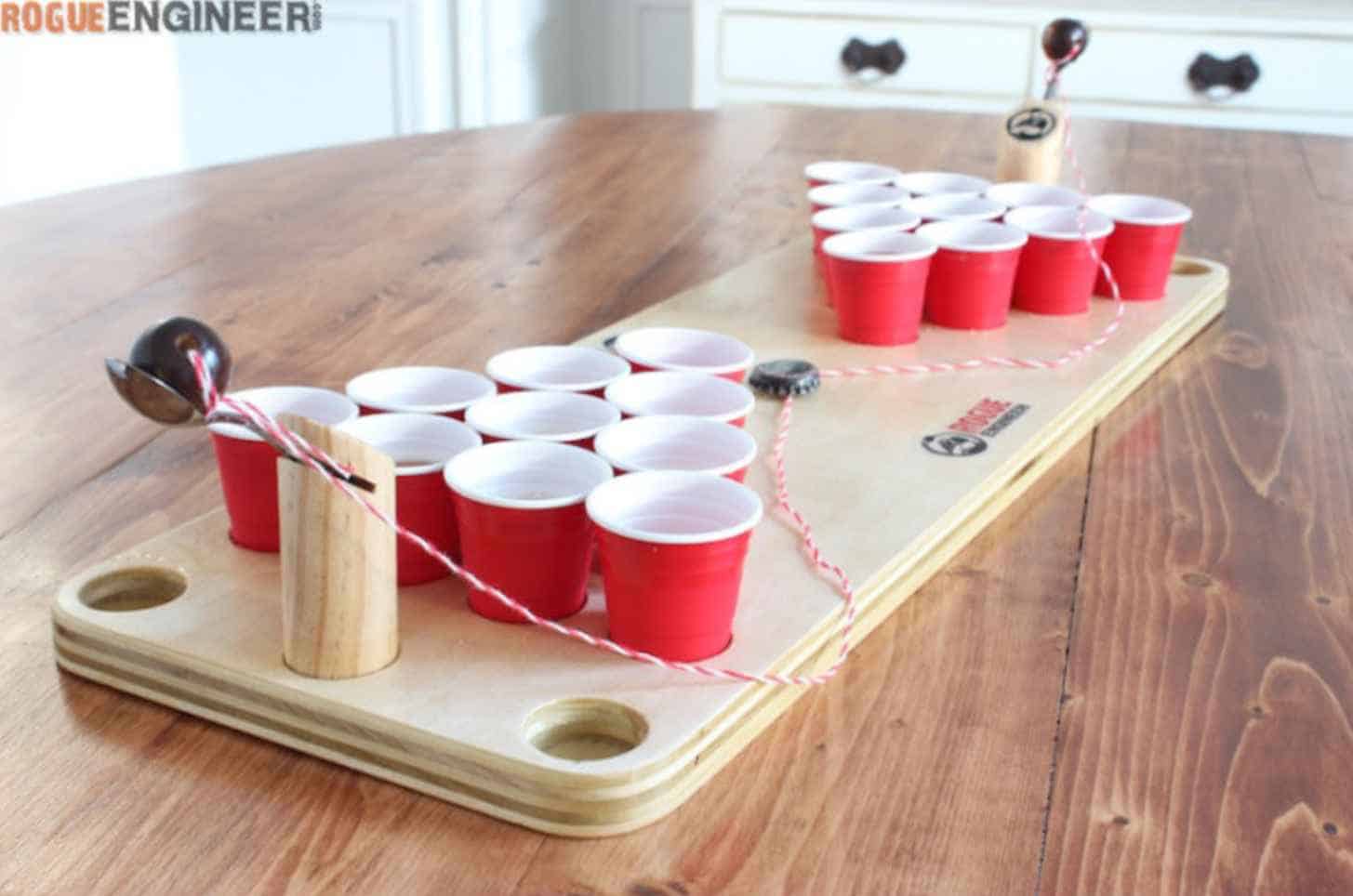 Looking for a craft where you can bring magic to your scrap plywood? You're lucky because this DIY plan holds the perfect project in mind. Let's start with the list of required tools. To make your life easier, prepare this equipment: drill, table saw, safety glasses, pencil, miter saw, Forstner bits, and tape measure.
Take scrap plywood, dowel, tasting spoons, mini red cups, and large wood beads for the materials. Indeed, creativity is limitless with this DIY guide for a miniature version of a beer pong table.
4. Beer Pong Table with Bottlecaps
This DIY beer pong table craft is a one-stop solution for those who want to turn their scrap plywood into a completely new thing! If you have a bunch of bottle caps, you might want to use them for this project. For the list of materials needed, check out this YouTube video guide.
Suppose you're looking for an innovative but simple way to create a DIY beer pong table. In that case, you will never be disappointed with this project. Get ready to host the all-time best drinking game ever with this new-found DIY beer pong table plan!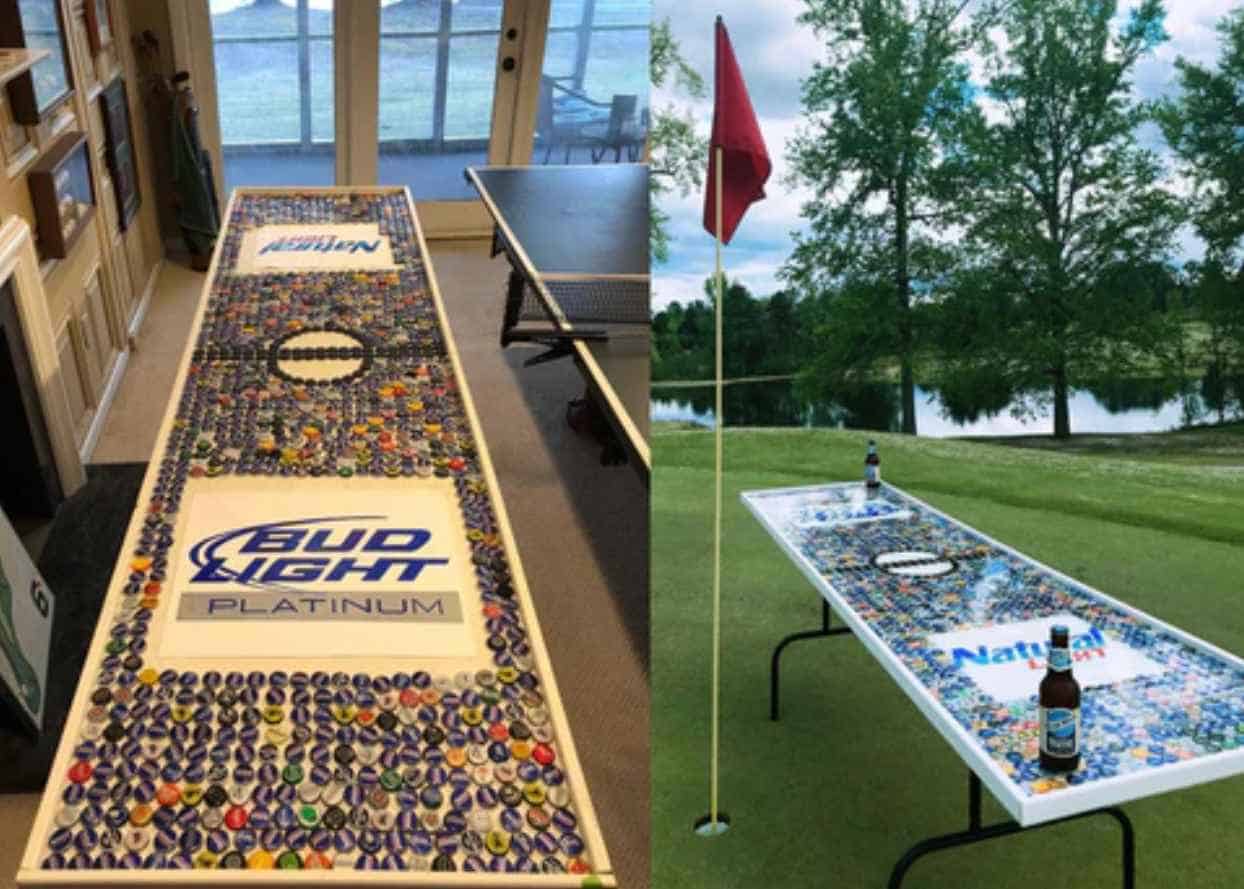 Here's another DIY project where you can bring your lifelong dream of creating your beer pong table to reality. After all, the younger version of ourselves will never be complete without the holy grail project: a perfect beer pong table!
Create the project with epoxy, plywood, and bottle caps. For the complete list, check out this tutorial. Promise, once it's done, I bet you'll love the entire look of the table. Go for this brilliant idea and religiously follow the 19-detailed step-by-step guide!
6. DIY Beer Pong Table (Portable)
Buzz Feed Nifty takes us into a fantastic project of building a beer pong table. Check out these materials: two pieces of 4×4 foot MDF board, white spray paint, chalkboard paint, scissors, wood stain, painter's tape, drill, bolts, and nuts.
Of course, never forget the stencil and spray paint. Brace the summer heat away and take your drinking game to another level with this DIY beer pong table!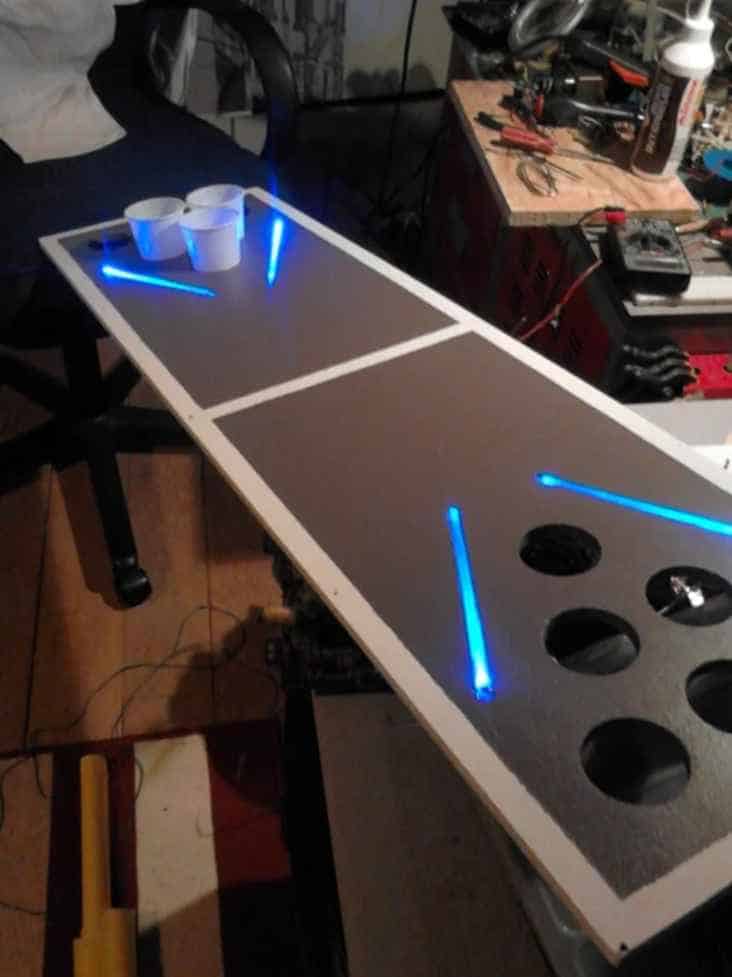 For a drinking game lover, here's a DIY Beer pong table plan that's simple to make but extra special because of the ultra-design LEDs. First, prepare your wooden board. Then, start doing some cutting.
Add a subtle touch of electronics to make it extra beautiful and memorable. But be careful with this step and look closely at the instructions. Lastly, start enhancing the table with coarse white paint. And voila, you can invite friends to come over and have the best drinking game ever!
8. Tiktok Inspired Beer Pong Table
How about turning to some Tiktok ideas to craft a customized paint beer pong table? In this DIY project, there are only a few pieces of stuff to prepare. Bring in some acrylic paint set, outdoor table, final protective finish, and iridescent sealing spray.
Get ready because, with this simple YouTube video tutorial, you can have your brand-new beer pong table yourself. I bet you'll be surprised by the incredibly stunning beer pong table, excellent for drinking pool games!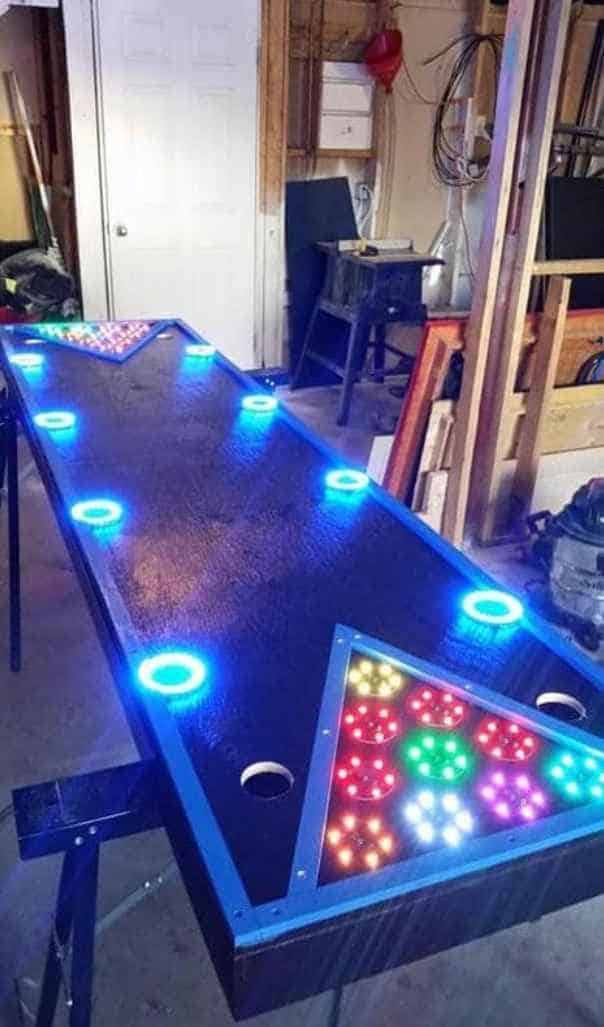 Beer pong is a fun, social activity. So, what better way to start a conversation than making a DIY beer pong table, right? Jumpstart the process by gathering the materials such as a table, ping pong, cups, balls, lights, and batteries. Afterward, assemble the table.
Once it's finally done, place the batteries and switch on the light. This simple craft project is straightforward. And it would not take too much of your time!
10. DIY Beer Pong Table With LED
Here's another DIY beer pong table plan that's simple but fancy and classy at the same time. Promise, once you see the final product, you'll love it for yourself too. Its shiny epoxy coat makes this beer pong table stand out. Plus, it's waterproof too! So, if you like to recreate the traditional beer pong table differently, I highly recommend this craft!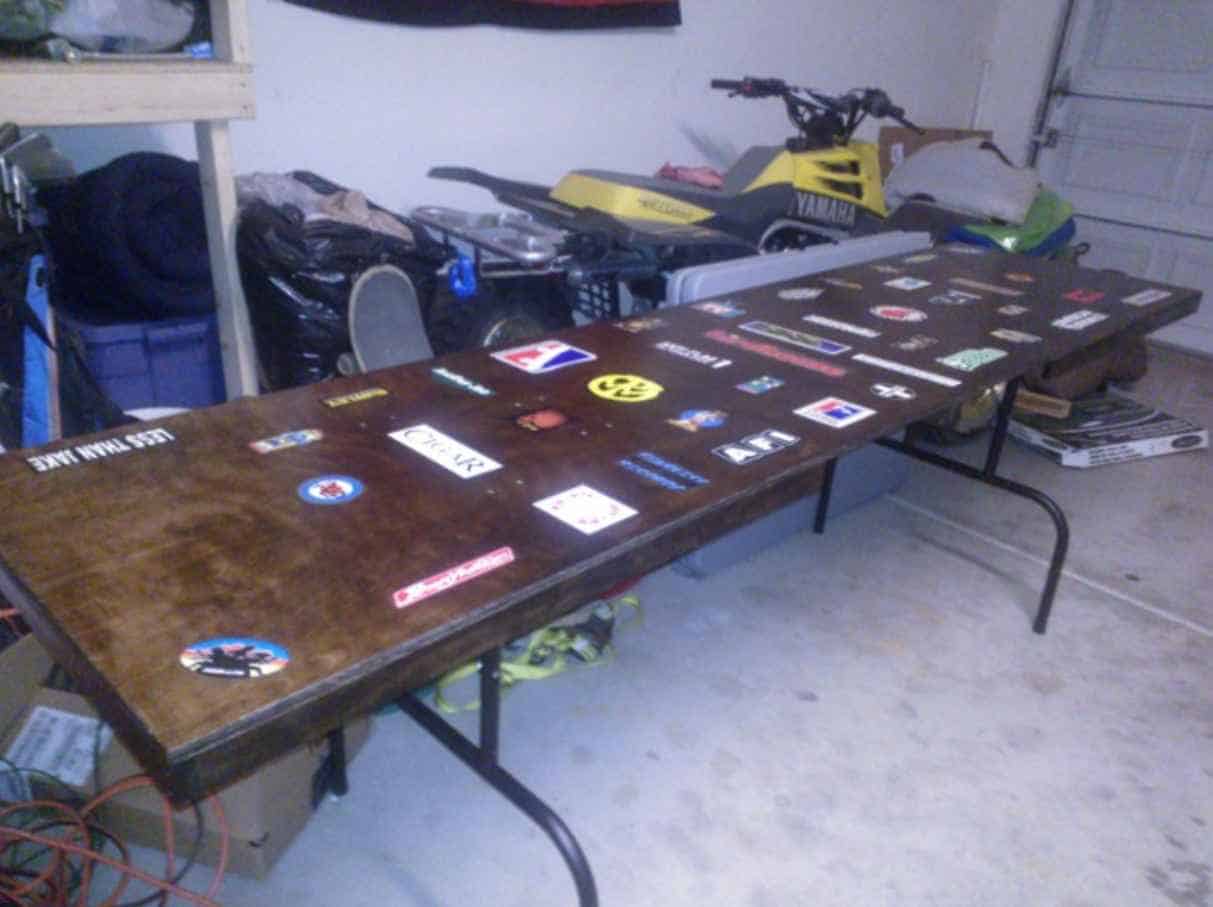 Want to build a beer pong table for the upcoming holidays and family events? Here's a DIY beer pong table plan you can comfortably create at your humble home. What's unique about this DIY craft is all the materials used were pretty basic and cheap. It's available at your local shop.
Buy plywood, wood planks, folding table legs, piano hinge, wood stain and finish, screws, and wood glue. While it may feel complicated on your first try, the final beer pong table is worth the effort!
12. Fantastic Beer Pong Table (Foldable)
Fish Over Chicks Woodworking presents another fantastic way to create a beer pong table. But this time, it has a remarkable effect since it's foldable! Plus, it's a super fun craft to do and have for yourself. So, if you love the vibe of woodworking and looking for a great project to keep you busy for weeks, this DIY craft is the one for you!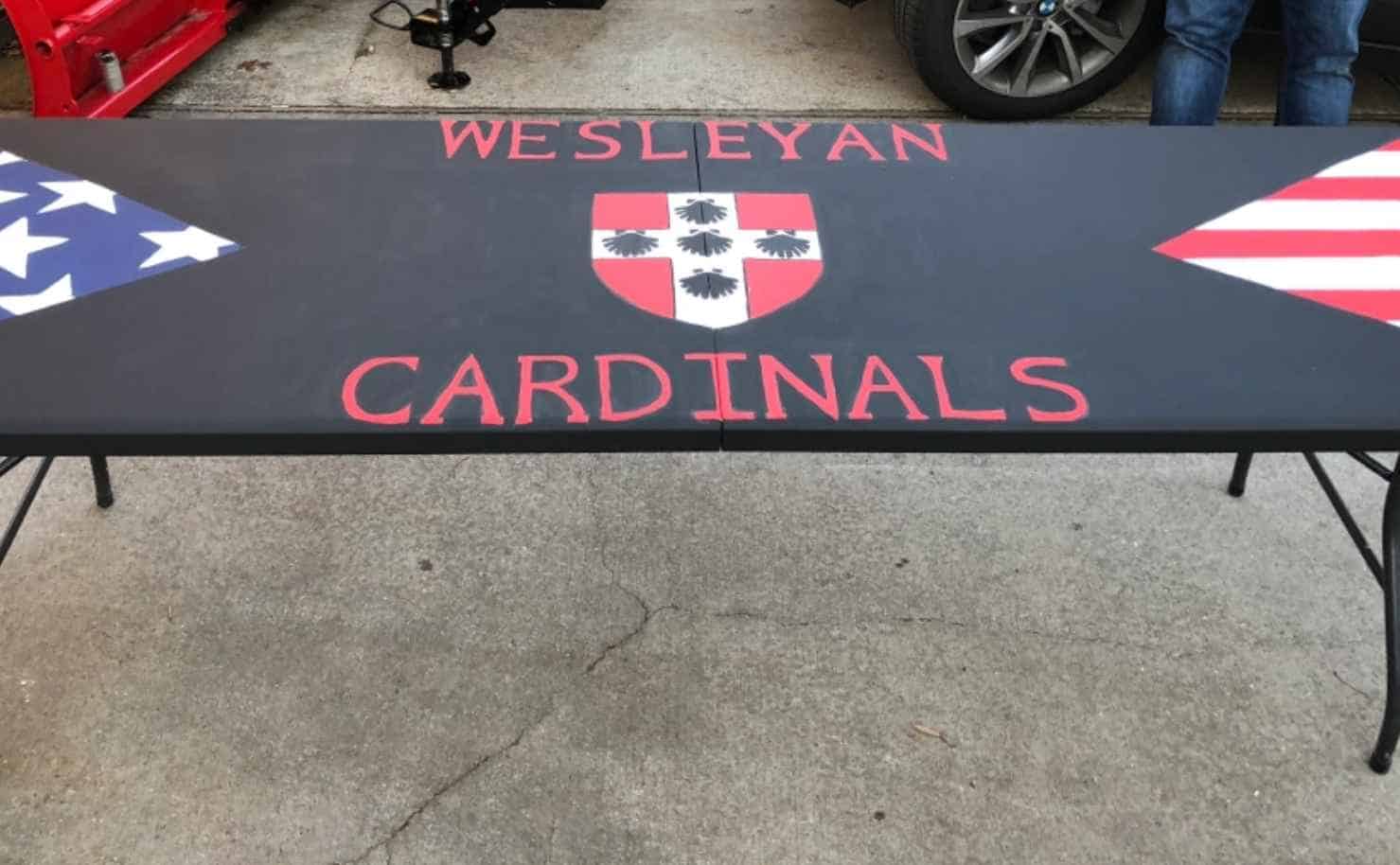 Ace the infamous drinking games by bringing this DIY Custom Beer Pong Table into the light. For this project, here are the supplies you'll need: a folding table, hand sander, fine sanding pads, cans of plastic primer, and acrylic paint in assorted colors.
Gather also paint brushes, masking tape, T-square, tape measure, and rulers. Of course, create this craft with lettering to make it more personalized and to express a bold statement! You'll love it for sure!
14. Beer Pong Table (Painted)
In this YouTube video tutorial, Dorothy Ann Lin offers a simple way to make a customized beer pong table. You'll find this guide in seven parts. First, start the craft by painting the table with a solid white base. Then, put tape around the table's entire rim. Slowly pull the tape from the other side.
Cut off the two different ends and pull all the tape. Give at least two coats over the table entirely. Finally, let it dry! So, watch this video if you're waiting for a straightforward way to make a beer pong table!
No idea what you can do with your scrap bookshelf and ironing board? How about turning that junk into a solid DIY beer pong table? In this craft, gather these four essential materials: ironing board, bookshelf panel, wood screws, and washers.
If you follow the provided detailed instructions, you'll likely make a collapsible table that's easy to open to play and close to the store. So, crack beers, place the cups, and get a beer pong game rolling!
Final Thoughts
Indeed, a beer pong table is a must-have for every drinking game and pool party. You'll definitely need it to spice up a youthful event.
But the fantastic news is you don't have to spend more to acquire the fanciest beer pong table ever. In fact, you can create it magically by considering our 15 Best Beer Pong Table Plans. So, get the beers ready, and don't forget to have a blast!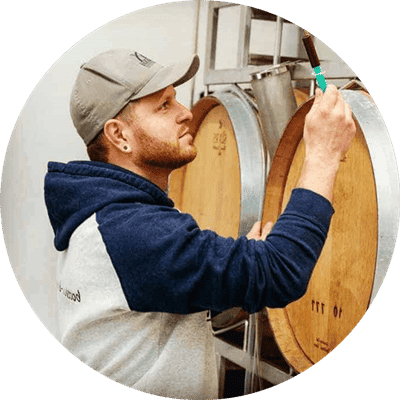 As a homebrewer, Michael would get frustrated about the lack of brewing information on the internet. After hundreds of gallons of spoilt batches, Micheal had enough. And he founded Unknown Brewing as a resource for homebrewers.