If you're in Switzerland, nothing can create an unforgettable visit like a crisp, refreshing pint of beer. The country has a rich drinking culture that creates a pleasant experience for visitors, along with the mesmerizing scenery. So, don't miss these craft beers while in the country.
The largest and most famous breweries in Switzerland are Feldschlösschen and Heineken Switzerland. They produce some of the highest quality beers of various types. Valasanne, Calanda, and Quöllfrisch are equally popular.
Read along for a comprehensive list of popular beer brands in Switzerland. This article offers a detailed rundown of these beers and their taste profiles to help you decide what fits your taste.
Popular Swiss Beer Brands
| | | |
| --- | --- | --- |
| Swiss Beer | Flavor Profile | Alcohol Content |
| Quöllfrisch Helle | Creamy, Rich, Sweet with a slightly bitter aftertaste | 4.8% |
| Valaisanne Lager | Spicy, fruity, malty | 4.8% |
| Namur Express | Carbonated, spicy, biscuity, bready | 6.7% |
| Calanda Brau | Creamy, hoppy, citrusy | 4.8% |
| La Vouivre La Verte | Floral, dry mouthfeel, tea flavors | 6% |
| Père Jakob Blonde Wiener | Grainy, crusty, nutty | 5% |
| Summer Ale by Dr. Bruawolf | Fruity, citrusy, hints of hops | 3.8% |
| Unser Bier Amber | Caramel, grains, sweet | 5.2% |
| Feldschlösschen Original | Grassy, hoppy, grainy | 4.8% |
| Altes Tramdepot Marzen | Toffee, sweet caramel, bread | 5.1% |
| Boxer Old | Malty, creamy, grainy, sweet | 5.2% |
| Eichhof Braugold | Grassy, dry, hoppy | 5.2% |
| Cardinal Bier Blonde | Crisp, malty, grainy, corn | 4.8% |
| Haldengut Lager | Caramel, sweet, light hops | 4.8% |
| Calvinus Amber | Roasted malts, hazelnuts, sweets, caramel | 4.8% |
1. Quöllfrisch Helle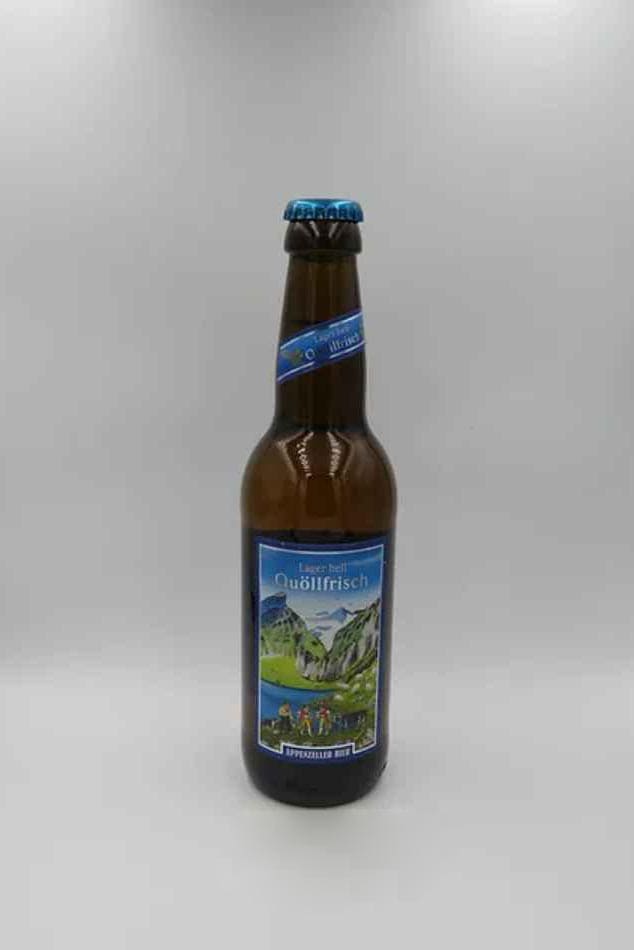 This is a lager made by Appenzeller. It pours clear gold with a 1-inch white head. The grainy and hoppy flavor has a rich mouthfeel. It has a slightly bitter aftertaste. But it's pleasant and refreshing, great for a hot summer day.
The main ingredient in making this lager is pilsner malt. It also contains three hop varieties. They give it a warm, aromatic, and strawy flavor. You can find this beer in 330ml bottles and 10- or 15-bottle packs.
2. La Vouivre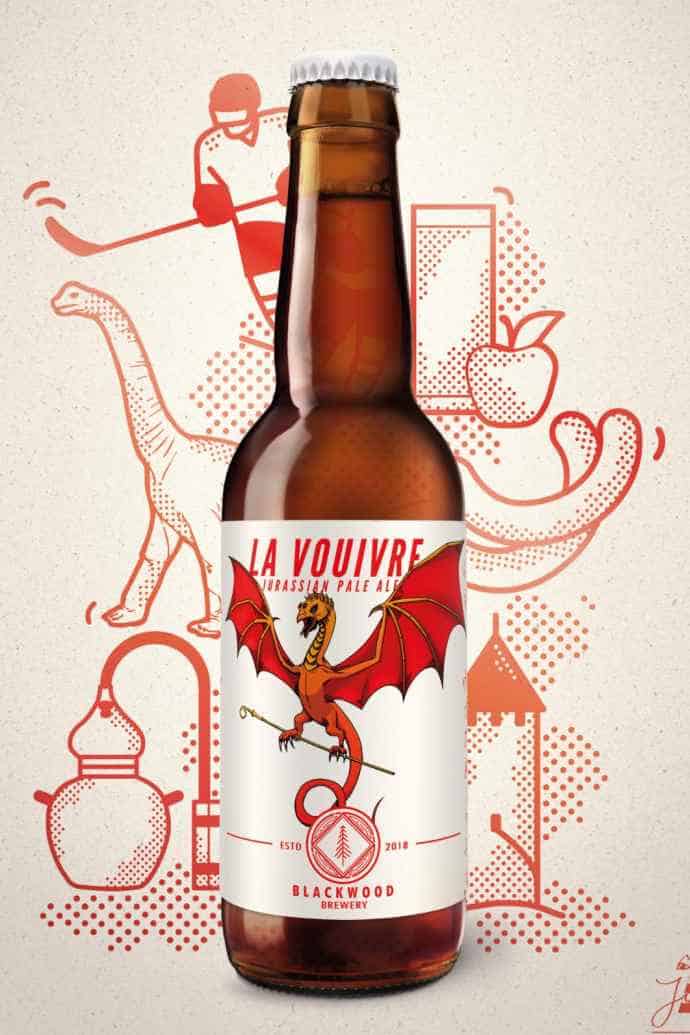 This medium-bodied red ale pours dark amber-to-orange. It has a thin head with mild carbonation. The aroma profile is dominated by flower and tea tones. The mouthfeel is mostly dry, with bitter and slightly fruity tastes.
You can find it bottled and on tap in many Swiss bars. With 6% ABV, it has a pleasant and mild flavor, perfect for barbecues and hot summer days.
3. Valaisanne Lager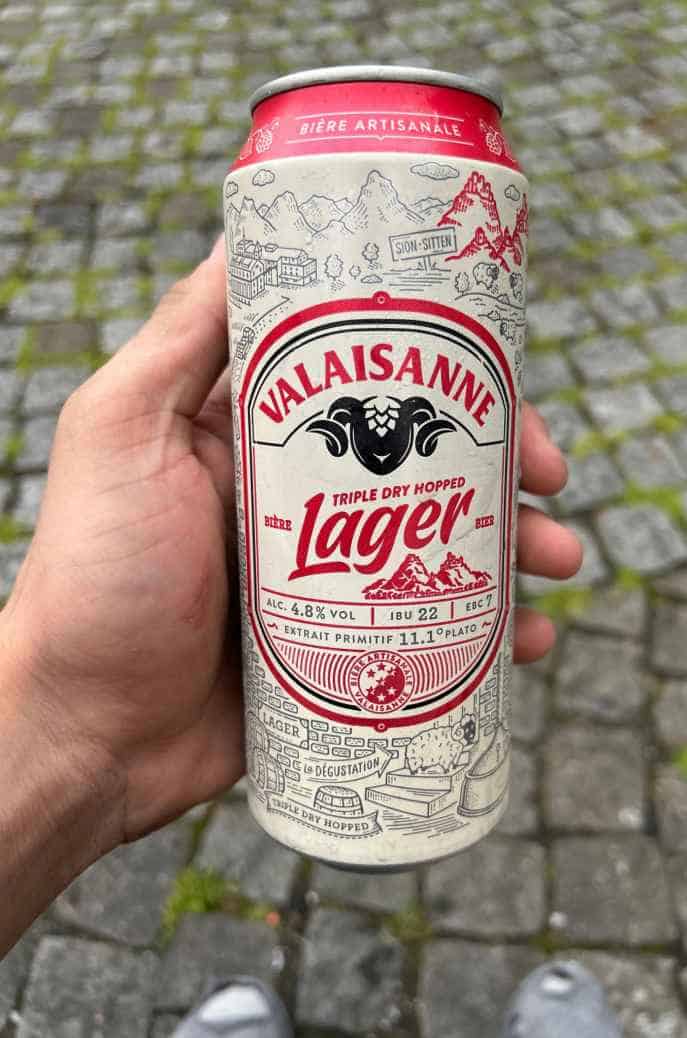 Valaisanne has been in the Swiss beer market since 1865. Among its various products, the Valaisanne lager is highly popular. This beer pours light gold with a well-retained white head. It's lightly carbonated and medium-bodied.
You may not get the richness of Helle's. But it's perfect for easy drinking with its gentle bitterness, 4.8% ABV, and grassy hop flavors. Valaisanne lager is available in 33cl bottles and 50cl cans.
4. Namur Express
Type: Belgian Blonde
IBU: 24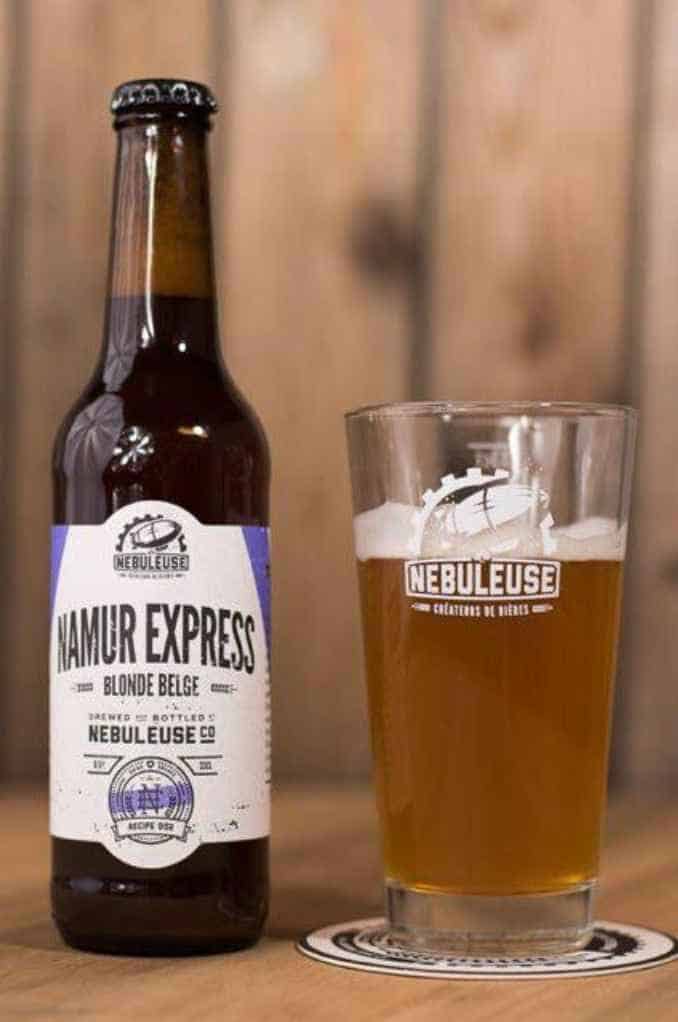 Namur Express is one of the finest products of La Nébuleuse. This Belgian blonde has a thick white head. But it collapses fast. It has a crystal clear golden to orange color, with citrusy and grassy flavors.
For a Belgian blonde, it's a bit sweet. It doesn't have the dryness and bitterness that you would expect. The bready and biscuity tones are prominent from the first sip. And with 6.8% ABV, it has the highest alcohol volume on our list.
5. Calanda Brau Original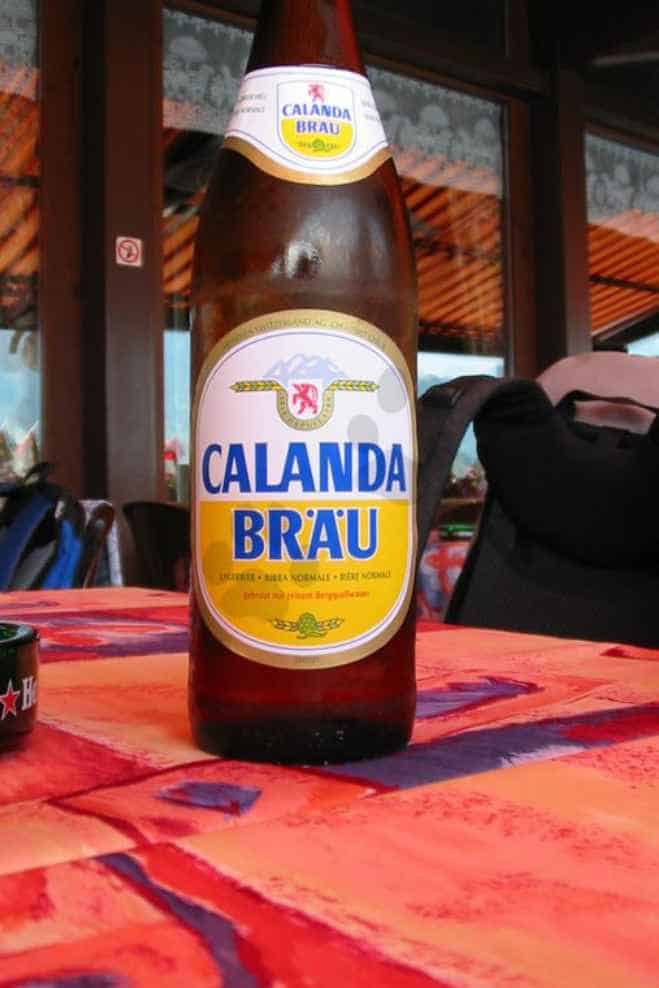 Heineken Switzerland is arguably the most famous brewer in Switzerland. It's also known internationally for its wide range of products. One of the most popular beer types among the Swiss is Calanda Brau.
This pale lager is clear amber-yellow. The white head has good retention with moderate lacing. It has a rich mouthfeel with pleasant grains, barley, and corn aromas. It also has hints of citrus and sweet malt. It's a slow-drinking beer, perfect for a relaxing evening with friends.
6. Feldschlösschen Original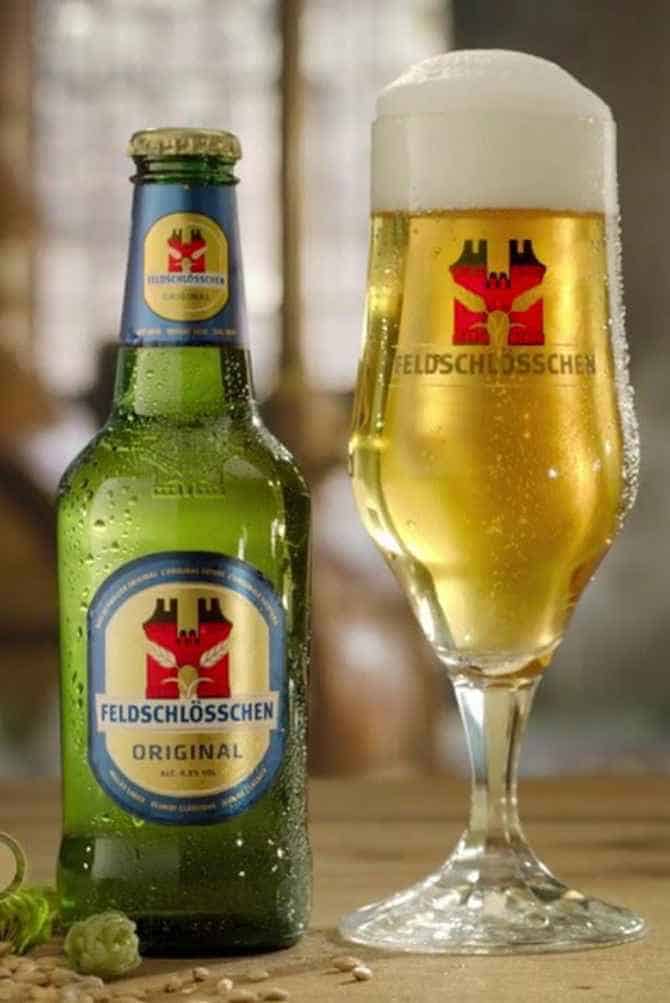 Feldschlösschen is Switzerland's largest brewery, which is 147 years old. It has acquired many brands such as Valaisanne and Carlsberg. And the Feldschlösschen Original is the classic European pale lager. You can find it everywhere in the country for a pure Swiss beer experience.
You can find this clear, golden in bottles and caps, and it has a foamy white cap. The grassy hops and grainy flavors are balanced. And the alcohol volume is 4.8%.
7. Père Jakob Blonde Wiener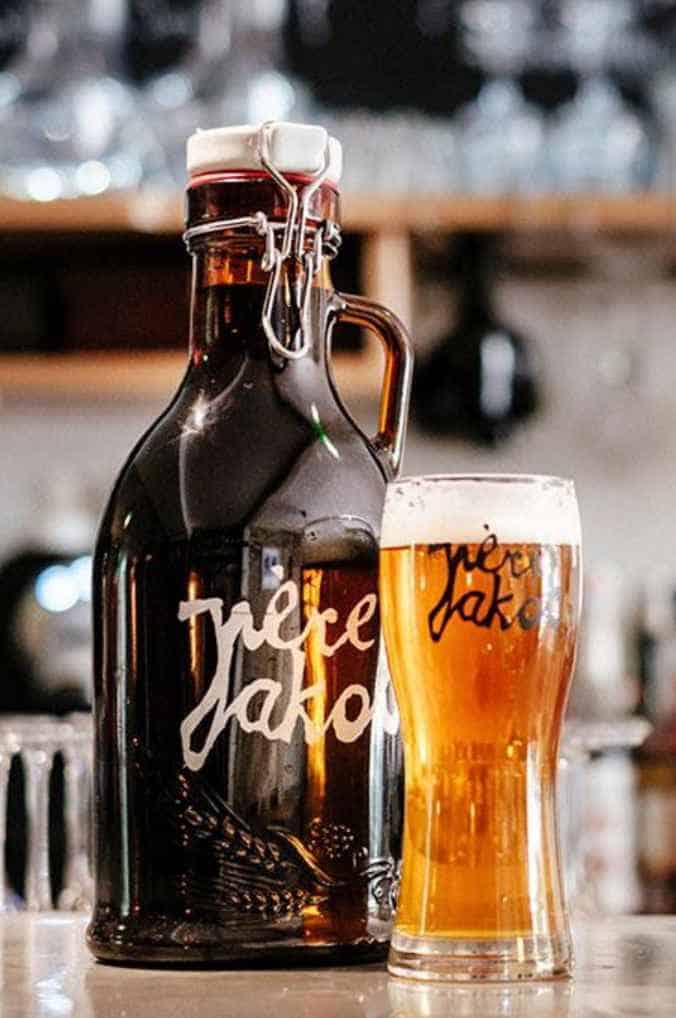 Père Jakob is a microbrewery in Soral, a small village near Geneva. They started as a DIY brewery in 2007, but the quality of their products made them nationally known.
Their Blonde Weiner is a blonde ale, one of Switzerland's most-served beers. It comes in a growler with an interesting shape that can embody the beer's distinct flavors.
With 5% ABV, this beer has herbal and spicy flavors and a sharp, dry mouthfeel. It pours opaque orange with a dense white head. Overall, it's a decent malty beer with good drinkability.
8. Summer Ale by Dr. Brauwolf
Looking for Craft beer in Zurich? I recommend Dr. Brauwolf Brewery. This wheat ale is a pleasant companion on a hot summer day. Plus, it only has 3.8% alcohol.
Given the low malt and hop profiles, this craft beer is light-bodied and tastes dry to the palate. It pours amber yellow with a thick, frothy head. Overall, it's a lively beer that fills your mouth with malted wheat flavors.
9. Unser Bier Amber
Unser Bier is a craft brewery based in Basel. They produce various craft and seasonal beers. What makes them unique is that they make their beer from organic hops and malt.
Their Amber beer is another light and organic product. The red-brown color is the result of three types of barley malt. The caramel and grain flavors give it a sweet taste balanced by a light bitterness and 5.2% alcohol content.
10. Altes Tramdepot Marzen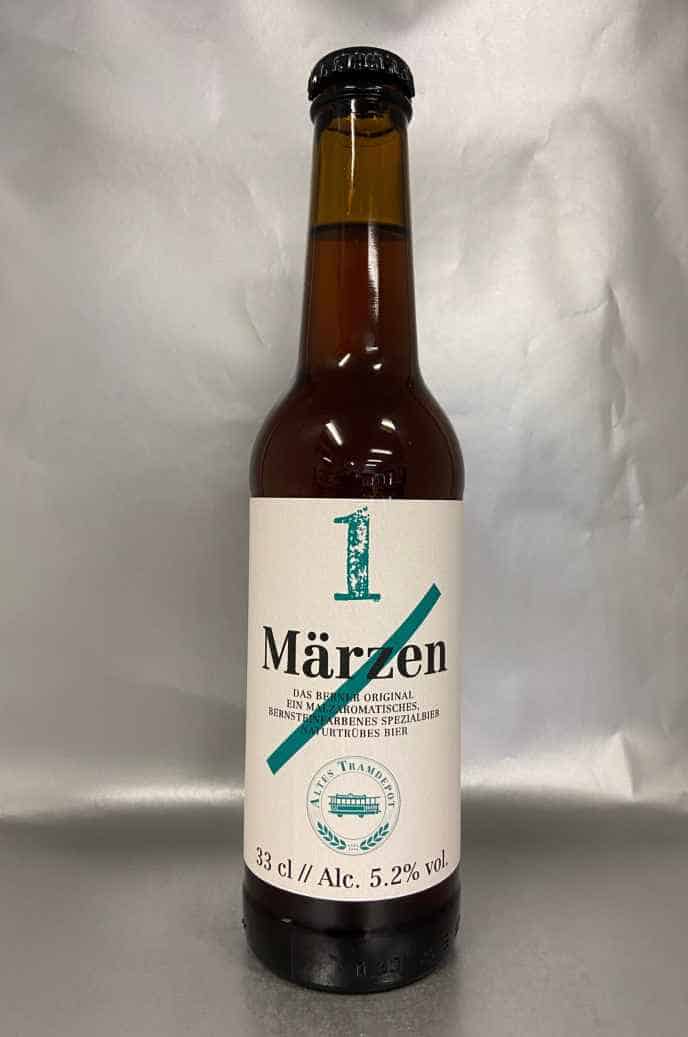 Now let's take a trip to Bern. This amber Marchen beer is malty and bottom-fermented. Pilsner and dark caramel malts give it a caramel-y, sweet, and full-bodied profile.
It pours translucent and has a thin foam that leaves a lace on the glass. It has average carbonation, grainy sweetness, and a hint of hops. The slight bitterness and sourness complement the rich mouthfeel. And the 5.1% alcohol volume is enough to quench your thirst without getting you drunk.
11. Boxer Old
This award-winning brewery is based in Yverdon-les-Bains, Switzerland. Their Boxer Old is light golden yellow with a thin and frothy head. You can expect all the classics from this drink: malty, sweet, grainy.
This strikes a great balance between malty and hoppy flavors. It's also very tasty and a bit hoppy and creamy with 5.2% ABV. It comes in reusable and disposable bottles and cans.
12. Eichhof Braugold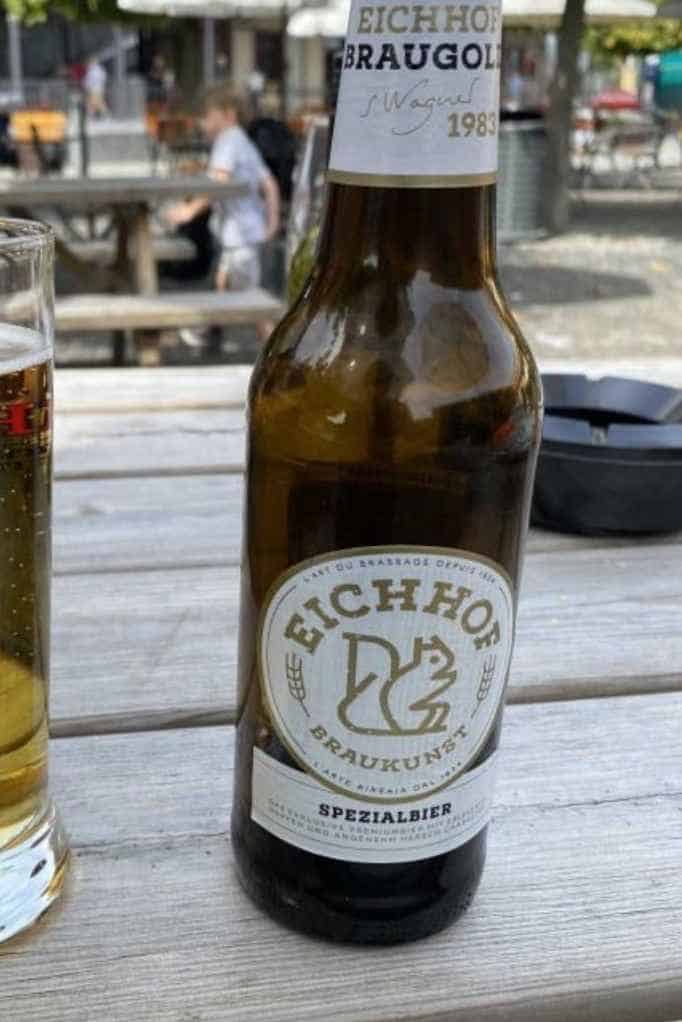 Eichhof is a craft brewery that has been in business since 1834. You can find their beers in local bars in Lucerne. Unfortunately, they're a rare breed not commonly found in supermarkets.
One of their best products is the Braugold (Brown Gold) lager. It's bubbly, smooth, and clear golden. You can notice strong malt and hops with hints of straw. It's very refreshing, with undertones of grass and flowers. And like Boxer Old, it has 5.2% ABV.
13. Cardinal Bier Blonde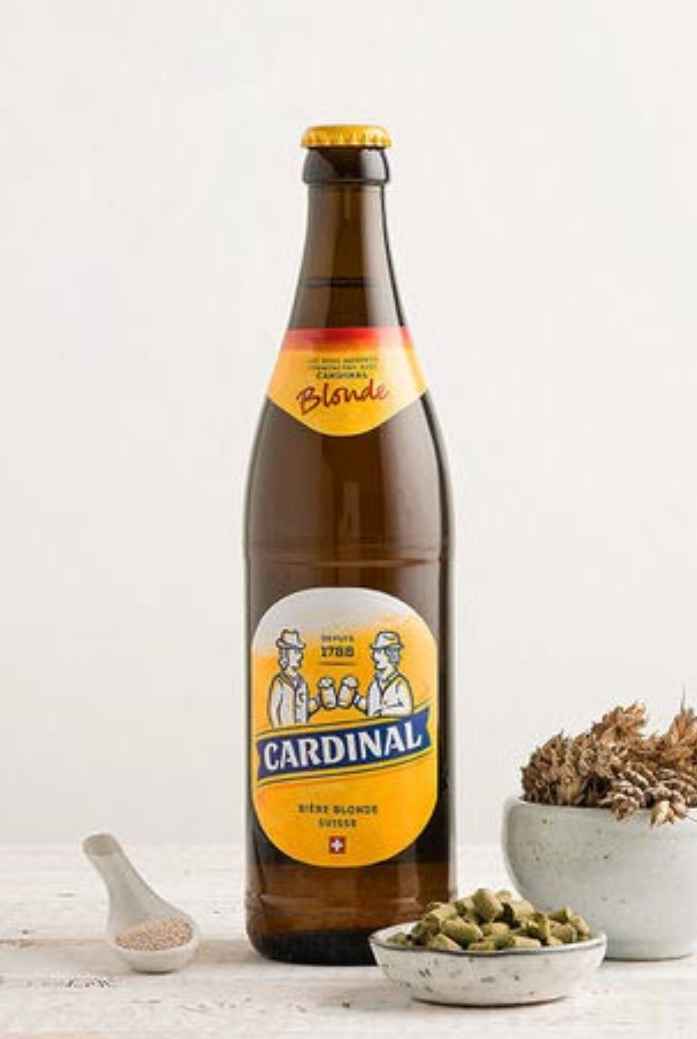 Cardinal is a Swiss brewery with a long history. It was founded in 1788. No wonder it's among the most popular brands in Switzerland. Now, it's been acquired by the Carlsberg Group.
Cardinal's blonde beer is their most iconic product. It's a pale lager that pours clear golden with a fluffy white cap. It has a faint, hoppy nose and a light body. The refreshing mouthfeel and the 4.8% alcohol content are typical of European lager. Plus, it comes with small hints of malt, grass, and apples.
14. Haldengut Lager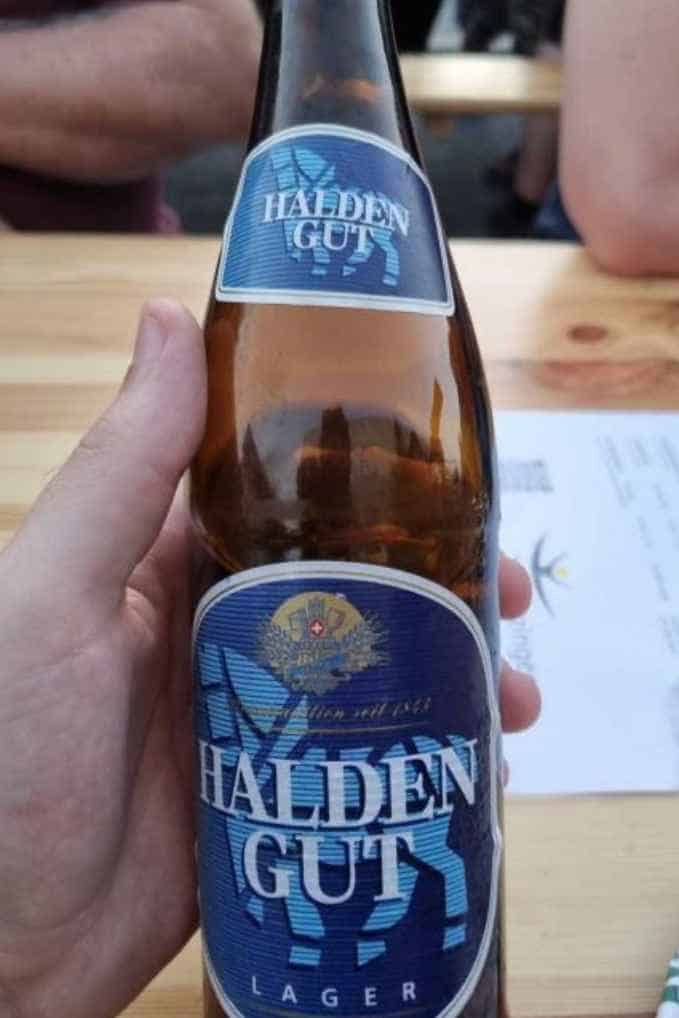 Haldengut is another long-standing Swiss brewery integrated into Heineken Switzerland. It's been around since 1843 and produced one of the finest Swiss beers.
The Haldengut lager has high drinkability with 4.8% ABV. It's pale gold and has everything you want from a classic lager. Its distinctive features are faint floral hoppy notes and lingering bitterness. The average carbonation, mild, malty sweetness, and medium body make for a crisp, thirst-quenching beer on a hot summer day.
15. Calvinus Amber
Type: American/red ale
IBU: 18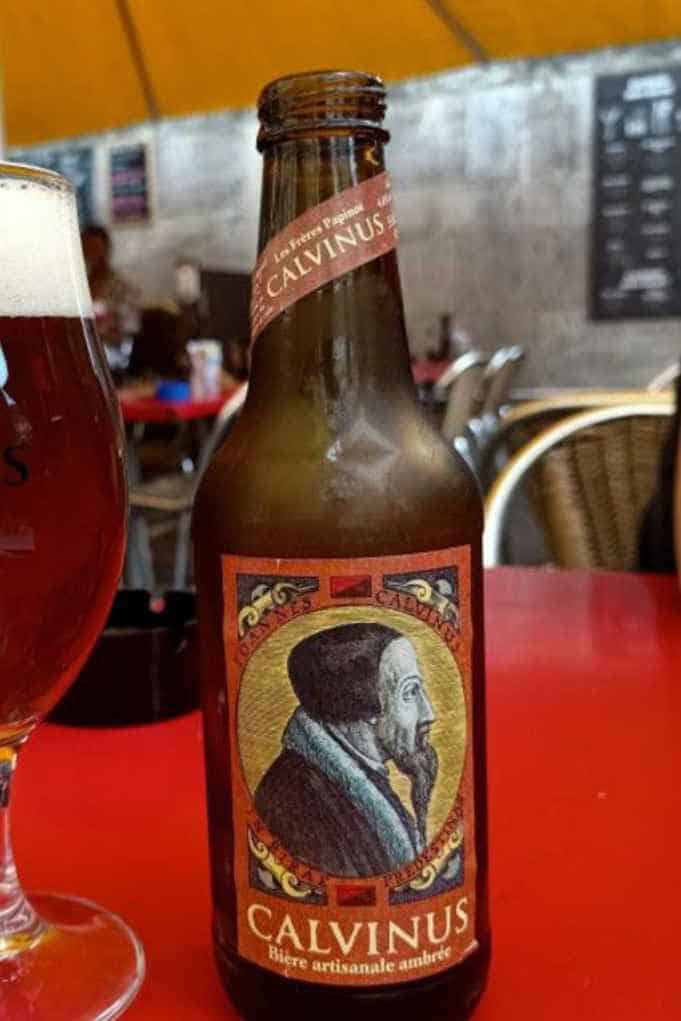 Calvinus produces many craft beers, including white, blonde, and dark. But the best in the family is perhaps this Amber ale. It's a red ale with a copper color and a thin, bubbled cap.
It has a distinct, sweet taste with nutty and caramel-y flavors. With 4.8% ABV, it's quaffable, pleasant, light-bodied, and slightly bitter.
Frequently Asked Questions
What kind of beer is popular in Switzerland?
The most popular beer styles in Switzerland are lagers, especially pale lagers. They have a clean and crisp taste profile and are easy to drink. Weissbier, wheat beer, is also popular in Switzerland.
What is the best-selling beer in Switzerland?
Feldschlössen is the best-selling beer in Switzerland. It's the biggest brewery in the country, producing 15 brands. It has merged many famous national brands like Cardinal and Valaisanne.
Do Swiss people drink a lot of beer?
The Swiss have a rich drinking culture. Wine and beer are their most popular drinks. This popularity has created many beer festivals and breweries across the country.
Conclusion
Switzerland may not be famous for its beer like Germany. But it has a rich beer culture with old breweries. Some of the famous brands are Feldschlösschen and Heineken Switzerland.
The most popular beer types in Switzerland are lagers. Feldschlösschen Original is one of the most popular beers in the country, found in every bar and supermarket.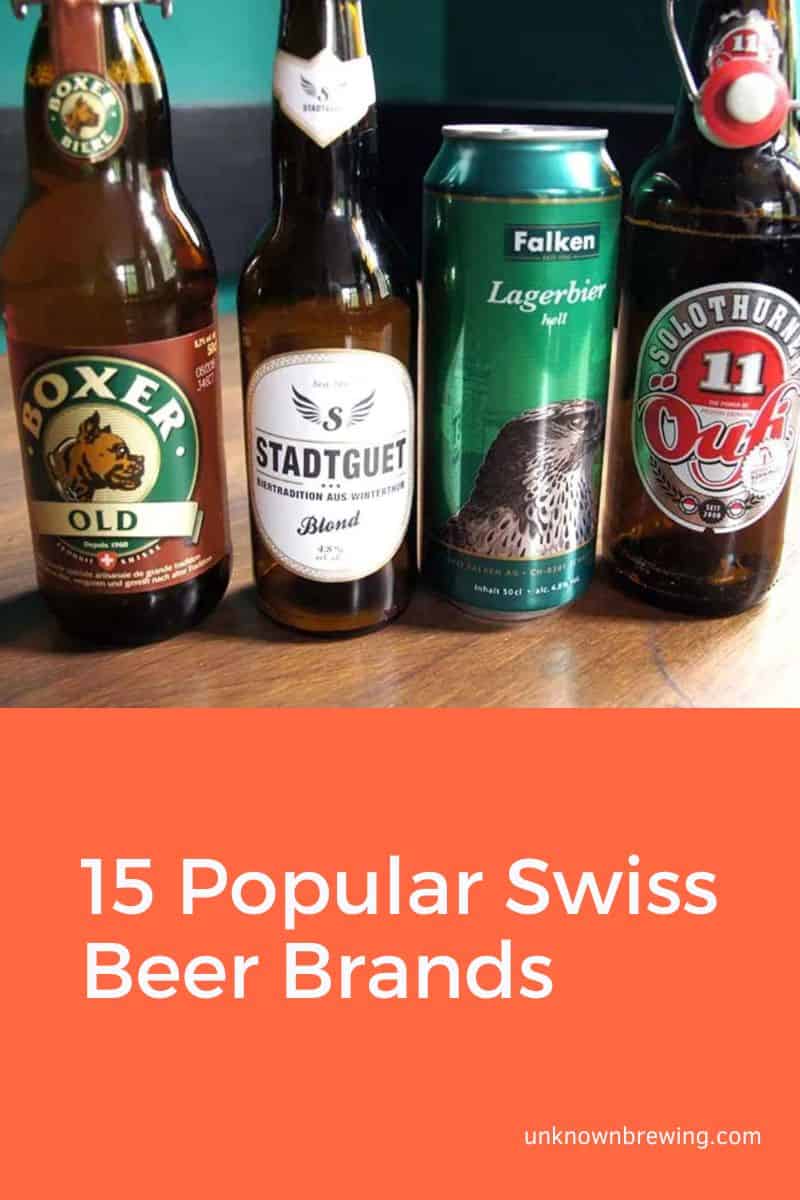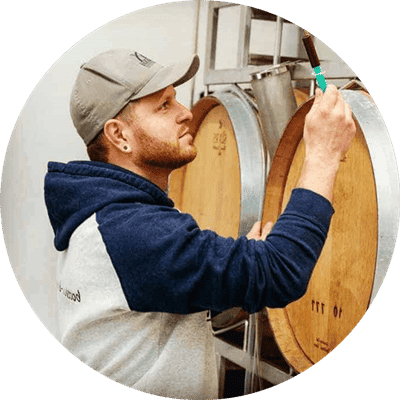 As a homebrewer, Michael would get frustrated about the lack of brewing information on the internet. After hundreds of gallons of spoilt batches, Micheal had enough. And he founded Unknown Brewing as a resource for homebrewers.