Whether you have zero experience with woodwork or are a wood carving expert, this DIY beer bar list we've curated has all the plans you need. From indoor beer bars to outdoor mobile bar carts, there are a lot of options to choose from.
You can choose from creating an L-shaped beer bar, a bar in a box, and more. And when we said we've got all the designs you need, that also includes beer bar plans for special occasions like weddings, tailgating, and game nights. Pick a plan, and turn your dreams into a functional beer bar. 
Indoor Beer Bar Plans
1. Build A Mobile Bar (DIY Bar In A Box)
A bar that can turn into a box? This DIY mobile bar converts and expands when you need it for entertaining. It has a unique storage system where you can keep liquor, glasses, and more.
It is also an excellent design if you want a compact bar that does not take up too much space when stored. It has a dimension of 44x24x41 inches when closed and 86×29.5×40 inches when opened.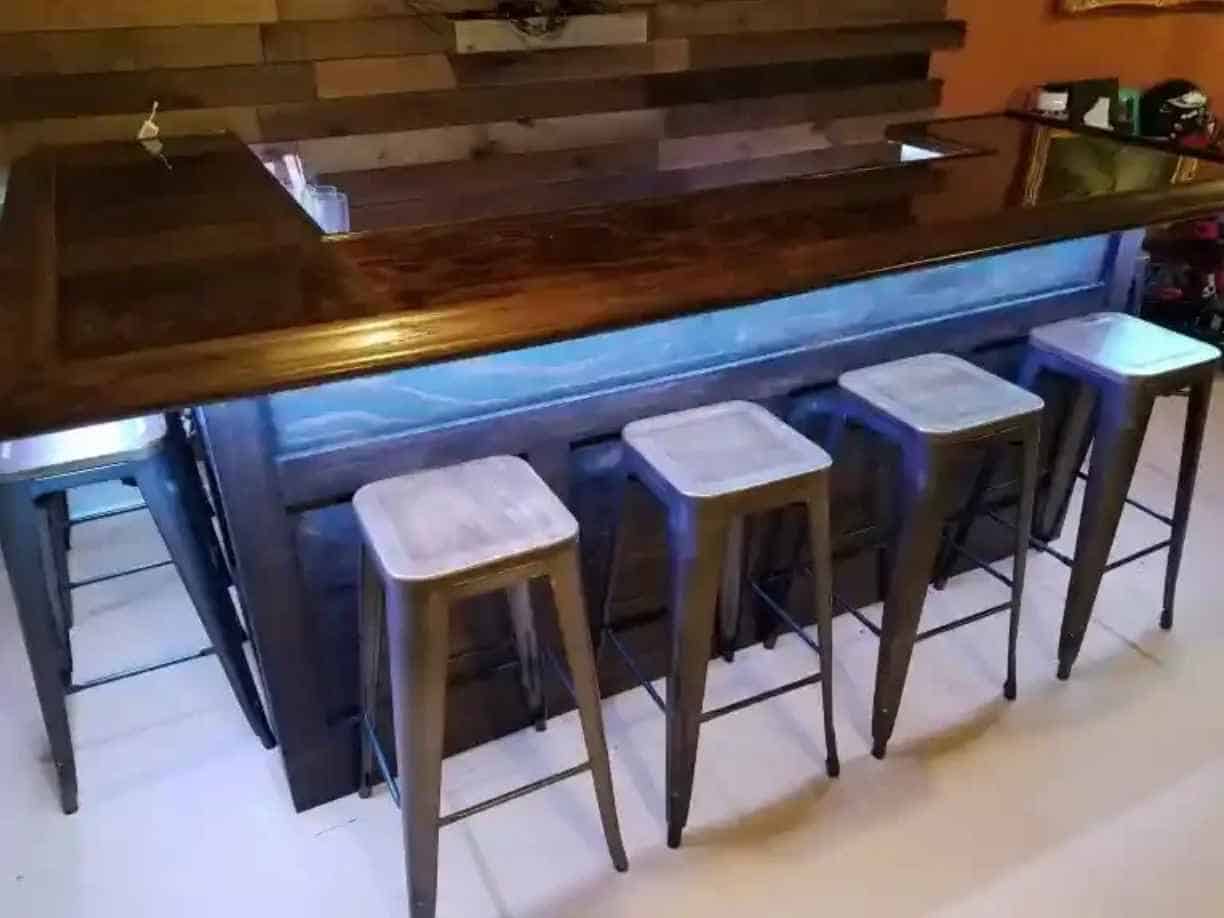 Do you want to build your beer bar but are not confident in your woodworking skills? It does not matter if you have zero experience because this beer bar plan is beginner-friendly.
The steps are thoroughly explained on their website and are segmented to make you feel less overwhelmed with a woodworking project. The blog also includes answers to commonly encountered problems when creating a bar. 
3.
DIY Beer Tap Installed On The Wall
Are you looking for a way to jazz up a blank wall in your home? If you do, try transforming it by installing a DIY beer tap on your wall.
This DIY beer bar creates a functional space while adding character to the wall. Watch how Matthew shares how to reinforce drywall, insulate the beer line, and more. He also included the link to the tools he used in his YouTube video description.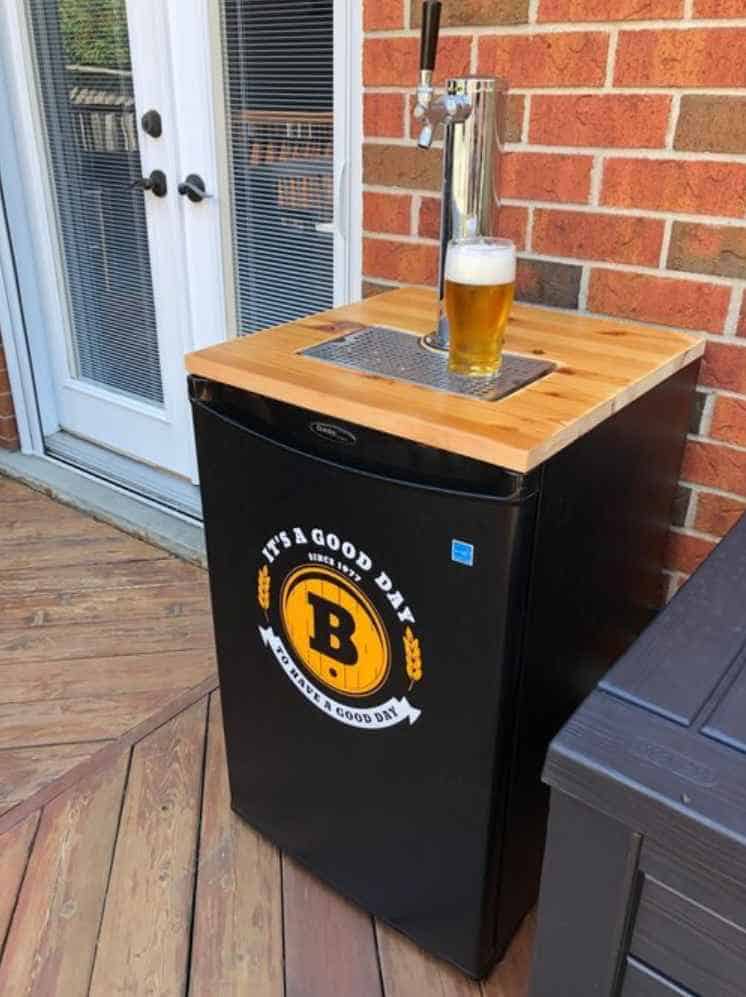 No need to get out if you can bring the bar experience straight to your home! This DIY Kegerator can keep ice-cold beer ready on tap to serve to your guests or for you to enjoy alone.
It features a towel/tap handle, a mini refrigerator, a drip tray, and more. Check out the materials and the step-by-step process on their website.
5.
How To Build A Bar For Your House
A simple build yet has an elegant finish. This DIY bar is for those who want to keep it minimal but functional.
To make this beer bar, you need a 2×4 Douglas fir for framing and 1×6 cedar planks for siding. It is a thorough tutorial from cutting planks to staining wood. Co-Know-Pro also shared, in this video, tips on how to toenail corners and how to stain a bar top.
6.
L-Shaped Custom Bar Build
Who wouldn't want an L-shaped bar looking like one on a real bar? In this video, Matt shows how to create a beer bar made from pine tongue and groove board with yellow framing lumber.
He also added a black iron pipe for foot support and to add an accent to the whole build. Tool and product links are attached to his video description.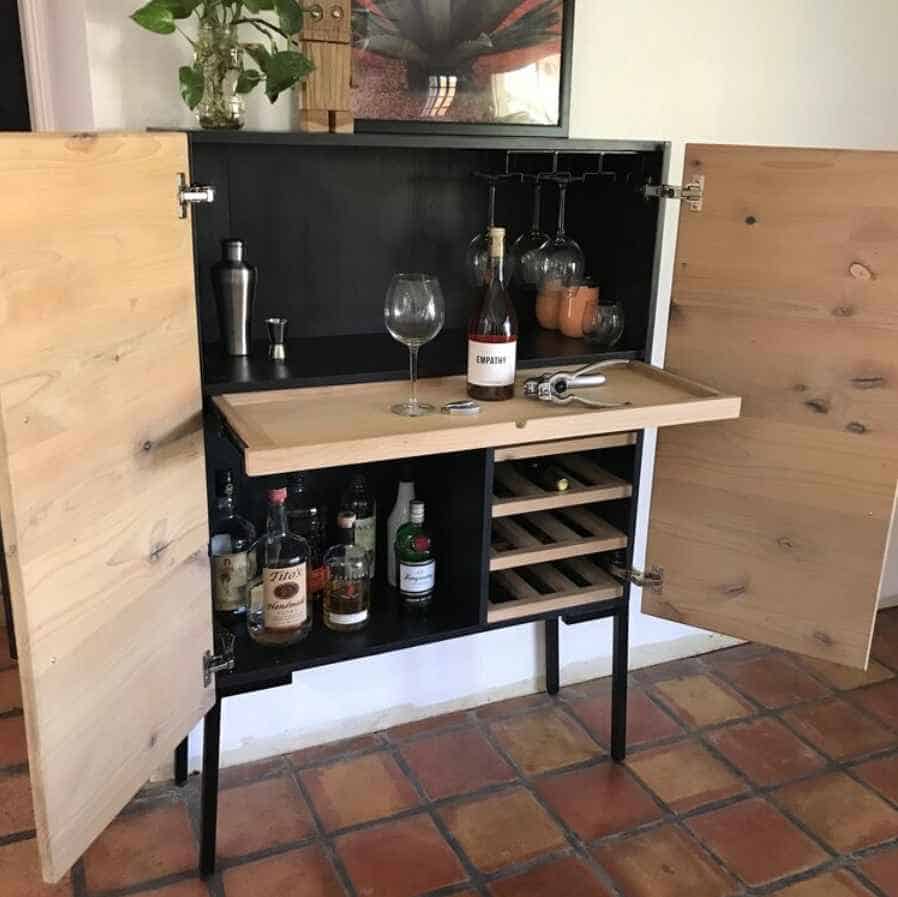 We are all familiar with an open bar concept, but have you heard of a bar inside a cabinet? This DIY project features a wood-carved door that resembles the bubbles of beer.
It has spacious storage enough to hold several beer bottles. It also has a glass holder perfect for glassware prone to getting nicked. The cabinet has a pull-out shelf that you can use to mix drinks or pour your beer. 
8.
How To Make A Stunning Home Bar
This DIY plan is perfect if you want a unique and personalized beer bar at home. And just a heads-up, this plan requires manually drawing and hand-painting the design. We know what you are thinking.
It is tedious, but seeing your work imprinted on the bar makes it all worth it. This video also shows cheap and practical techniques to give your bar an aged look.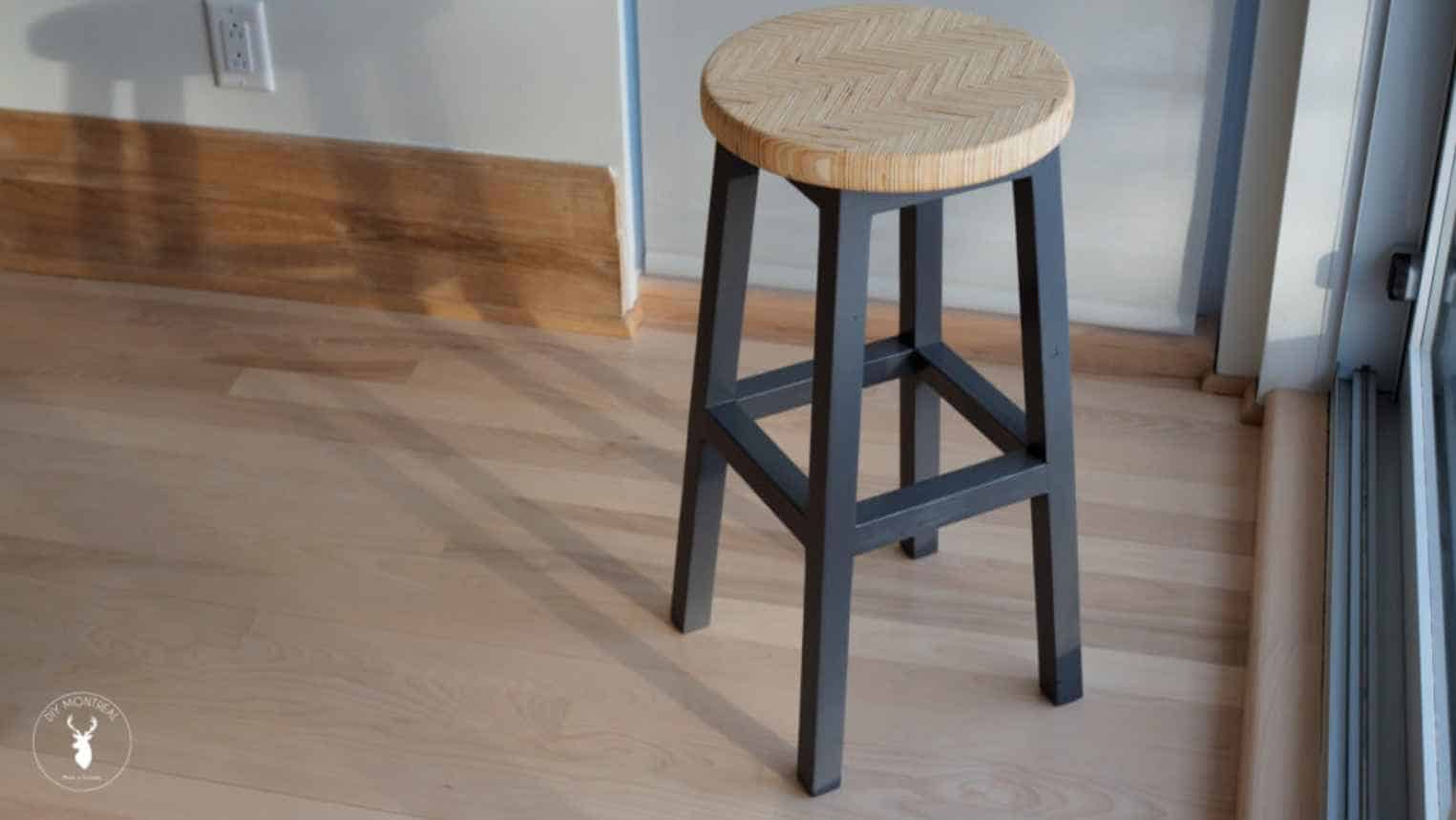 A beer bar plan is not complete without a comfortable and cool-looking bar stool. This DIY YouTuber thoroughly explains how to create a chevron-patterned bar stool using plywood.
It is counter-height and has a raked and splayed leg made using compound angles. Some of her recommended tools for this project are a thickness planer, a doweling jig, and more. 
Outdoor Beer Bar Plans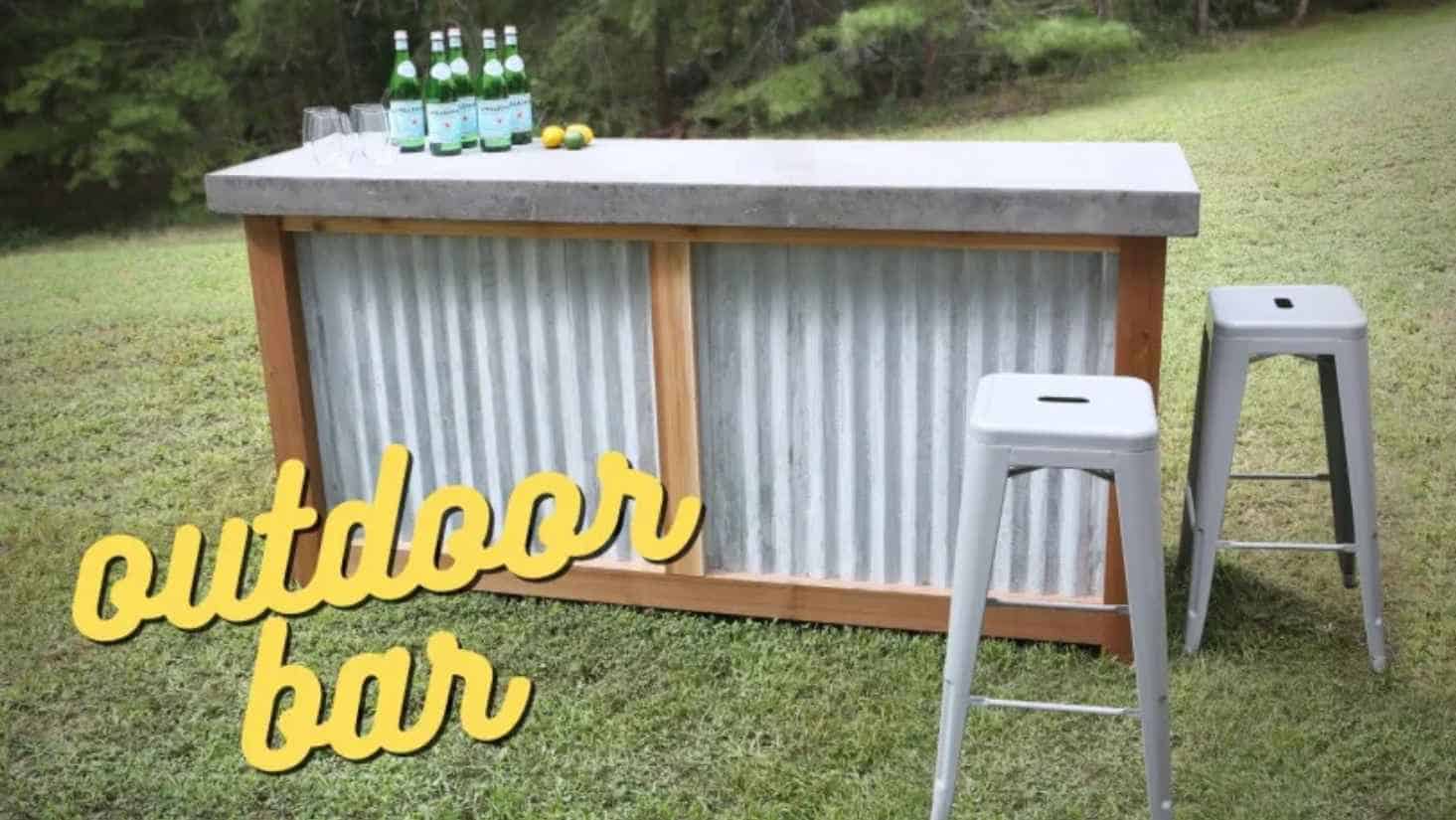 Have you seen an outdoor bar made of cedar wood, corrugated metal, and concrete? Woodshop Mike combined three elements in this plan to create an industrial design that can withstand the outdoor weather. How sturdy you may ask?
The heavy concrete slab with mesh serves as the countertop. It has a rock-solid foundation made of corrugated metal and cedar wood. Inside is spacious storage for drinks and food when you plan an outdoor gathering. 
2.
How To Make Your Own Outdoor Mini Bar
Not everyone has plenty of indoor space for a beer bar. So, this DIY outdoor mini bar is the right fit for your home.
Andraos shows how to create a murphy bar while using available home tools. This mini bar features a 76x44cm table size. It can hold up to 16 bottles and 20 beer glasses. Overall, it took him six days to finish the build.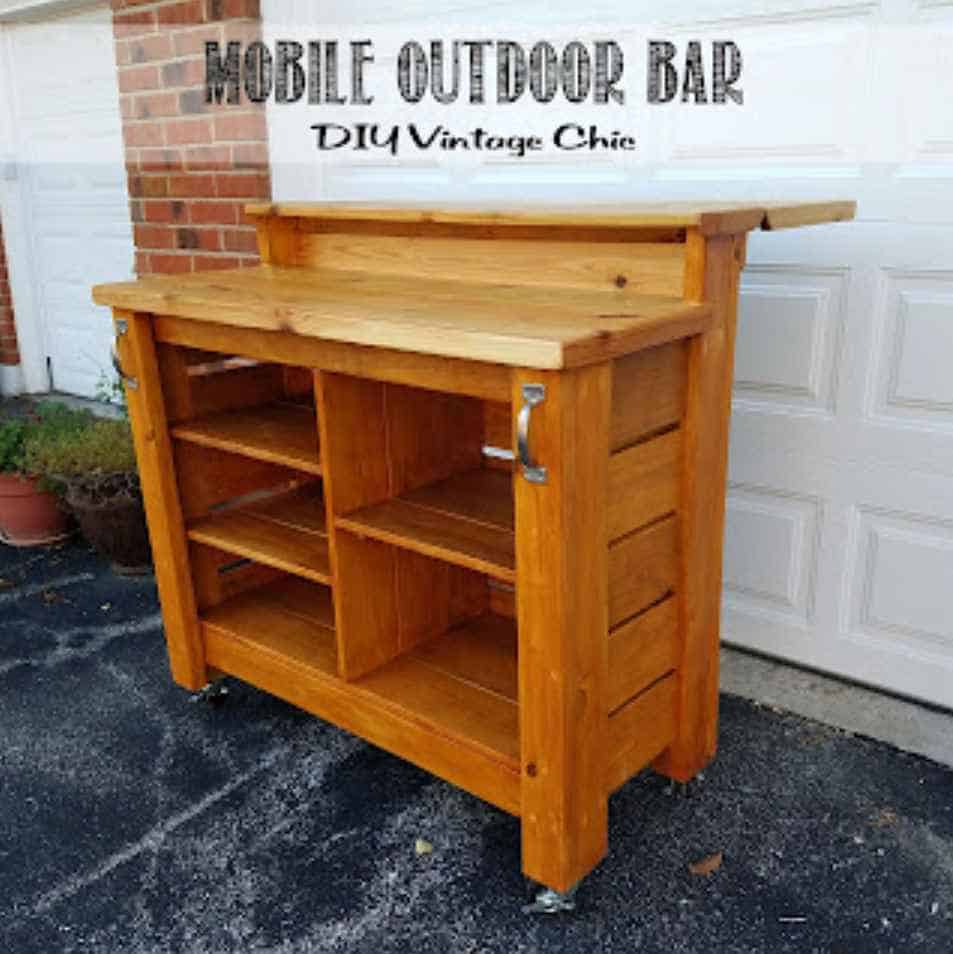 The party goes where the mobile beer bar rolls. Concrete countertops are a great option if you want to create an outdoor bar. But if you find it expensive, go for a wheeled bar instead.
This DIY mobile cart has five built-in compartments to carry all your drinks. It also has a foldable bar top that can be paired with a bar stool or can be folded if you need to store it.
4.
DIY Foldable Bar On Wheels
If you plan on starting a mobile bartending business or if you love hosting a party, this wheeled beer bar is for you.
It is a simple build that can be stored easily when not in use. For the base, plywood is used but you can opt for exterior-grade plywood. This build takes only a day to finish so you can enjoy your drinks right away.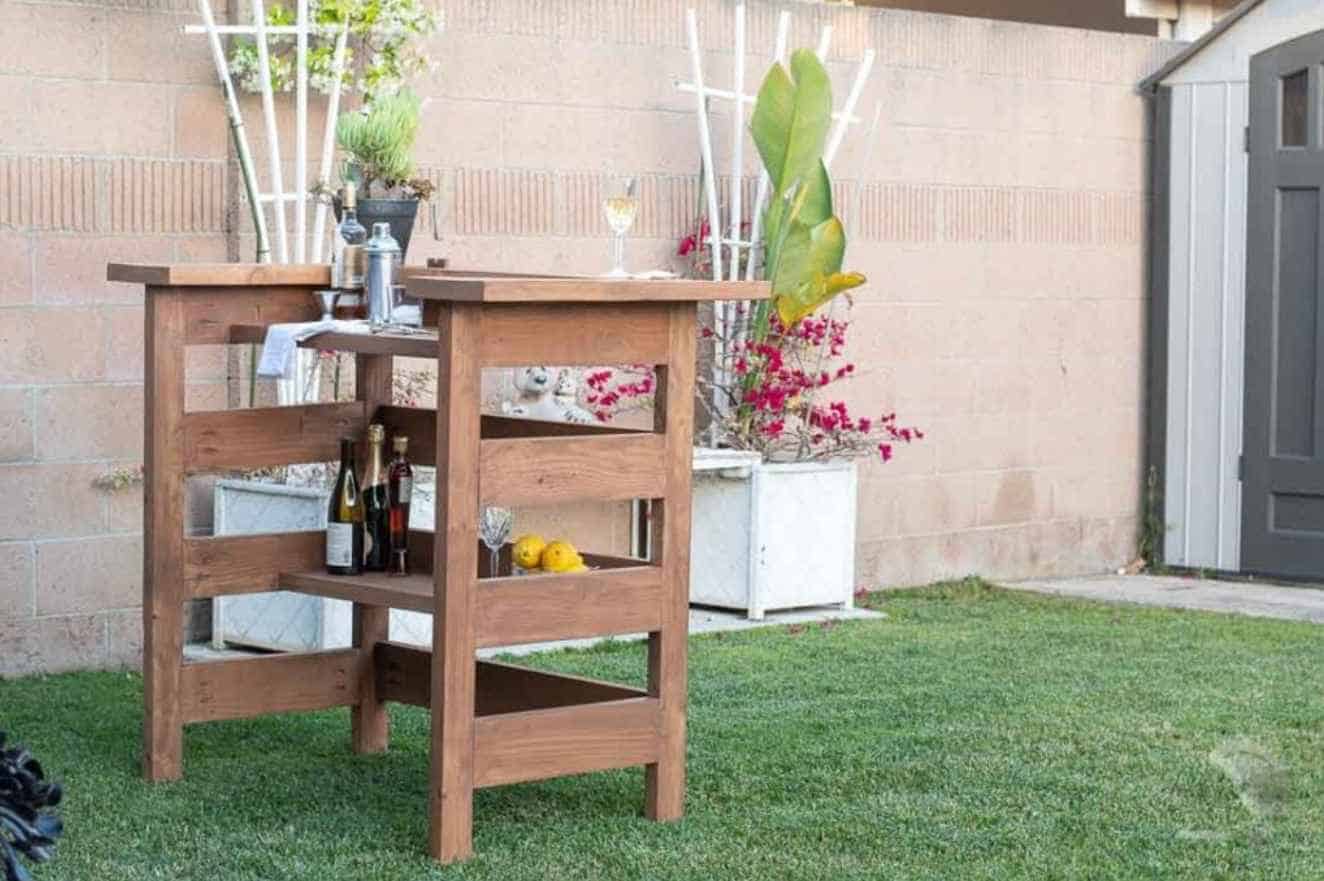 Go for this plan if you don't want to spend too much. Among our list, this is the simplest and fastest DIY plan for a home beer bar – made with construction lumber and pocket hole screws.
It has a simple modern look that you can use on your deck, patio, or porch. Check out the website to learn more about the materials used and the step-by-step guide. 
6.
Portable Deck Cooler Bar and Stand
Whether you're a cottager or a city dweller, this stylish Real Cedar mobile deck bar is the perfect beverage cooler.
This compact station can fit in tight living spaces and still leave plenty of room for sitting. This design plan includes a built-in cooler and beer bottle holder with enough space to mix and serve your drinks.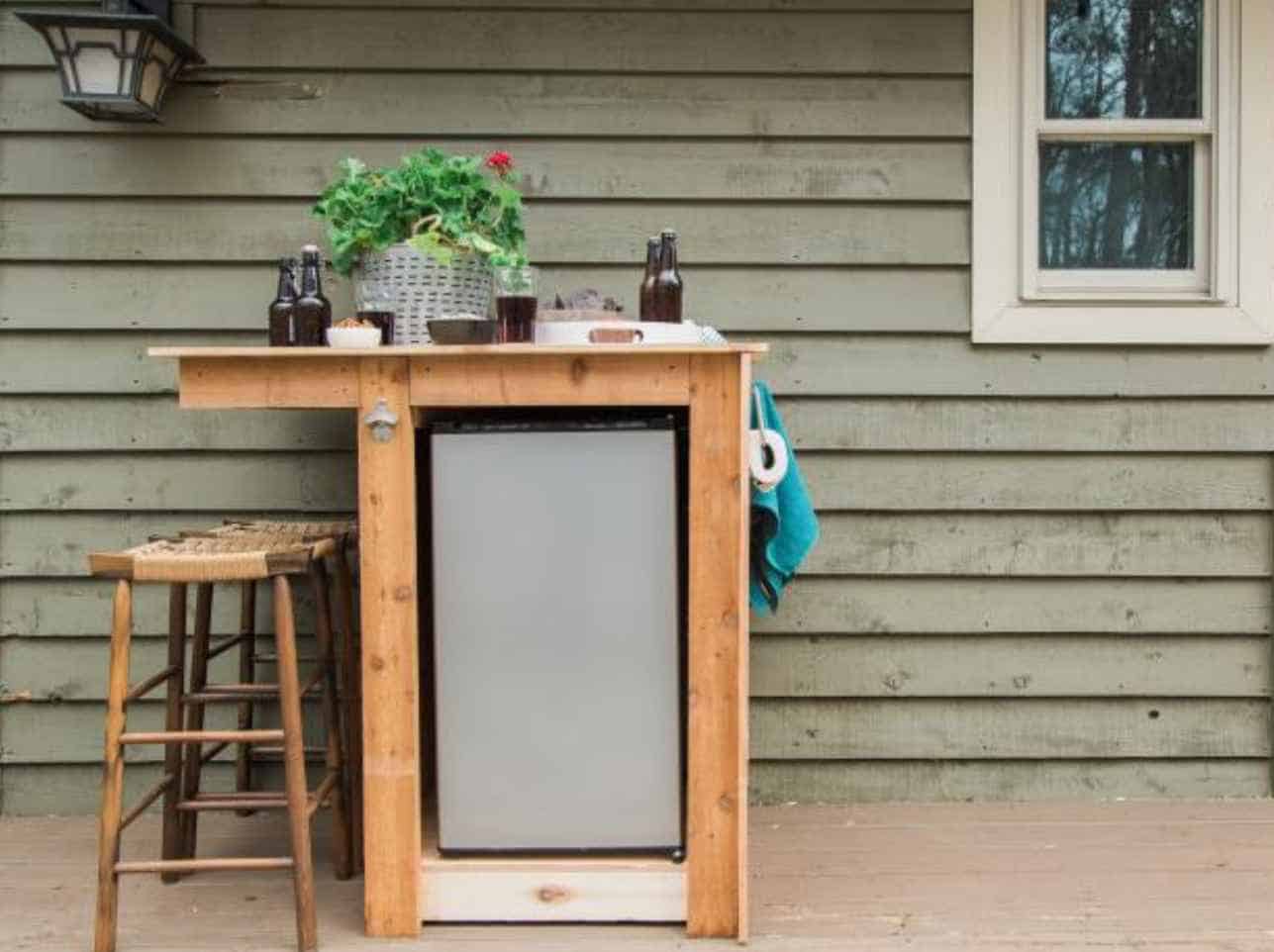 Are you done with your beer cooler and want to upgrade to a minifridge for your bar? If you do, then you might love this plan!
It has an extended top to fit in your bar stools and ample space to serve snacks with beers. And at the bottom is the minifridge compartment that is scalable depending on the size of your fridge.
8.
How to Make a Patio Bar
Spice up your outdoor patio bar with gleaming led lights. This bar cart is easy to roll around and comes in handy when you need it out for a get-together. It has a concrete top with a drop-in bucket that goes in the center.
The base is made of fence pickets and 2×4 boards to hold the heavy weight of the countertop. It also has clear coasters where you can install LED lights. 
Beer Bar Plans For Events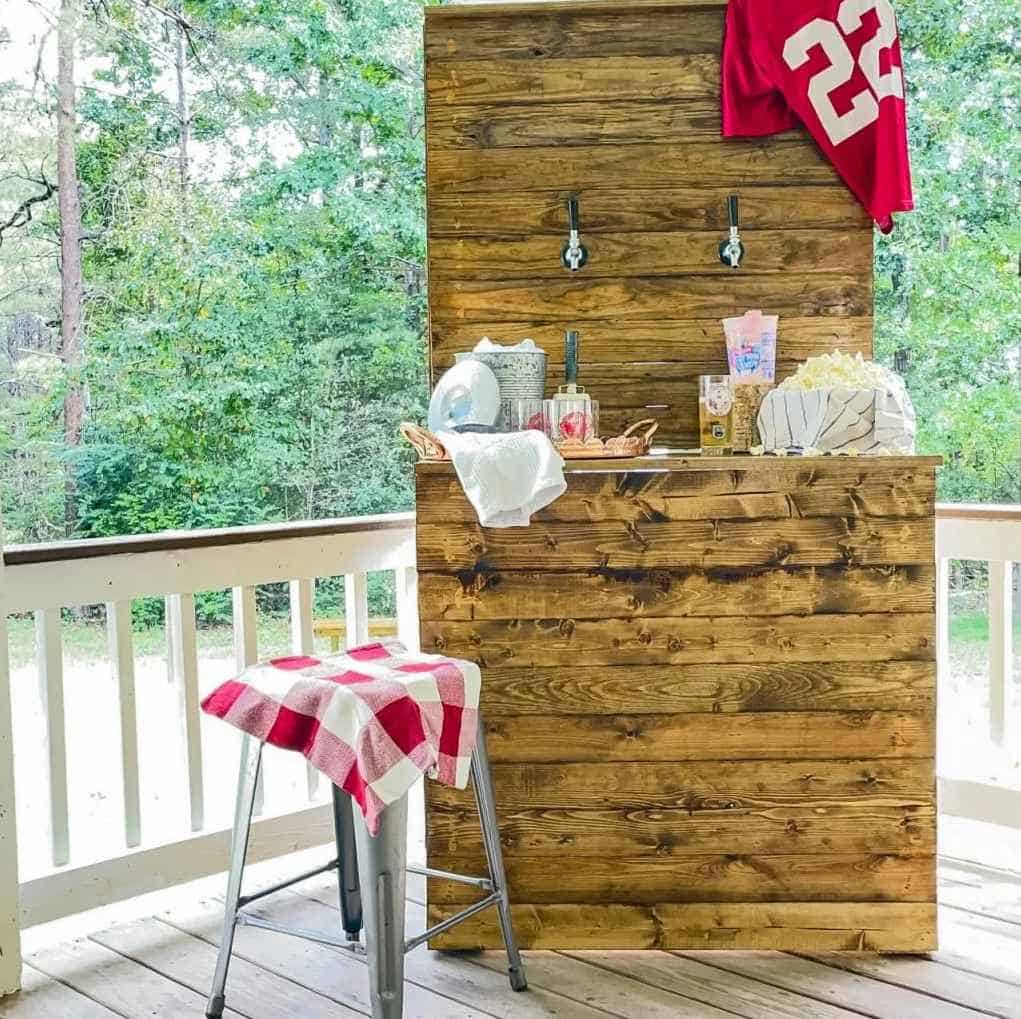 A keg beer bar is a party must-have, especially during tailgating and weddings. This DIY has a beer bar enough to hold glasses and has two taps where you can hook up the keg.
The size is perfect for events and you can totally customize it to look old and rustic or clean and modern. In under three hours and a few tools, you can already create your keg wall.
2.
How to Build a DIY Wedding Bar
Availing of an open bar for a wedding can be expensive, so why not create your own beer bar instead? This YouTube video tutorial explains the basic of crafting a bar – drawing out the plans, installing the draft equipment, and more.
They used pre-stained woods for this project but an upcycled pallet also works. This bar features two beer taps, keg storage, and decorative lights.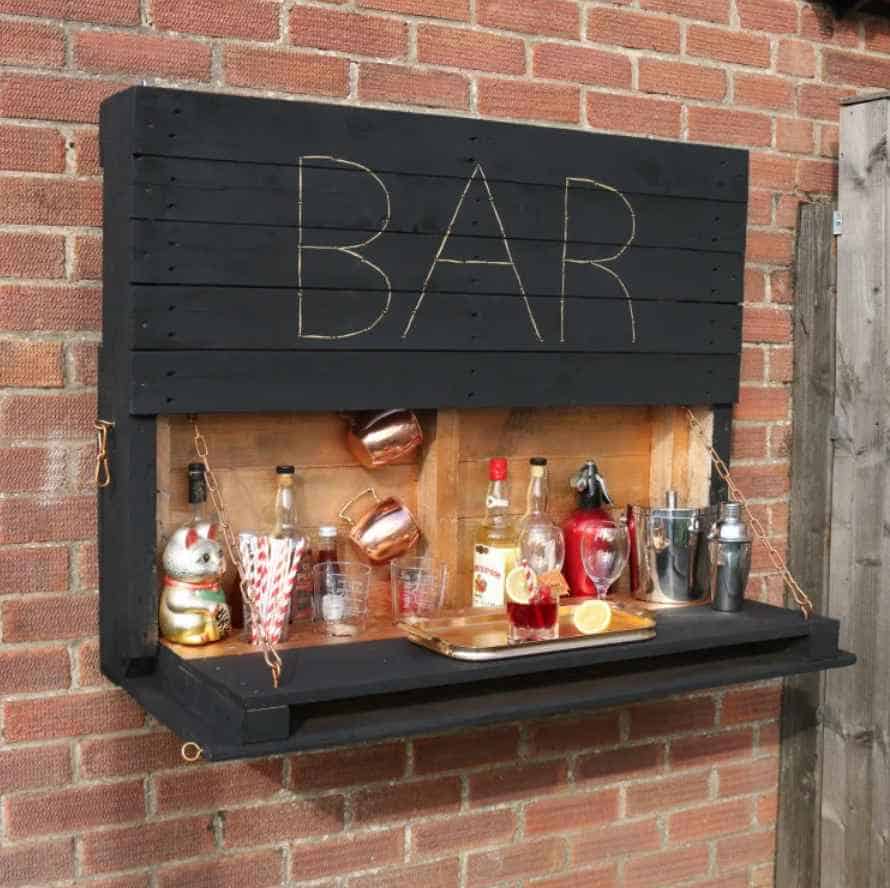 Although not a full beer bar, this DIY project deserves a spot on the list (Note: It good featured in a television show).
This budget-friendly design transforms an old pallet into a festive-looking floating bar, and did we mention that it is glowing? It creates a great focal point during parties without lashing out for money. Check out the blog post to know more about the project.
4.
DIY Pallet Wood Beer Wall
Game night on a weekend wouldn't be complete without a bottle of beer. Instead of filling your refrigerator with beer bottles, why not create a beer wall instead?
This DIY beer wall plan is wrapped with two pallets of wood that has a keg storage behind the wall. It has four tap handles but it is easily repeatable and scalable. It also has wheels for easier relocation. 
Conclusion
Creating your own beer bar at home takes time and effort. Though it gives you the rewarding feeling of being able to build a bar that you and your family can enjoy. If you're still doubting your woodworking skills, then don't, because you'll never know the result unless you try. Happy building!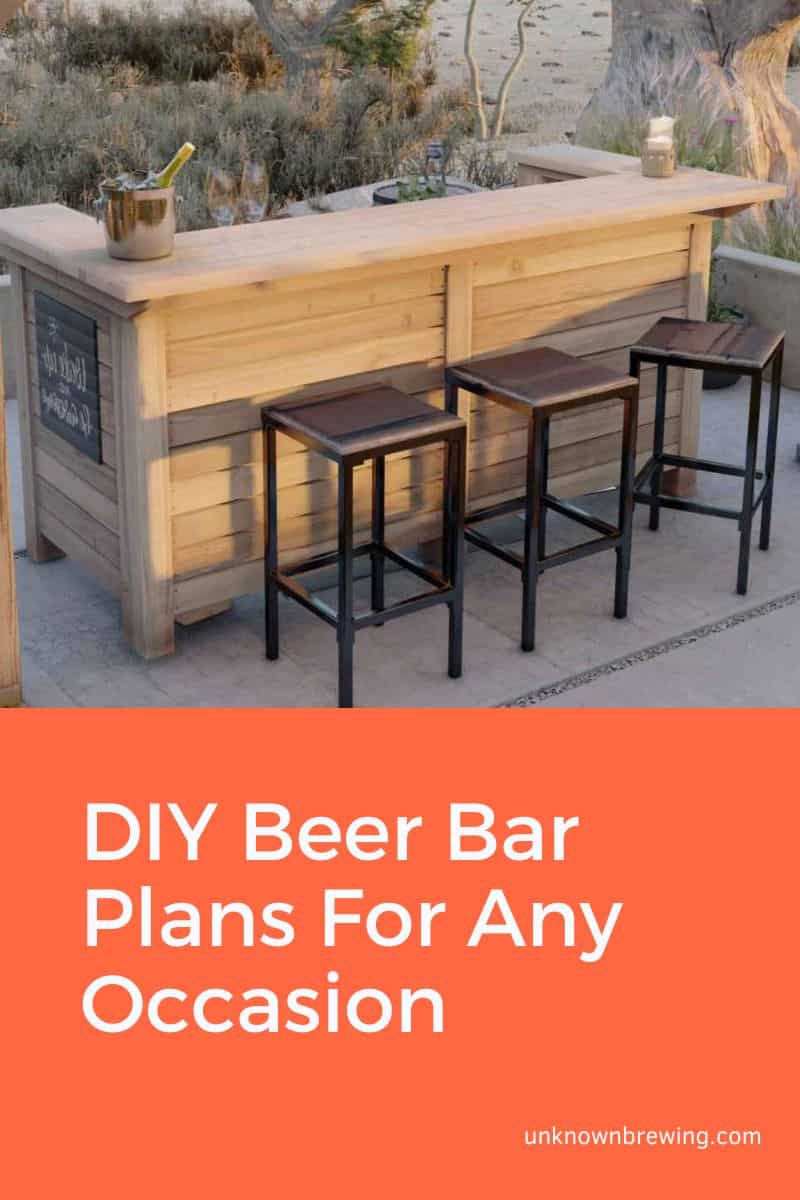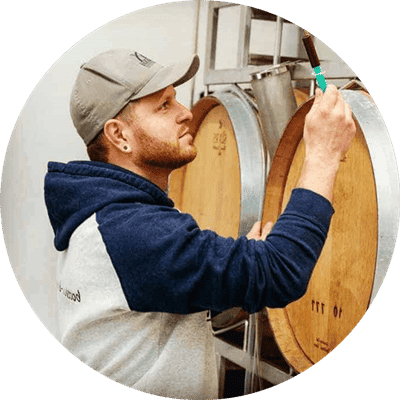 As a homebrewer, Michael would get frustrated about the lack of brewing information on the internet. After hundreds of gallons of spoilt batches, Micheal had enough. And he founded Unknown Brewing as a resource for homebrewers.