Are you in the search for a best gift for someone who loves to drink beer? Or you just want to have fun with some arts and crafts to cure your boredom? Well, these 20 DIY Beer Bouquet Plans are the best solution for you!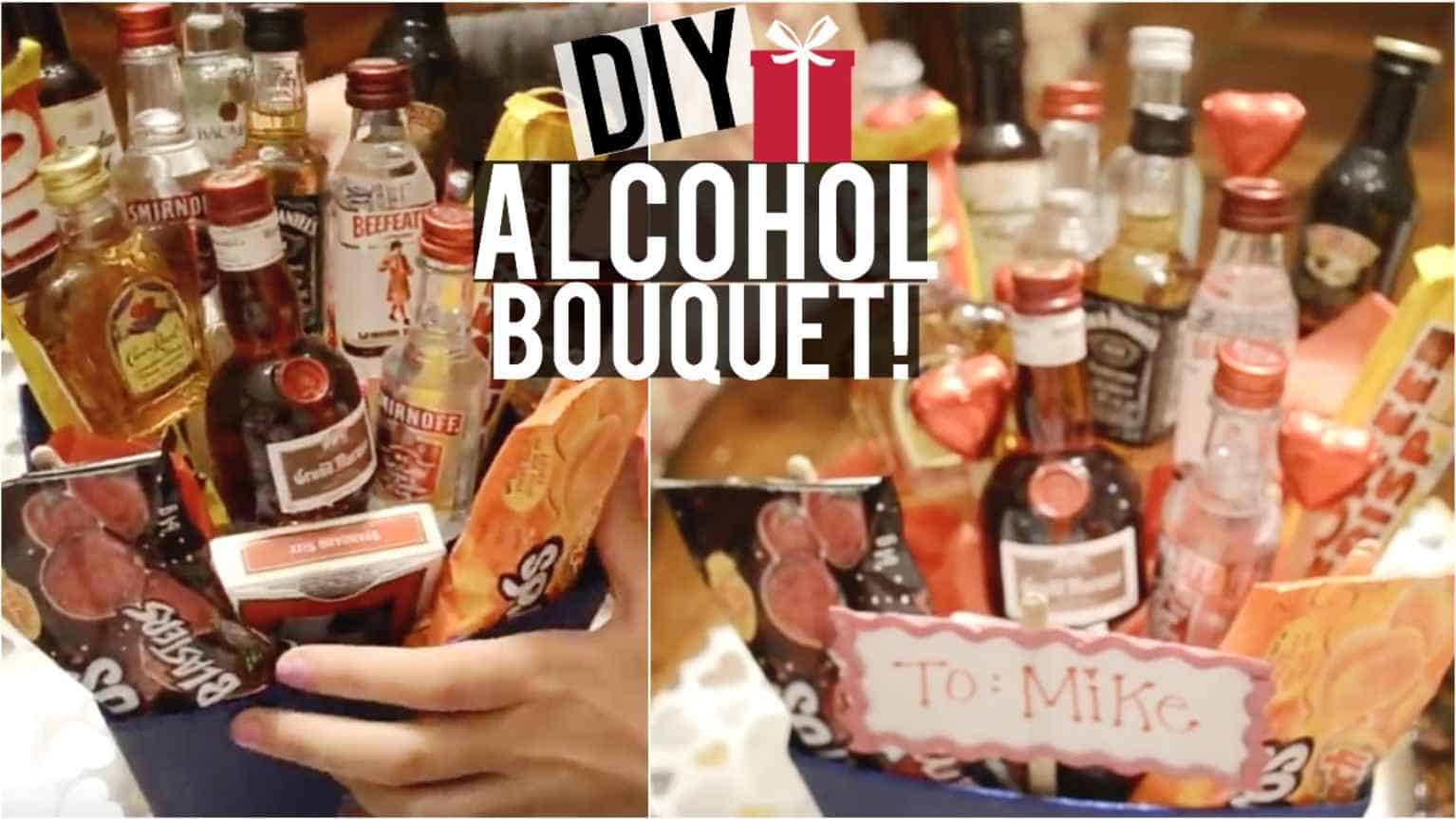 If you are looking for a perfect gift for anybody who drinks and loves chocolates, I highly recommend making a DIY Alcohol & Candy Bouquet.
It is a universal gift for anyone. It has a nice variety of alcohol and some sweet candies to compliment the alcoholic drinks nicely, and they will surely love it along with the effort you put into making it!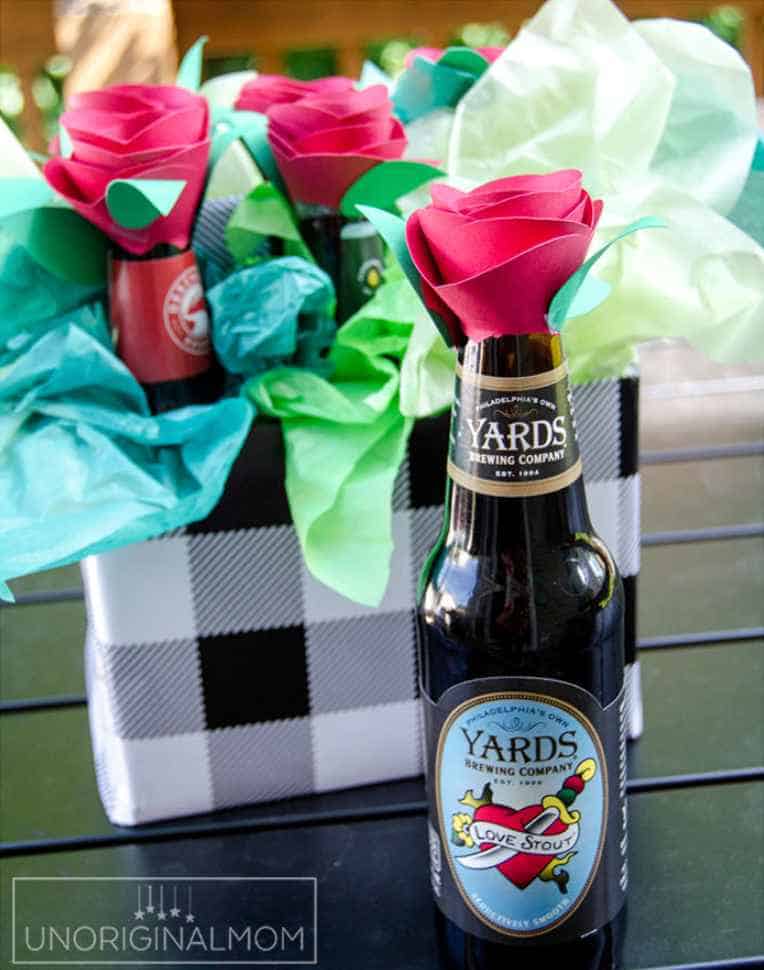 If your partner loves beer and flowers, don't hesitate to make them a lovely rose-themed beer bouquet. Making this is very easy and not very time-consuming, so it is perfect for a last-minute gift or surprise. All you need is colored paper, some tape, and some beer bottles, and you are good to go!
3. DIY Alcohol Bouquet
This DIY Alcohol Bouquet idea from Sheetal is a very beautiful one. All you need is a curly ribbon, a vase, pipe cleaners, some tape, foam tissue paper, skewers, a cutter, and, of course, your miniature alcohol bottles.
All the materials needed are easily accessible and cheap, so you don't have to worry about anything! You can also use the regular-size bottles for a more mature look!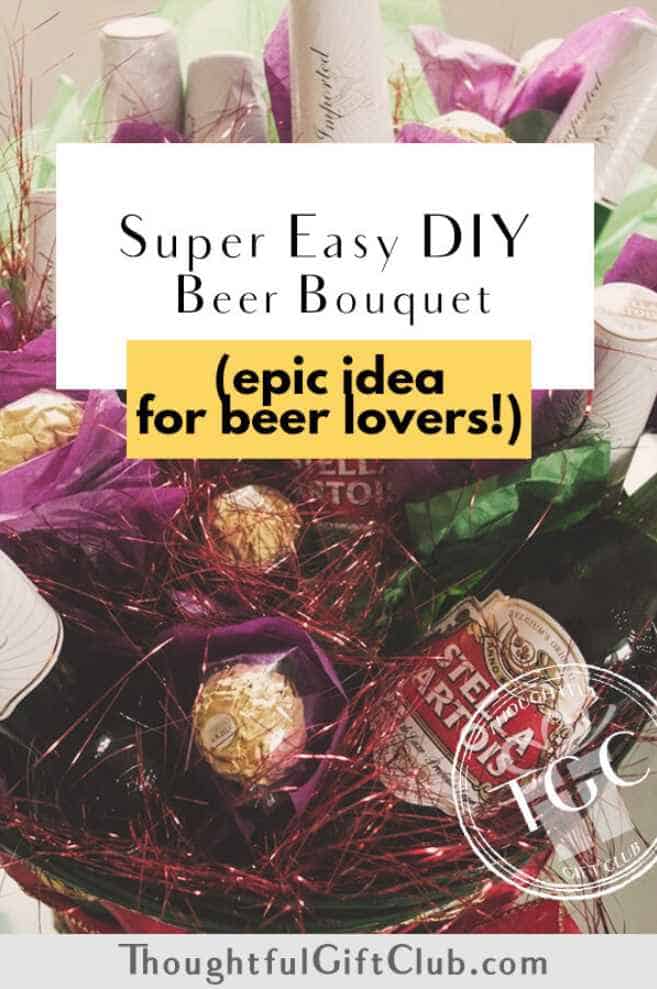 This Epic Bouquet of Beer will impress any male figure in the house! It is super easy to make.
All you need is a basket, styrofoam blocks, wooden skewer sticks, green tissue paper (or any color will do), chocolates (I highly suggest getting some Ferrero Rocher), and some beer bottles! You can also copy the process and change it to items other than beer if they're not into alcohol.
5. 7 Cans Tiger Beer Bouquet
Do you know someone who loves Tiger Beer? Why not try this genius idea from Bouquet Lab and give them 7 Cans of Tiger Beer Bouquet?
This beauty is the perfect gift for Father's Day, Birthday, or any other special event or occasion! It is easy but eye-pleasing and looks so premium they wouldn't even know you made it yourself!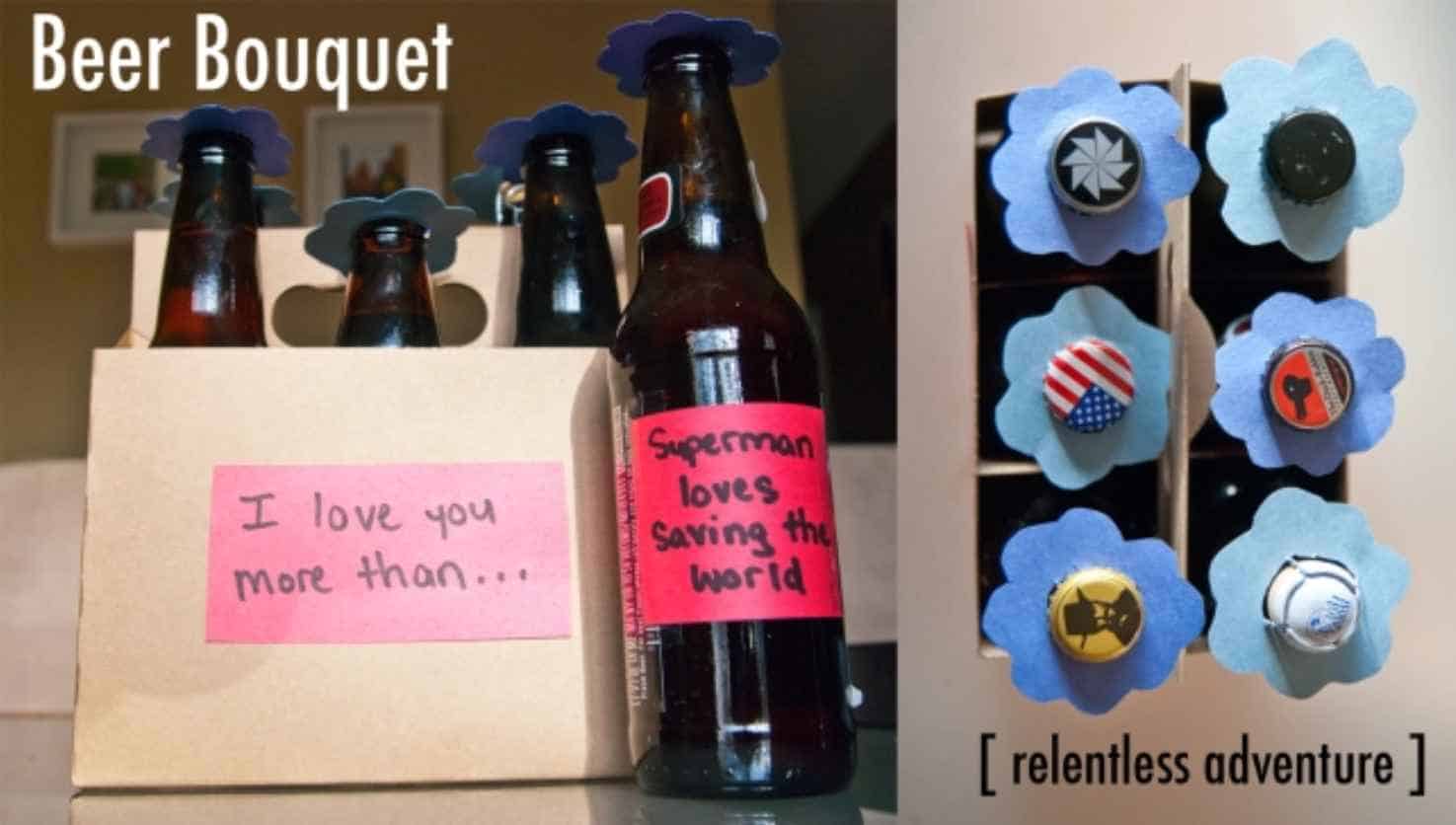 Here is a DIY Beer Bouquet for Valentine's Day. It is a perfect gift for any guy out there who doesn't love beer, right?
And your man probably doesn't like flowers, so give him a bouquet made of beer this coming Valentine's Day! All you will need is some construction paper, scissors, tape, marker, and a six-pack of beer if you want!
7. DIY Beer Bouquet for Dad
Why not make this year's Father's Day extra special by surprising your dad with a quick-and easy DIY Beer Bouquet? Father's Day is a yearly occasion that has grown to be one of the most anticipated.
And if anyone is wondering where to find the materials, you can easily find them at any store in your area. We are absolutely certain that your father will adore this bouquet, so you don't need to worry about it.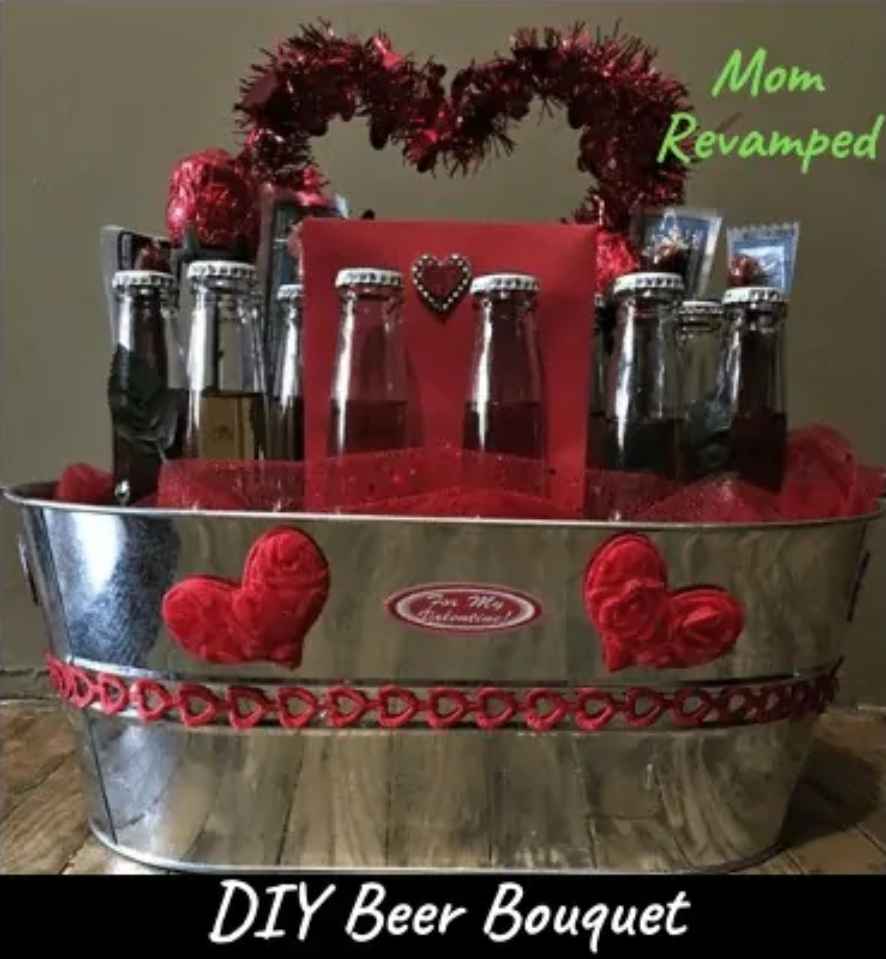 Here is another perfect Valentine's Day gift for your loved ones, especially for your boyfriend or husband! It is an ideal and appropriate gift for Valentine's Day. He will surely appreciate those nice cold cans or bottles of his favorite beer and the effort you put into making it!
9. DIY Candy & Beer Bouquet
This DIY Candy & Beer Bouquet will simultaneously satisfy your sweet tooth and your beer cravings!
It is like a typical bouquet of candy but more manly with the added beer, or if you want, you can add different beverages here for someone who doesn't drink beer, but it is a perfect gift for anyone at any given celebration!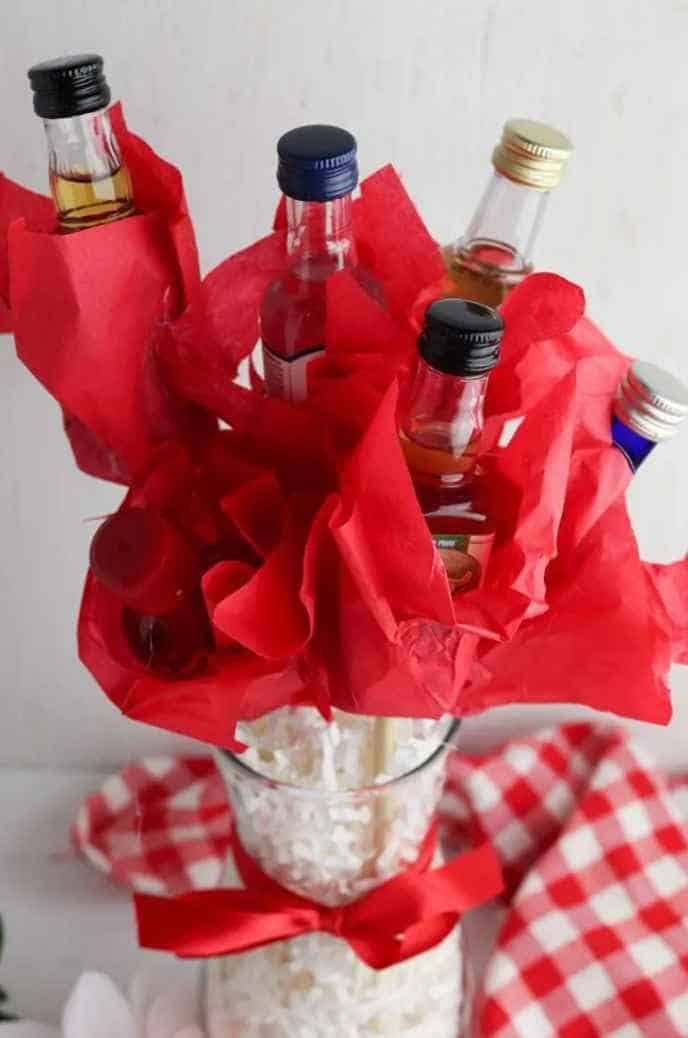 Are you looking for a different gift other than fresh live flowers that eventually die in just a couple of days?
The DIY Booze Bouquet is a fitting gift for any adult or teenager! It is easy and lovely. You will need some Wooden skewers, Tissue paper, a Hot glue gun, Paper shreds, Ribbon, Vase, and some Mini liquor bottles, or you can also use the regular ones!
11. Beer And Snacks Gift Bouquet
Do you want to enjoy a nice ice-cold beer with some delicious snacks? Then this Beer and Snacks Bouquet is for you! It is a perfect combination because the Snacks accompany the beer very well! You can also make this easy, and it is also a great gift to someone who likes to eat while drinking beer!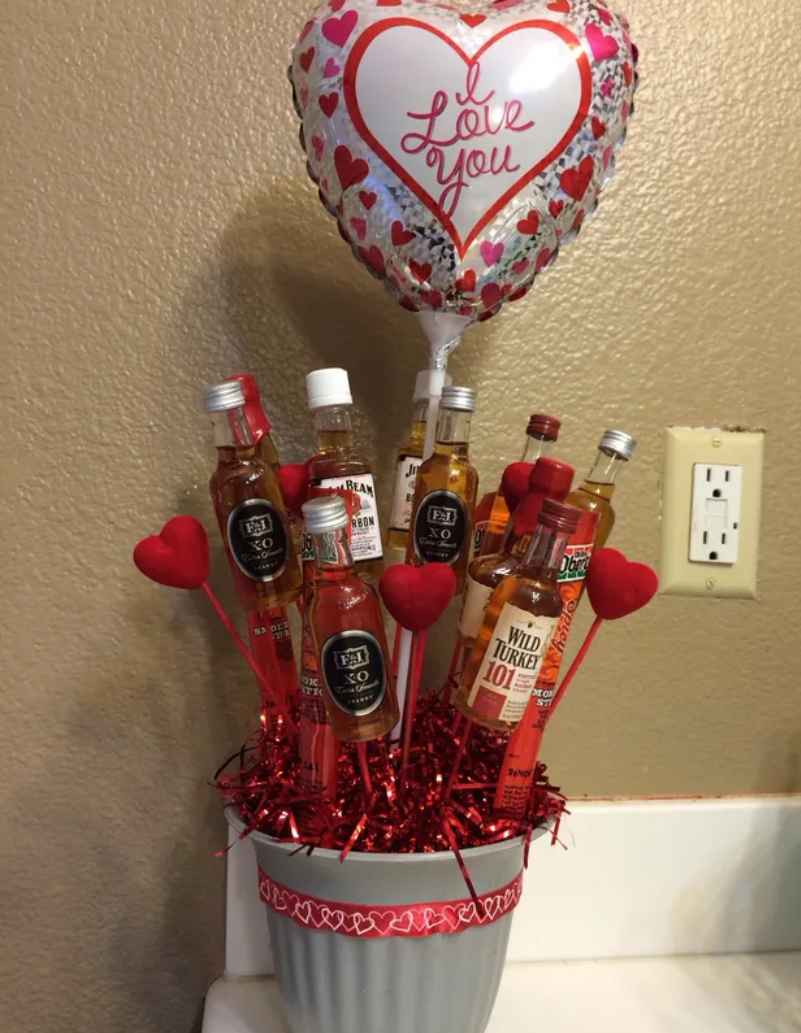 With the help of some baskets, wooden sticks, hot glue gun, confetti, ribbon, Styrofoam, and mini–Liquor Bottles, you can make any birthdays or any occasions extra special with this Mini Liquor Bouquet!
Its simplicity and beauty will surely capture anyone's heart. You can also add some snacks and chocolates for more varieties, or you can even add some more decorations to perfectly suit your style!
13. Last Minute Beer Bouquet
This Beer Bouquet is the perfect last-minute gift for anyone! Making this is simple and fast, so it is best if you're running out of time.
All you will need is some cold cans, bottles of her favorite beer, and coffee filters. You can also dye the coffee filters if you want to add some colors, but you can also use them as it is.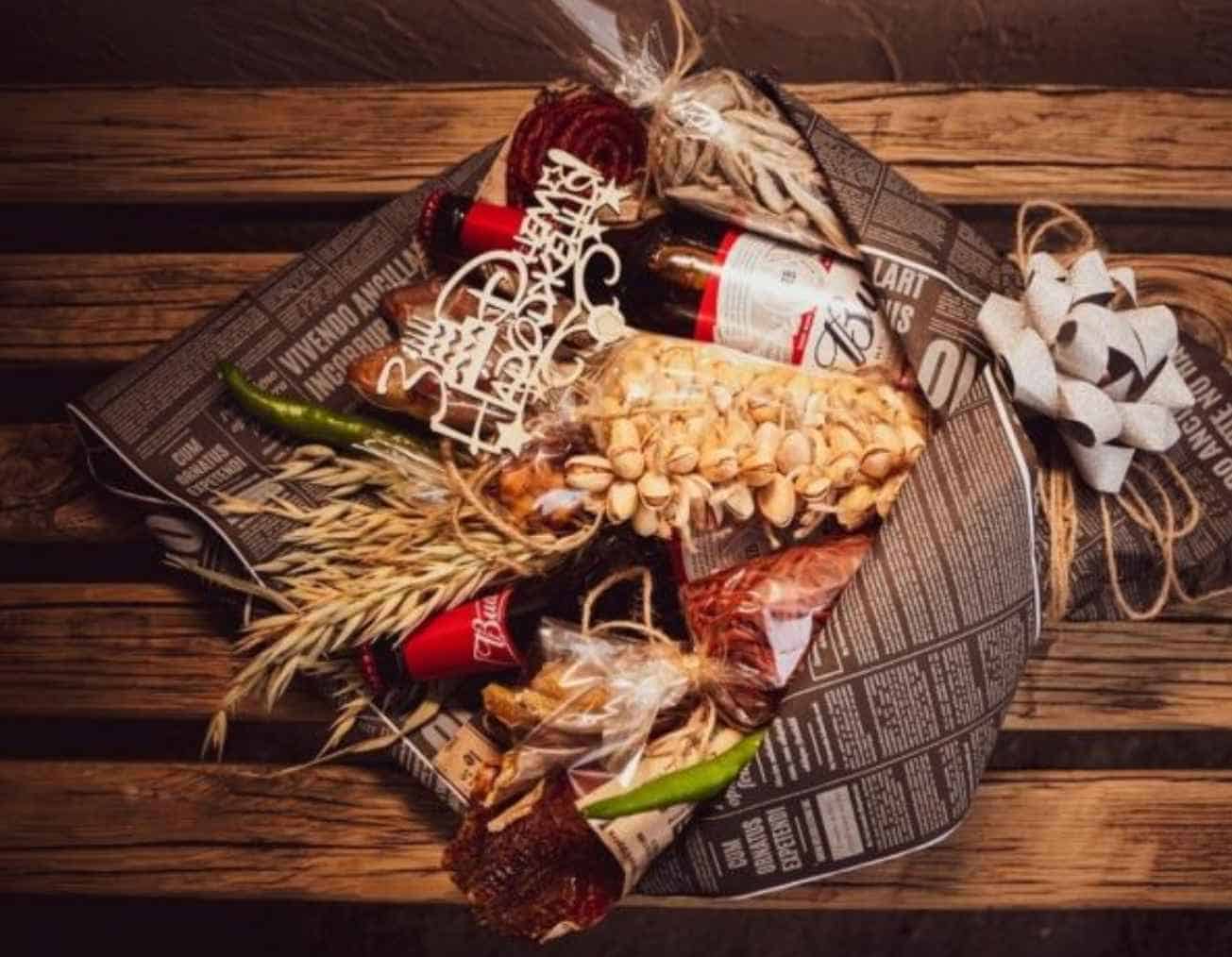 The Crowd-pleaser DIY Beer bouquet is an excellent gift for someone who loves beer and nice-looking presents!
Keep in mind this beer bouquet requires more materials than others, but I assure you, this will be worth it because the result will blow you away, and you will be very proud of yourself for making this one, and indeed they will be very grateful for you too!
15. Men's Bouquet
This unique Beer Bouquet for men is amazing! You will require a lot of materials, but don't worry!
All necessary supplies are readily available in your home or any nearby store. To make it even more distinctive, you can add some of your own ideas! The love of your life will be overjoyed when she sees this beer bouquet, I can guarantee it.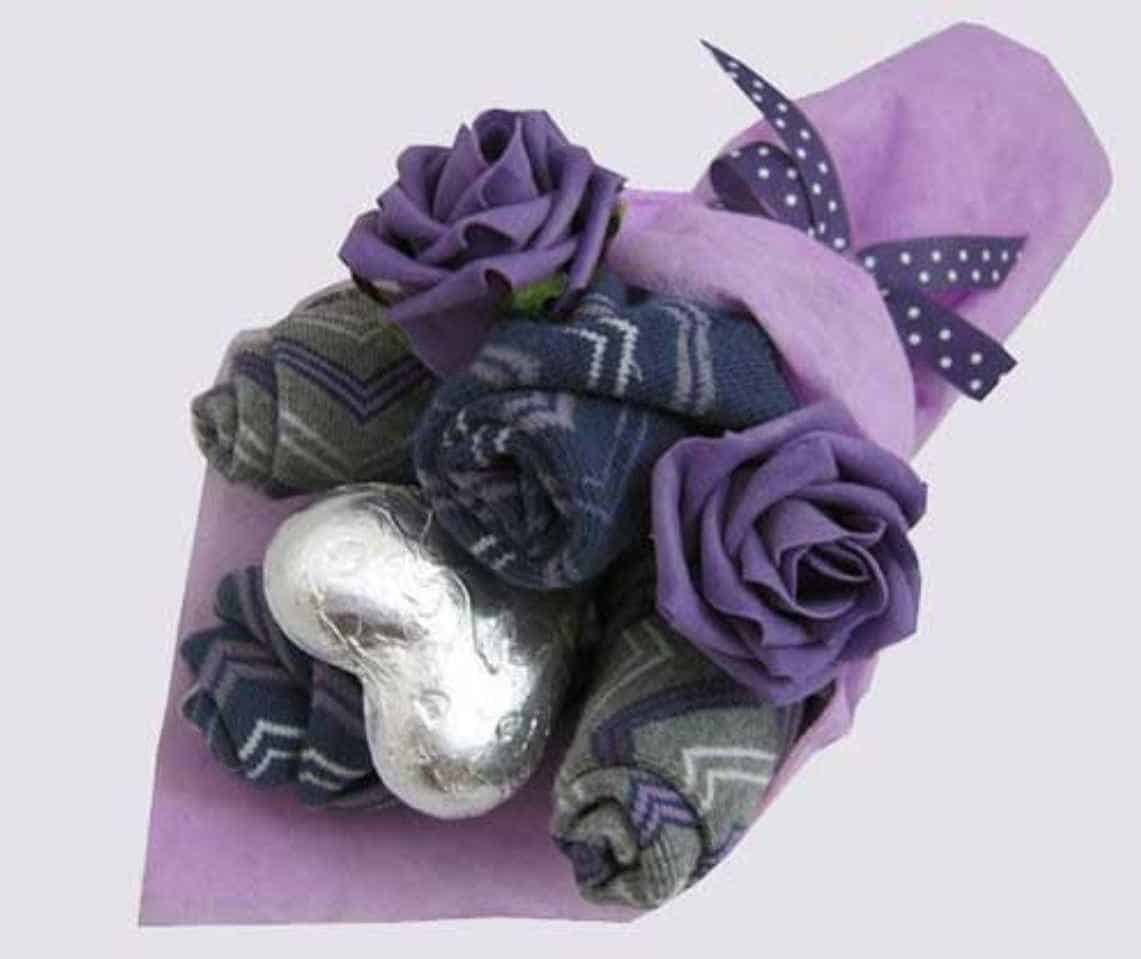 This one is similar to the Men's Bouquet earlier but is also unique. To make this is very simple.
All you need is some socks of various coloring, scissors, scotch, toothpicks, cocktail tubes, skewers, beautiful packaging paper, ribbons, pins, and of course, his favorite beers! You can make this with some bottles of beer or the ones in cans!
17. Liquor Bouquet with Chocolate
The Liquor bouquet with Chocolates by ROANMAZING93 is something to be desired for! With the use of just Wrappers, a Glue Gun, BBQ Sticks, a Used Carton, a Ribbon, Tape, three Cans of Liquor, and some six pieces of Chocolates, you can make such a fine gift or display for anyone at any given time!
Due to its two varieties, this DIY beer bouquet is distinct. The DIY Beer Mug Bouquet can be created with or without the addition of water. Making the one with water inside is definitely advised because not only would it appear realistic, but it could also be very lovely!
What are you waiting for? This bouquet will undoubtedly be gorgeous based on its name. For your father, brother, lover, or friends, consider making this beer mug bouquet. They will undoubtedly adore it!
19. Simple Beer Bouquet
The Simple Beer Bouquet is one if not the most straightforward and rewarding things you can make as a gift for any given occasion, and it will surely tackle your creative side! It is the most ideal gift for any beer lovers out there!
So, if you want to save time and money and also surprise someone with a one-of-a-kind gift, the Simple Beer Bouquet is for you!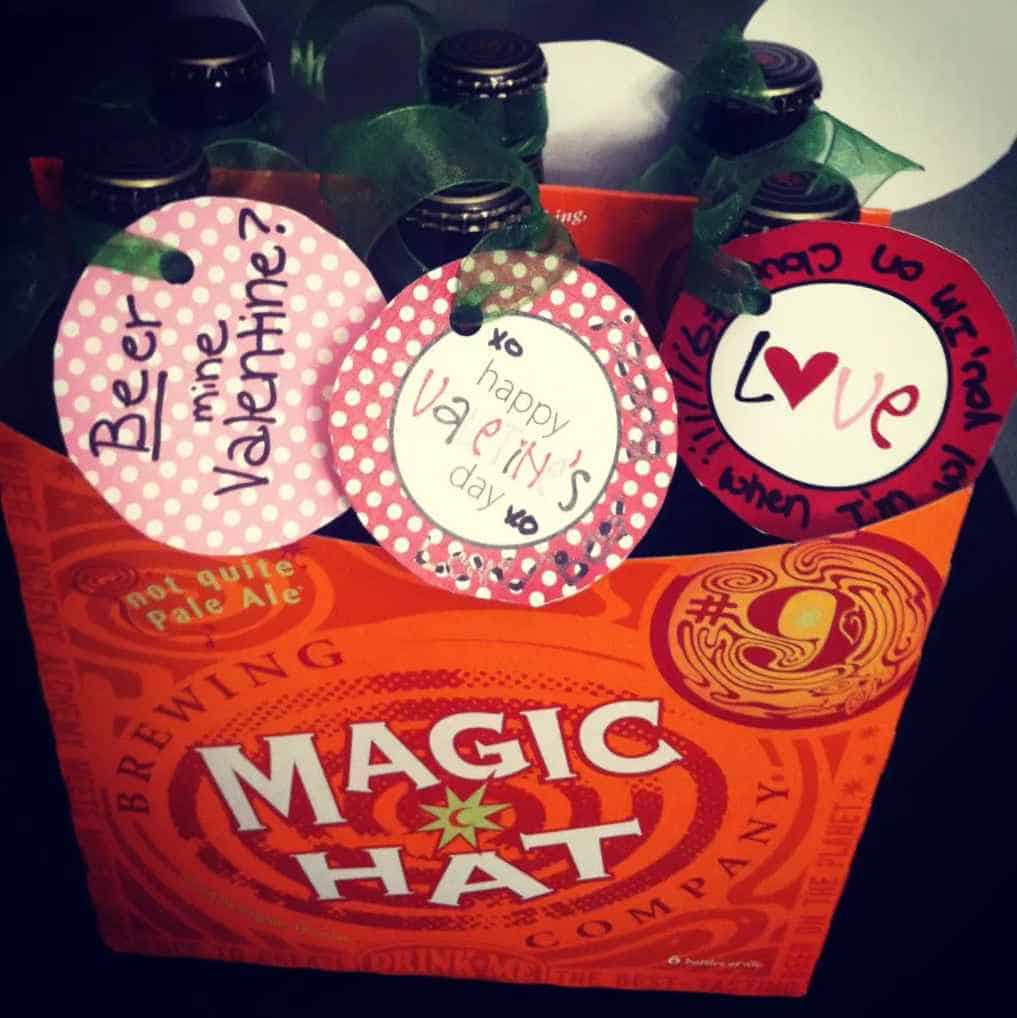 If you want an easy and straightforward gift to any boy or man out there, you should try giving him this DIY Gift for Your Man Beer Bouquet. You will need six packs of his favorite beer, ribbons, printable paper, and a black sharpie or any color will do. Just make sure it is readable.
You can also write some cheesy pick-up lines about beer to make it more unique and sweet! I'm sure he'll appreciate the gift and the effort you put into making it!
Summary
We can safely say that the best way to a man's heart is with some nice cold bottles or cans of beer, and with these 20 DIY Beer Bouquet Plans, you can't possibly go wrong with that!
Make sure to respect the passionate people who created these ideas and give them credit where credit is due!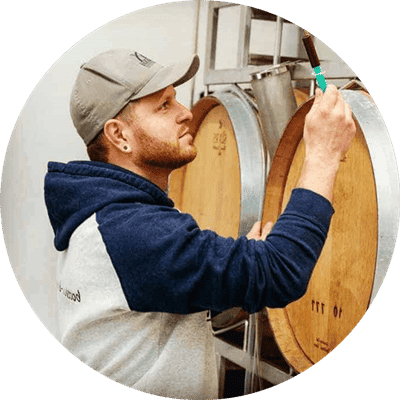 As a homebrewer, Michael would get frustrated about the lack of brewing information on the internet. After hundreds of gallons of spoilt batches, Micheal had enough. And he founded Unknown Brewing as a resource for homebrewers.