Most of us know Ukraine for its resilient effort in resisting the Russian invasion. But is that a fair reputation to have, fighting a war you never asked for? Today, we are changing the narrative the only way we know how; beer.
We'll be looking at the Ukrainian beer scene and asking the question, "What are the most popular Ukrainian beer brands?"
Grab your suitcase and your passport; we have tickets to Ukraine. Below are 12 popular Ukrainian beers.
12. Stare Mistro by Persha Privatna Brovariya
Style: Dortmunder Export Lager
Alcohol Content: 4.8% ABV
Tasting Notes: Malt, Honey, Grass, Apples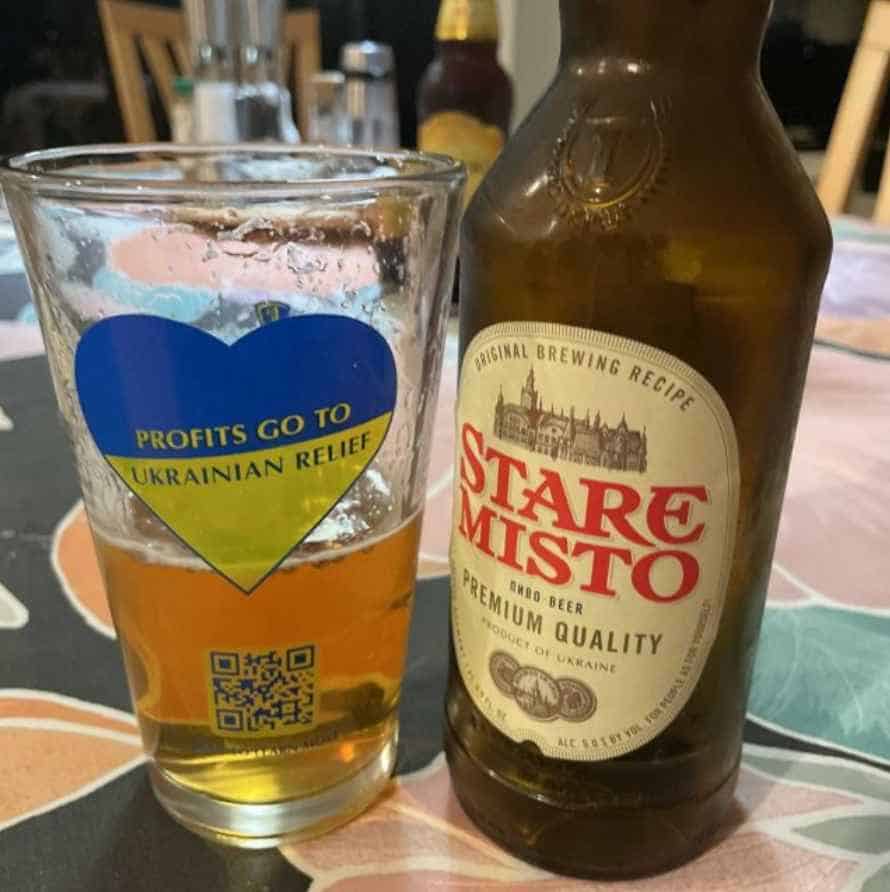 Stare Mistro is a golden yellow Dortmunder Export Lager (which is known simply as Dortmunder export). The Dortmunder Export is a unique type of lager in its own right.
This beer style has the sweet character of a German-style Helles and the bitterness of a German-style Pilsner. This half-breed beer style has the sweet character of a German-style Halles and the bitterness of the German-style pilsner.
Stare Mistro's toasted malts induce a honey-like flavor in the beer. You can also taste grassy hops and apples in every sip.
11. Persha Chorne by Persha Privatna Brovariya
Style: Baltic Porter
Alcohol Content: 6.8% ABV
Tasting Notes: Dark Fruit, Woody, Toffee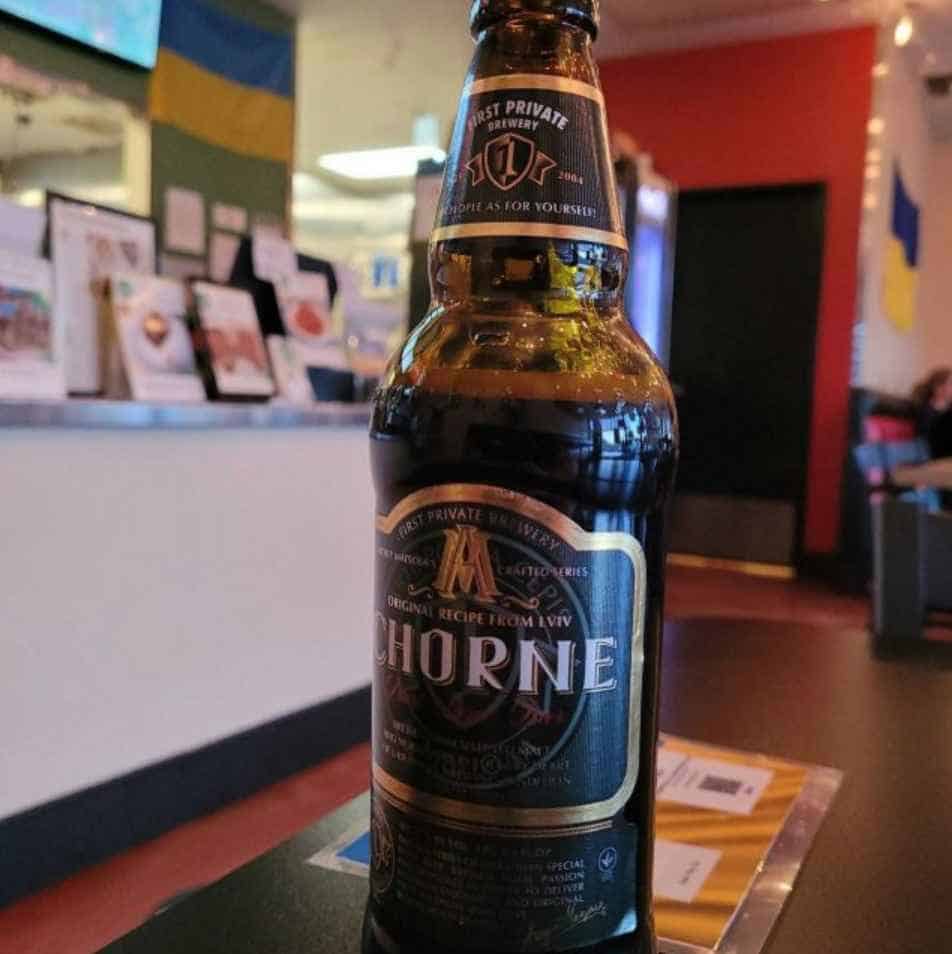 In Ukraine, "Chorne" means black. And true to its name, Persha Chorne is black with reddish-brown highlights. If you're tired of the watered-down lagers, you can switch things up with Persha Chorne. It has a toasty taste profile with caramel and toffee characteristics.
It may look like a porter, but it tastes like a Dunkel, with prominent fruity characteristics. Overall, easy-drinking beer (despite the high alcohol content).
10. Mykhola (Mukona) Doppelbock by Umanpivo
Style: Doppelbock
Alcohol Content: 6.5% ABV
Tasting Notes: Toffee, Caramel, Butterscotch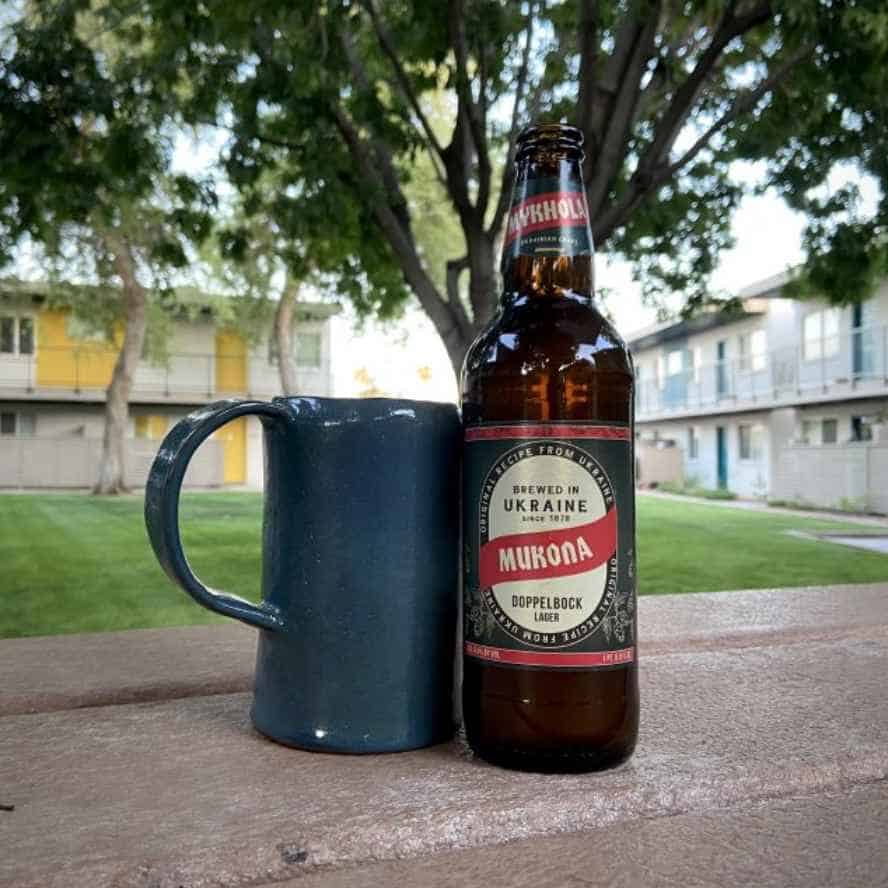 How much do you love Doppelbocks? If your answer is "Very much," you should add Mykhola to your beer bucket. Appearance-wise, Mykhola lives on the pale end of the Doppelbocks. While most Doppelbocks are amber in color, Mykhola is deep gold.
But how does it taste? Very malty with prominent bready characteristics. Mykhola is a medium-bodied beer that combines well with pork, strong cheeses, and chocolate cakes.
9. Chernigivske Svitle by Chernigivske Pivokombinat
Style: Light Lager
Alcohol Content: 4.4%
Tasting Notes: Floral Hops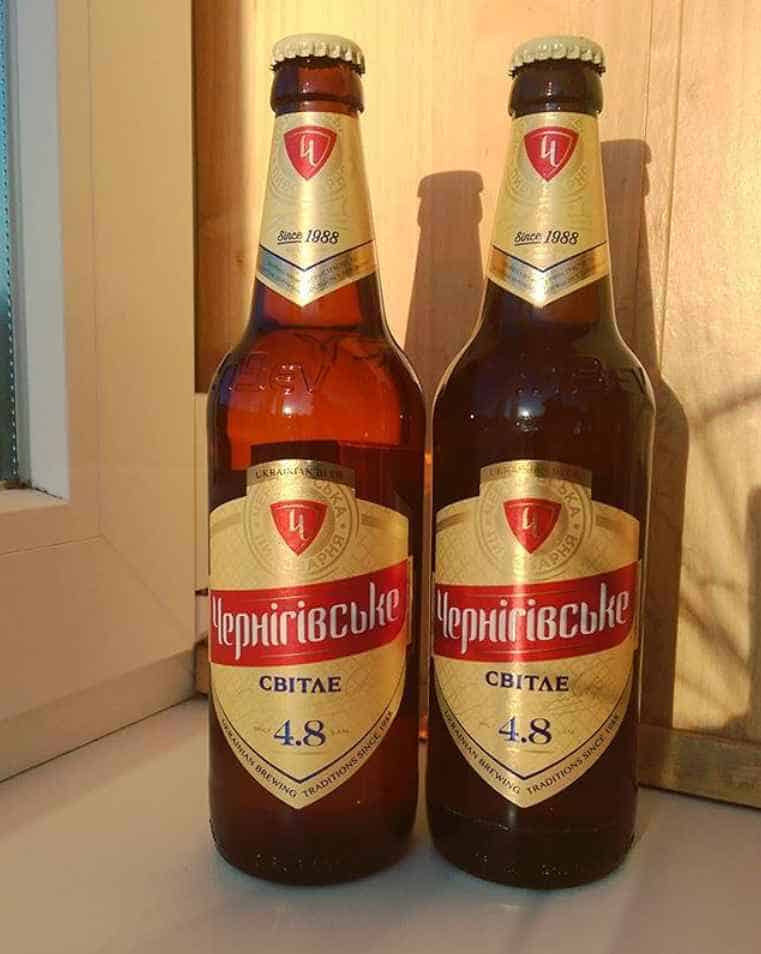 Under the heat of the Ukrainian summer, you don't want any other beer. Chernigivske Svitle balances malt sweetness and hop bitterness quite well. And it is all in a light body and low-alcohol content liquor.
This beer is excellent for the summer because it is effervescent and refreshing. You can drink gallons of this elixir before getting drunk (just a figure of speech). This character also makes it an excellent companion for spicy foods.
8. Koryfei by Opillia Brewery
Style: European Pale Lager
Alcohol Content: 4.2% ABV
Tasting Notes: Licorice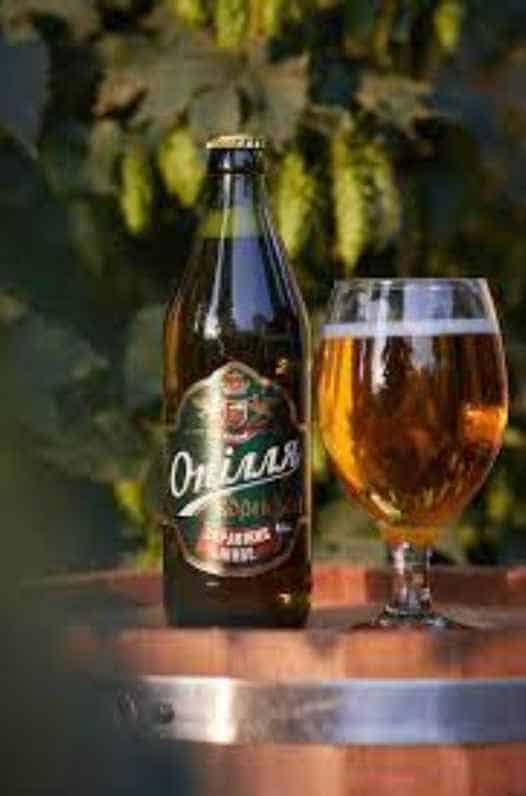 Koryfei is brewed according to the ancient recipes of the Bavarian Beer Laws of 1516. It combines elements of the old and the new to create this light lager that Ukrainians enjoy today. It is a rich golden lager that forms a thick white head.
Koryfei walks the tightrope of sweetness and bitterness quite well, giving us a well-balanced beer that's soothing to the palate. All you need is a pilsner glass and a thirsty mouth to enjoy this beer.
7. Obolon Premium by Obolon Brewery
Style: European Pale Lagers
Alcohol Content: 5% ABV
Tasting Notes: Herbal, Floral, Citrus, Malt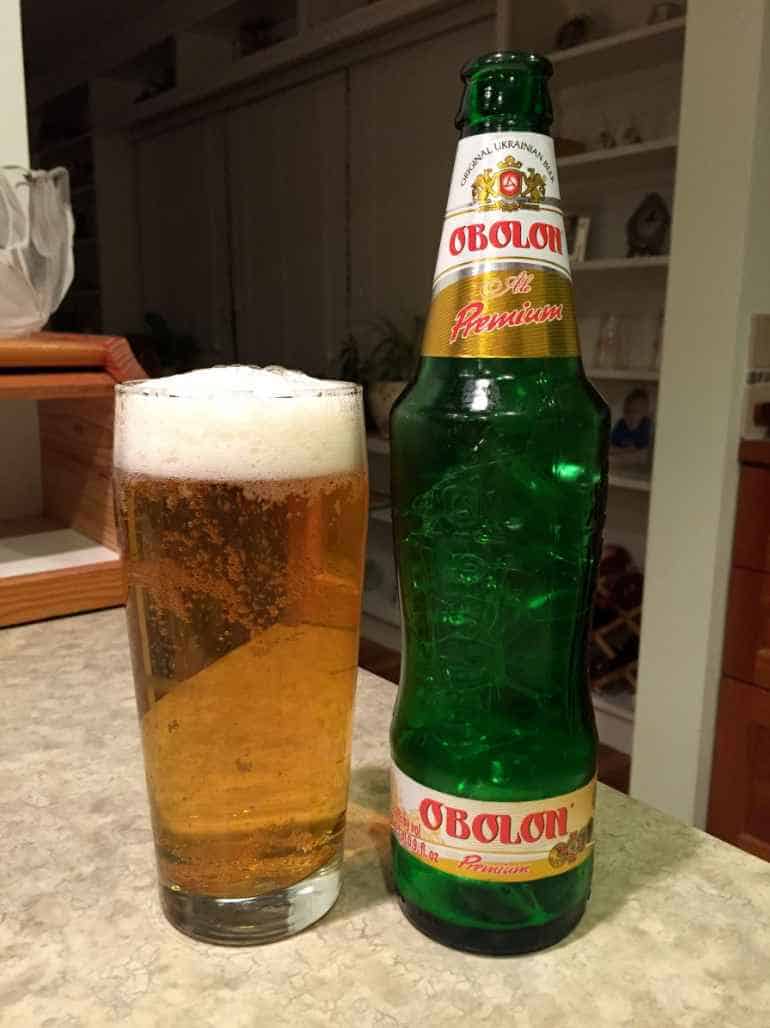 Everyone loves their lagers. But what makes Obolon Premium different? Obolon Premium is especially effervescent and refreshing. It has a pronounced malty taste with floral and herbal notes. And the malty sweetness of the beer balances quite well with the hop bitterness.
In addition to your traditional lager ingredients, Obolon Brewery uses rice, giving the beer that silky smooth texture. Ukrainians love this beer for its mild taste, light body, and refreshing nature.
6. Lvivske Mitzne (Strong) by Lvivska Pivovarnya (Carlsberg)
Style: European Strong Lager
Alcohol Content: 7% ABV
Tasting Notes: Malty, Apple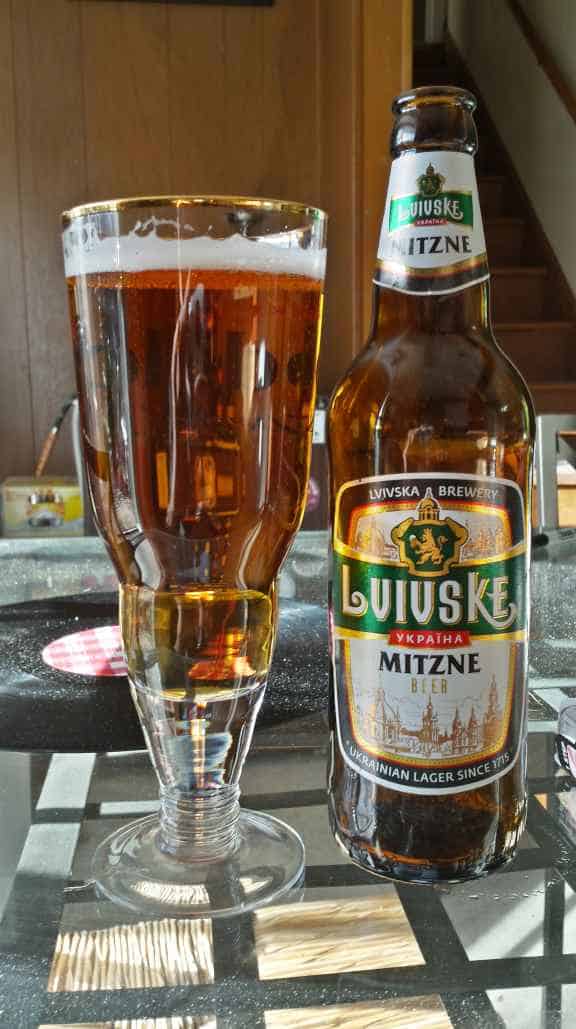 Are you ready for a strong lager? Most lagers tap out at 5% ABV, but not Mitzne. This Ukrainian beer tops out at 7% ABV. Its aroma is as strong as its alcohol content. It smells like nail polish and bread. In terms of flavor, Mitzne is equally unique. It has some noticeable alcohol warmth. It is a malt-centered beer with apple esters.
5. Robert Doms Vidensky by Lvivska Pivovarnya
Style: Vienna Lager
Alcohol Content: 4.2% ABV
Tasting Notes: Malt, Tea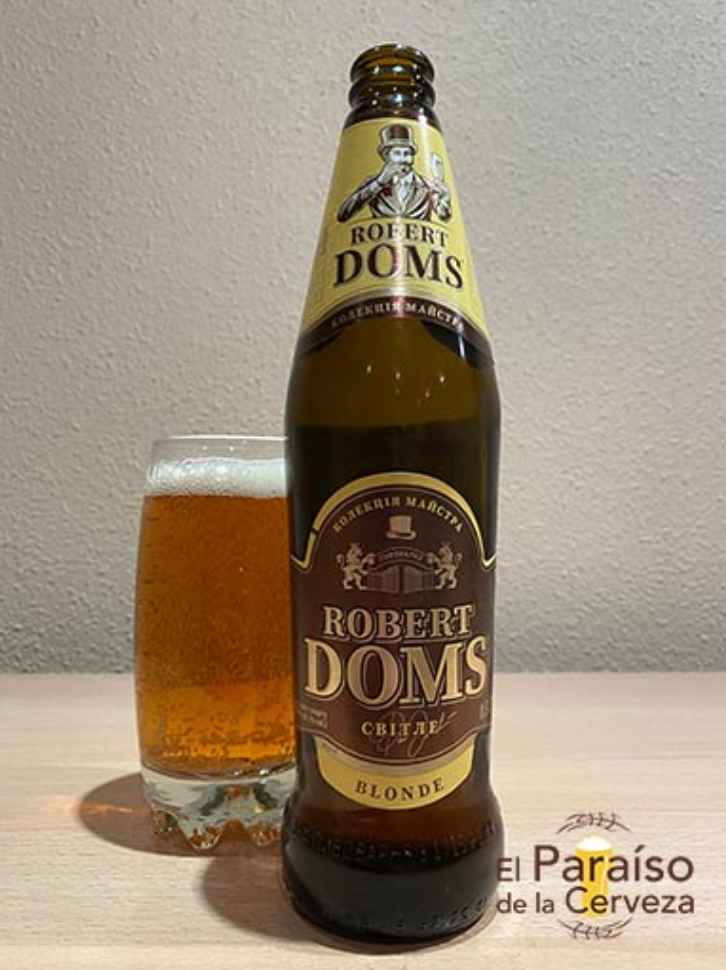 What will you find in a brown bottle of Robert Doms Vidensky? I'll tell you; an amber-colored Vienna lager with a hazy character. It first hits you with that caramelized goodness. Its taste is consistent with its aroma; malt sweetness. The taste is also complemented by grassy hops.
Robert Doms Vidensky balances malt sweetness and hop bitterness quite well. The result is a refreshing beer with a very light body.
4. Robert Doms Bogemsky by Lvivska Pivovarnya
Style: Bohemian-Style Pilsner
Alcohol Content: 4.6% ABV
Tasting Notes: Malt, Floral Hops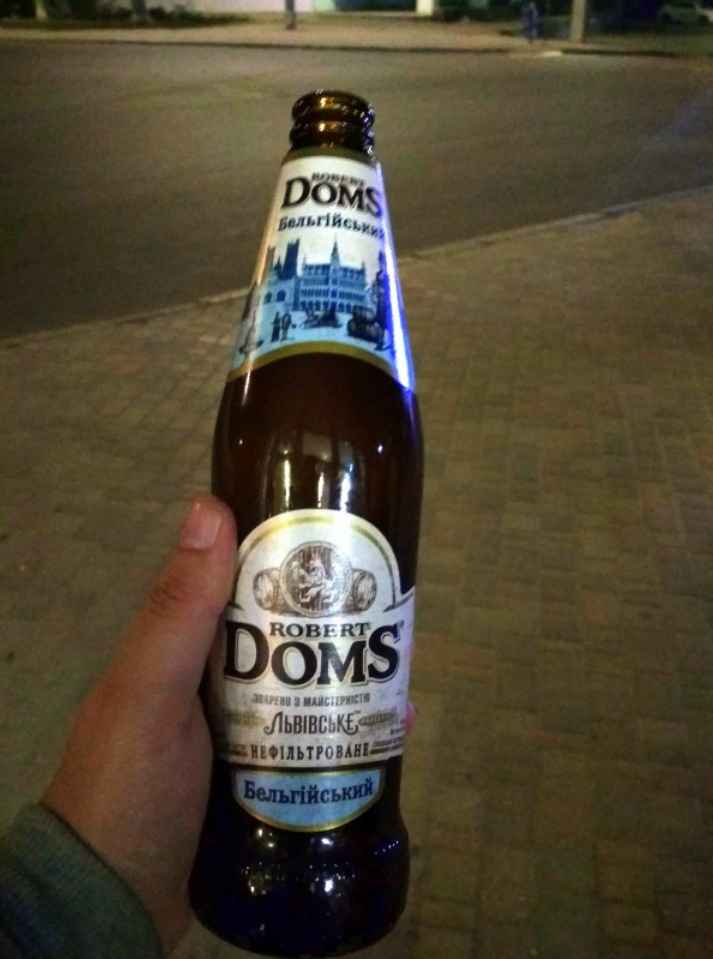 From one Robert Doms to another. If you haven't guessed it yet, Bogemsky is the sister brand of Vidensky. "Bogemsky" translates to Bohemian. Now the beer family, Bohemian-Style Pilsner, makes sense.
Robert Doms Bogemsky is a golden beer that forms a thick white head. It's a malty beer with a fruity character. The light body of the beer makes it a refreshing drink and a perfect companion for spicy dishes.
3. Obolon Magnat by Obolong Brewery
Style: European Pale Lager
Alcohol Content: 5.2% ABV
Tasting Notes: Corn, Honey, Berries, Apricots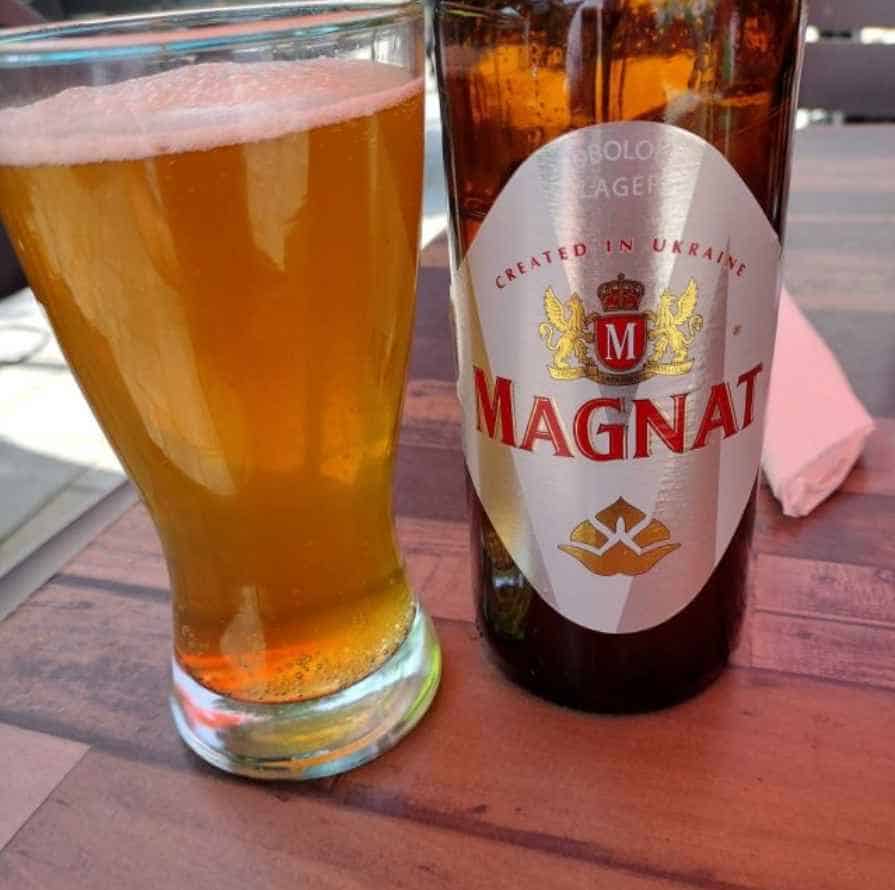 If the Obolon beer brand was in the NBA, it would be the Los Angeles Lakers, a star-studded team. No wonder its beers dominate the top half of this list. For its second entry in our list, the Obolon beer brand presents Obolon Magnat, a golden amber lager with an alcohol content of 5.2% ABV.
This concoction has a prominent smell of pale malts as a background for the faint floral and grassy notes. This brewsky is a perfect companion for traditional Ukrainian cuisine.
2. Obolon Lager by Obolon Brewery
Style: European Pale Lager
Alcohol Content: 5.2% ABV
Tasting Notes: Malt, Lemon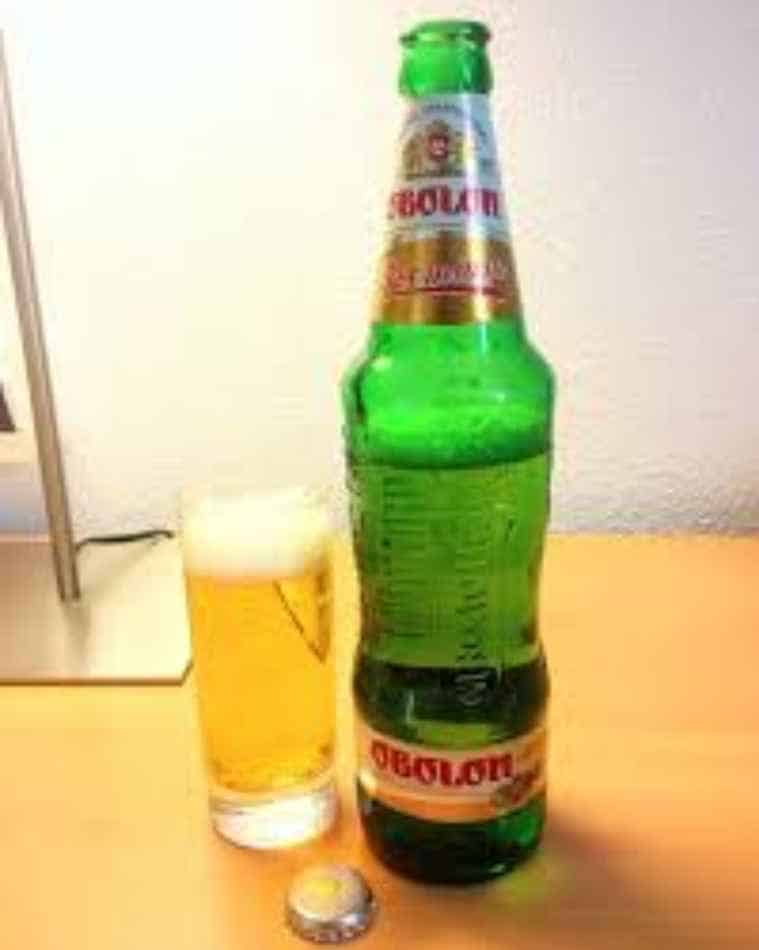 Obolon Brewery is Ukraine's favorite craft brewery. And Obolon Lager is the brewer's leading brand. This pale European lager is crisp with a refreshing taste. So refreshing that it is the perfect companion for Goulash and other spicey Ukrainian dishes.
But don't go overboard; at 5.2% ABV, it's not as light as our light American lagers. Overall, malty beer with a sprinkle of lemon flavor.
1. Lvivska 1715 by Lvivska Pivovarnya
Style: European Pale Lager
Alcohol Content: 4.7% ABV
Tasting Notes: Malt, Grass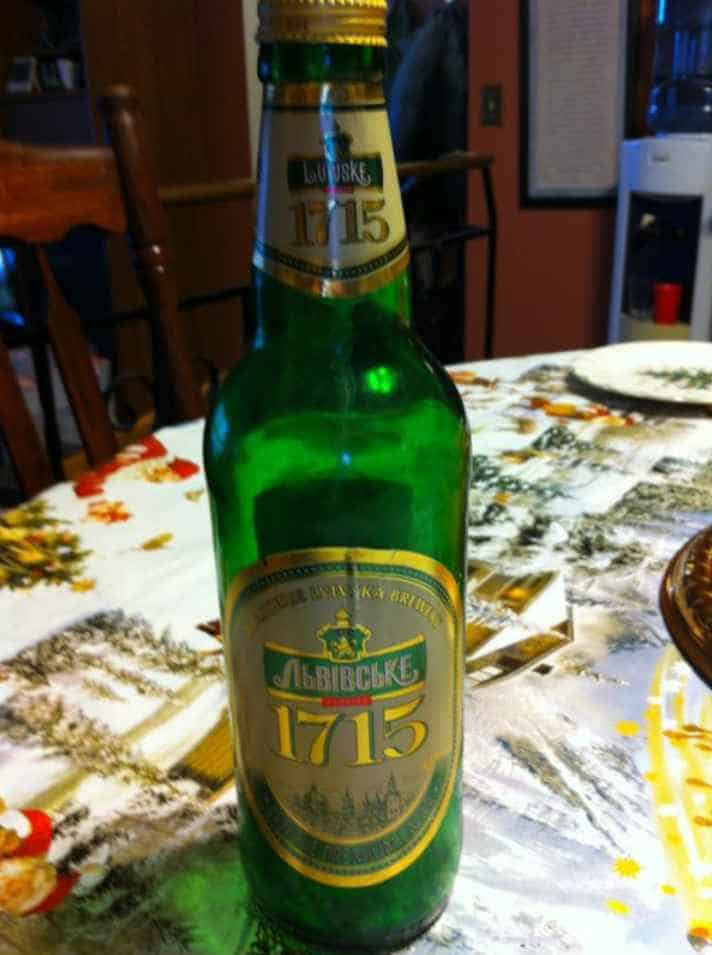 And the moment we have all been waiting for. The most popular Ukrainian beer brand is Lvivska 1715 by Lvivska Pivovarnya (Carlsberg).
This flawless Euro lager has been around since the 18th century. During that era, Lviv brewers would pass down their sacred recipes by word of mouth from father to son and from generation to generation.
Awesome, the beer has a rich history, but how does it taste? Lvivska 1715 is skunky with prominent malty notes. But over the sea of doughy goodness, you'll find noticeable grassy flavors.
Common FAQs
And those are the most popular Ukranian beers. Now let's explore some of the questions that people ask in regard to popular Ukrainian beers.
What is the National Beer of Ukraine?
That title goes to Chernigivske Svitle (or Chernihivske Svitle). But if you want to get technical, you can refer to it as Чернігівське in Ukrainian. The word "Svitle" loosely translates to pale lager. Therefore, Chernigivske Svitle is a pale lager that hails from the city of Chernihiv.
The beer was first produced in 1988 to celebrate the city's 1,300th anniversary. Today, the brand is owned by SUN InBev Ukraine (the Ukrainian Subsidiary of AB InBev), and it is brewed in Chernihiv, Mykolaiv, and Kharkiv.
Video Source:
What is Ukrainian Beer Like?
In terms of style, Ukrainian beers are not too different from what we consume in the States. But they have a preference for traditional German beer styles. Some of the beer styles you can expect in Ukraine include:
Beer Style
Common Attributes
Svitle (Light Lager)
Low in flavor

4-5% ABV

Temne (Dunkel/Dark Lager)
Sweet and toasty
Mitzne (Strong Lager)
Hoppy

Heavy-bodied

6-8% ABV

Bile (German-Style Hefeweizen)
Spicy

Citric

Porter
Fruity
What Beer Raises Money For Ukraine?
Ever since Russian troops marched into Ukraine in 2022, the eastern European country has received overwhelming support in its efforts to repel the Russian invasion.
Different entities show their support in different ways. Governments offer arms, people send donations, and some companies offer to raise money to aid humanitarian efforts.
Swindon Welcomes Ukraine is one of those entities. They brew a beer called Volya to raise funds for Ukrainian refugees. Volya is not just a random beer used as an excuse to raise funds. It is brewed with honey (Ukraine's national flavor) and sunflower seed (Ukraine's national symbol).
Volya may be brewed in Swindon, UK, but it's as Ukrainian as all the beers in the list above.
Video Source:
Final Thoughts
Ukraine is going through tough times, and they deserve as much support as they can get. This is the time to support their local breweries as they help (directly or indirectly) the war effort.
Sun InBev Ukraine is donating its profits to humanitarian missions. Pravda Brewery paused beer production so they could manufacture Molotov cocktails. Whatever you can do, help out. Ukraine needs us.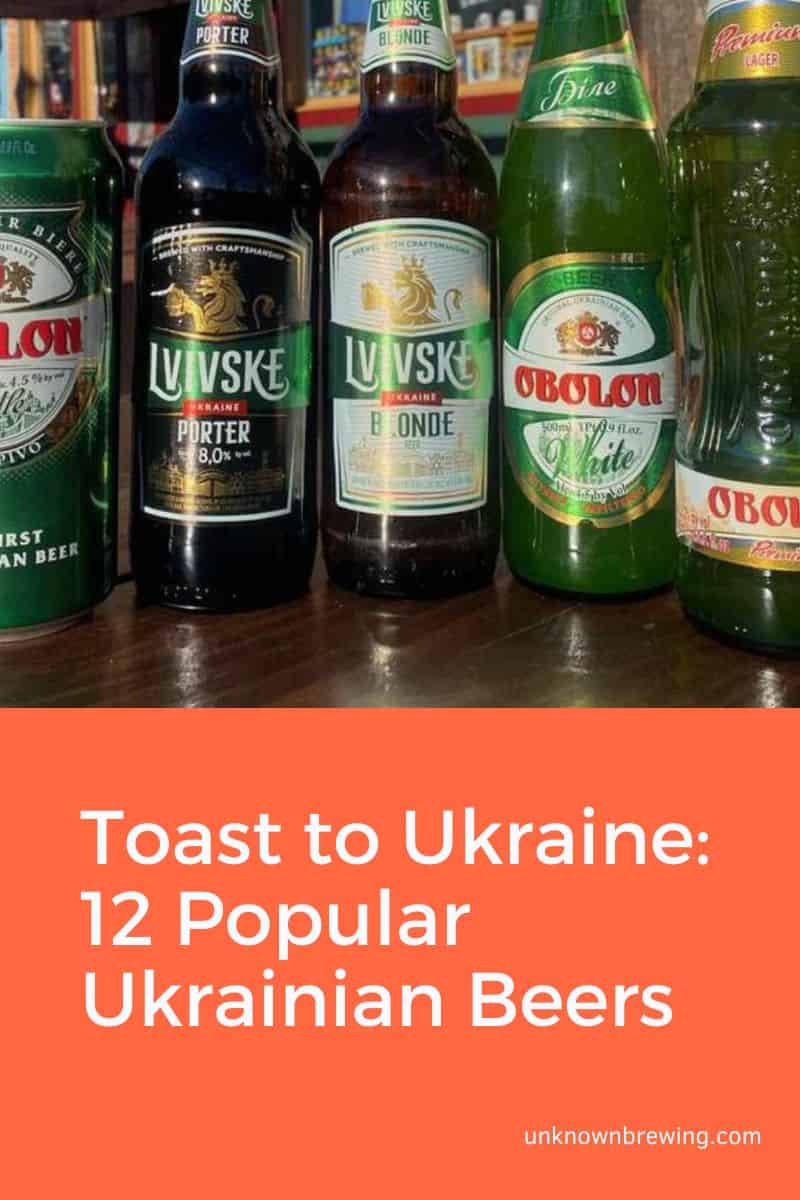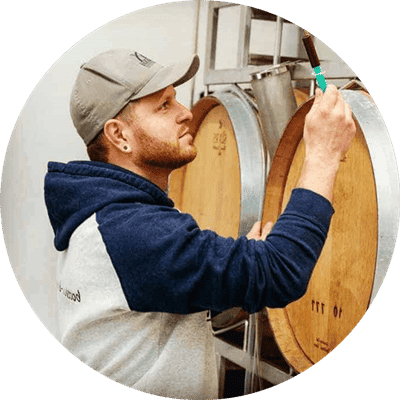 As a homebrewer, Michael would get frustrated about the lack of brewing information on the internet. After hundreds of gallons of spoilt batches, Micheal had enough. And he founded Unknown Brewing as a resource for homebrewers.