Whenever my friends ask what my favorite drink is, they end up shaking their heads because I tell them it's Ginger Beer. For those who aren't familiar or used to this kind of drink, it might sound like an odd answer. However, they really don't know the delightful things that Ginger Beer has to offer.
If you are on the lookout for a revitalizing drink, you should consider getting some Ginger beer. One of the best things about this beverage is the number of cocktails you can make with it. This drink is sweet, spicy, and everything in between, depending on which brand you prefer.
There are so many Ginger Beer Cocktail recipes around, but the ones I have included are guaranteed to knock your socks off! You don't need to be a professional mixologist to be able to mix simple and fancy Ginger beer cocktails.
If the sweltering summer heat leaves you thirsty and exhausted, then it's time to whip up some Whiskey and Ginger Beer.
This recipe has everything you need – from the tools you need up to the steps you need to follow. The key to a good Whisky and Ginger Beer is to choose premium liquor. And of course, don't forget to opt for non-alcoholic Ginger beer
2. Classic Dark 'N Stormy
The name of this cocktail might sound intimidating but believe me when I say it's anything but that! Learning how to make this alcoholic concoction only takes about two minutes and 16 seconds!
Before deciding to make this cocktail for yourself, you should know that it calls for a specific type of rum. If you don't have that on hand, other dark rum alternatives will suffice.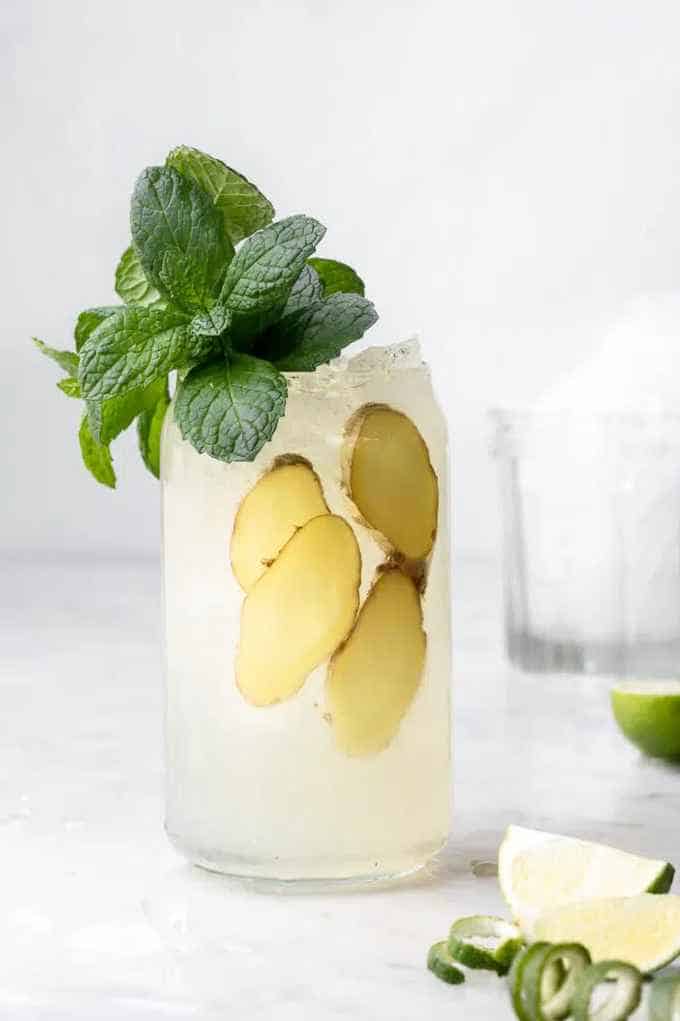 Mexico is one of my favorite travel destinations and when I am missing the place, I drink a Mexican Mule to remind me of that beautiful place.
It's a given that the ginger beer is an integral ingredient of this cocktail. However, there should also be an emphasis on the white Tequila that you need. It doesn't have to be expensive, but it needs to be of exceptional quality at least.
4. Ginger Beer Mojito
This Ginger Beer Mojito recipe proves that making cocktails should not be a long, tedious process! This applies to the length of this recipe video and the time it would take you to mix this drink up. The former is about less than a minute long while the former is achievable in four easy steps!
Feel the Caribbean soul and fever with this ginger beer cocktail! The three ingredients required for this drink are popular in the region. All it takes is to mix all of them together in a tall glass and you are good to go!
In the event that you have no spicy rhum around, the recipe offers a viable alternative! You can use whatever liquor you prefer, albeit the recipe suggests using gin.
6. Gin-Gin Mule
Even before I took a sip of this drink, I knew it was going to be so freakin' good! With a name such as Gin-Gin, what more can you ask for?
This drink was the brainchild of a New York-based bartender back in the year 2000. Since then, it has gained a lot of popularity throughout the world. Vodka seems to be the usual spirit for mules, but gin seems to work well with ginger beer as well.
If you love Margaritas, you might be interested in the Ginger Beer version. Your usual margarita is made with Triple Sec, but with this recipe, Ginger Beer serves as the substitute.
As with any memorable margarita, this recipe recommends selecting tequila with superior quality. The agave content and flavor makes a difference in this drink's outcome!
8. Ginger A'Hoy
Straightforwardness would be the best word to use to describe this video because it shows you what to do in 38 seconds.
If you have the inclination to taste this cocktail, you should note that it needs Spiced Ginger Beer and Spiced Rum. Without any of these two "spiced" ingredients, this Ginger A'Hoy cocktail won't turn out as expected or desired.
Take those copper glasses out right now because it's time to make some classic Moscow Mule! I don't know about you, but you can't rule out the Classic Moscow Mule if we are going to talk about Ginger Beer cocktails. I feel like it's a staple drink at this point!
Since we are talking about the OG Moscow Mule, you just need three prime ingredients – ginger beer, vodka, and lime!
10. Jack Honey & Ginger Beer
I'm a big fan of Jack Honey, so when I found out you can fuse it with Ginger beer, I was over the moon! These two are some of my favorite drinks ever!
Even if you are an amateur drink mixer, I can assure you that you can do this at home! Pour that Jack and Ginger beer into a glass and stir away!
There's nothing quite like hanging out and drinking with friends on a breezy summer day! While sharing stories and laughs, you should consider drinking Strawberry Ginger Paloma together. What is this cocktail all about and why should you try it?
This recipe produces a tangy and sweet drink made primarily with tequila, ginger beer, grapefruit juice, and strawberries.
12. Ginger Fever Punch 
Are you eager to put your cocktail mixing skill to the test? Well, here's your chance, my friend! The Ginger Fever Punch cocktail featured in the video has more ingredients than some of the other cocktails I have tried. Despite the number of items you need, putting them together is not as complex as you think.
I must admit that I have never tried blending sake with ginger beer to create a cocktail drink. But since there's a first time for everything, I figured I should at least attempt this alcoholic fusion.
I have profound appreciation for any recipe that shows not only the things you need but also photos of how to do it. And this Ginger Saketini does just that and more!
14. Ginger Shandy
Are you one of those people who are always up for something new? It seems that this is your lucky day because you came across this contemporary Ginger beer cocktail recipe.
Don't be surprised if making this cocktail feels like a breeze! It's probably because you can recreate it as fast as this 30-second recipe video!
As someone who can never say no to a glass of Aperol Spritz, I welcome any variation that might come my way. The Aperol Gin is an interesting take on this beloved Italian cocktail.
It's a given that the drink will include Aperol. What makes this recipe different is the use of gin and ginger beer!
16. Vodka-Ginger Drink
This cocktail might have been around the 1950s, but it remains a classic. It's probably because you can find the ingredients easily.
Lime juice serves as the base of this drink, followed by a shot of vodka and ice. The icing of this cocktail goes to the ginger beer. After stirring all these ingredients together, top with a slice of lime!
The holiday season is the perfect time to introduce new cocktails to your family and friends. Surprise them with this Pomegranate Ginger cocktail!
There are four main ingredients that you need to prepare – vodka, Pomegranate flavored Italian soda, lime juice, and ginger beer. Before adding all these liquids in a glass, don't forget to adorn it with fresh mint and thyme!
18. Jagermeister Berlin Mule
People have different opinions when it comes to Jagermeister. For those who don't fully enjoy what this German liquor has to offer, perhaps this cocktail recipe might change their minds.
In a tall glass with ice cubes, pour a generous amount of Jagermeister, and then add the game changer – the Ginger Beer!
Bourbon is such an iconic Kentucky staple. And if you want to do something different with it in a span of five minutes, then the Kentucky Mule should be on top of the list.
Apart from your chosen bourbon, what the Kentucky Mule needs is Ginger beer. If you don't have that copper mug used for Moscow Mule, a regular glass tumbler would suffice.
20. Foghorn
When I was told this cocktail was called Foghorn, I imagined some sort of ancient mythical creature. Perhaps leaning towards something legendary is fitting for this cocktail.
While it might look simple, the taste is off the charts! Credit goes out to the winning combination of lime juice, dry gin, and ginger beer in a highball glass.
Go For Gold With Ginger Beer Cocktails
Goodbye might be in order for the usual cocktails you have been ordering! If you are like me, I would embrace all the impressive and thrilling Ginger Beer Cocktail recipes here and try them all out. It never hurts to try something new and different!