Have you ever wondered, "Do beers freeze?" or "What temp does beer freeze?" if so, we've got you on this blog!
Each beer has different freezing points, but the most common and average freezing point of a beer is 28 degrees Fahrenheit, but it also depends on the ABV or alcohol by volume percent of a beer.
This guide will be your walkthrough on everything you want to know about the freezing temperature of a beer and if beer freezes.
Does Beer Freeze?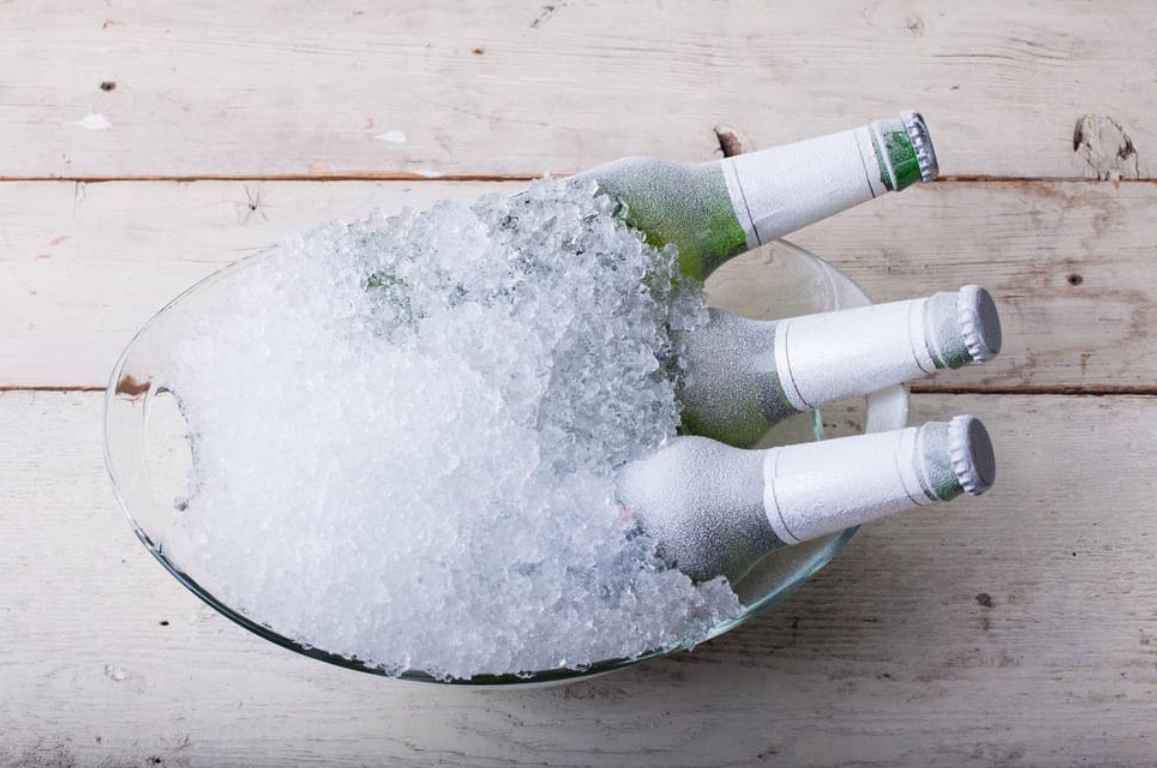 There's a myth roaming around where that alcohol does not freeze unless you live in an Ice Age Era. Drinks such as vodka and rum do not freeze on an average day, so you may think that beer freezes since it is an alcohol.
But let me tell you a secret! Beer is not a vodka that consists of pure ethanol; beer is mainly made from water. Water freezes twice faster as alcohol if the temperature ranges from 0 degrees Celsius or 32 degrees Fahrenheit.
So to answer your question, "Does beer freeze?" the answer is yes! Beer freezes because of the components inside the beverage itself.
What Temperature Does a Beer Freeze?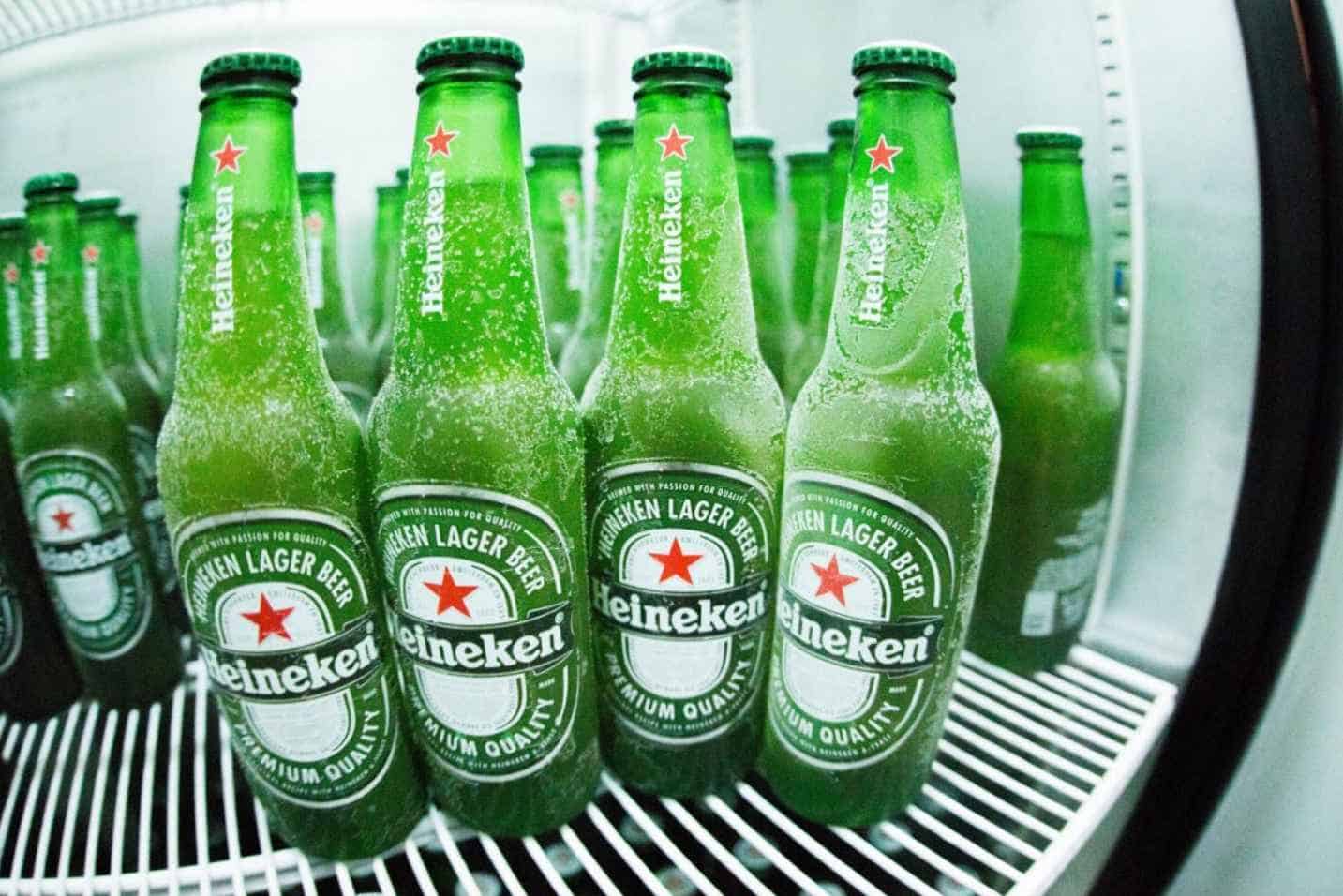 The average level and the most basic temperature for a beer to freeze usually goes around 28 degrees Fahrenheit. Hence, not all beers are like that, so the freezing temperature differs from each other depending on the beer you are drinking.
The ABV of a beer plays an important role if you want to know the correct temperature for serving a beer. Here is a guide to follow if you want to serve your beer frozen.
| | | |
| --- | --- | --- |
| Alcohol % | Freezing Temperature in Celsius | Freezing Temperature in Fahrenheit |
| 3.0% – 3.2% | -1 Celsius | 30.2 Fahrenheit |
| 3.2% – 3.5% | -1.11 Celsius | 30.0 Fahrenheit |
| 3.5% – 3.7% | -1.17Celcius to -1.22 Celsius | 29.9 Fahrenheit to 29.8 Fahrenheit |
| 3.8% – 4.1% | -1.28 Celsius | 29.7 Fahrenheit |
| 4.2% – 4.3% | -1.39 Celsius | 29.5 Fahrenheit |
| 4.4% – 4.7% | -1.5 Celsius to -1.56 Celsius | 29.3 Fahrenheit to 29.2 Fahrenheit |
| 4.8% – 5.0% | -1.67 Celsius | 29.0 Fahrenheit |
| 5.5% – 5.9% | -1.83 Celsius | 28.7 Fahrenheit |
| 6.00% | -2.06 Celsius | 28.3 Fahrenheit |
| 6.50% | -2.22 Celsius | 28.0 Fahrenheit |
| 7.00% | -2.39 Celsius | 27.7 Fahrenheit |
| 8.00% | -2.77 Celsius | 27.0 Fahrenheit |
| 9.00% | -3.1 Celsius | 26.4 Fahrenheit |
| 10.00% | -3.5 Celsius | 25.7 Fahrenheit |
Always remember that a frozen beer can be slushy and loses its aroma, taste, and character. There are times when a frosty beer can break or explode too for freezing too much, so you should be cautious if you want to serve your beer frozen.
Should You Freeze a beer?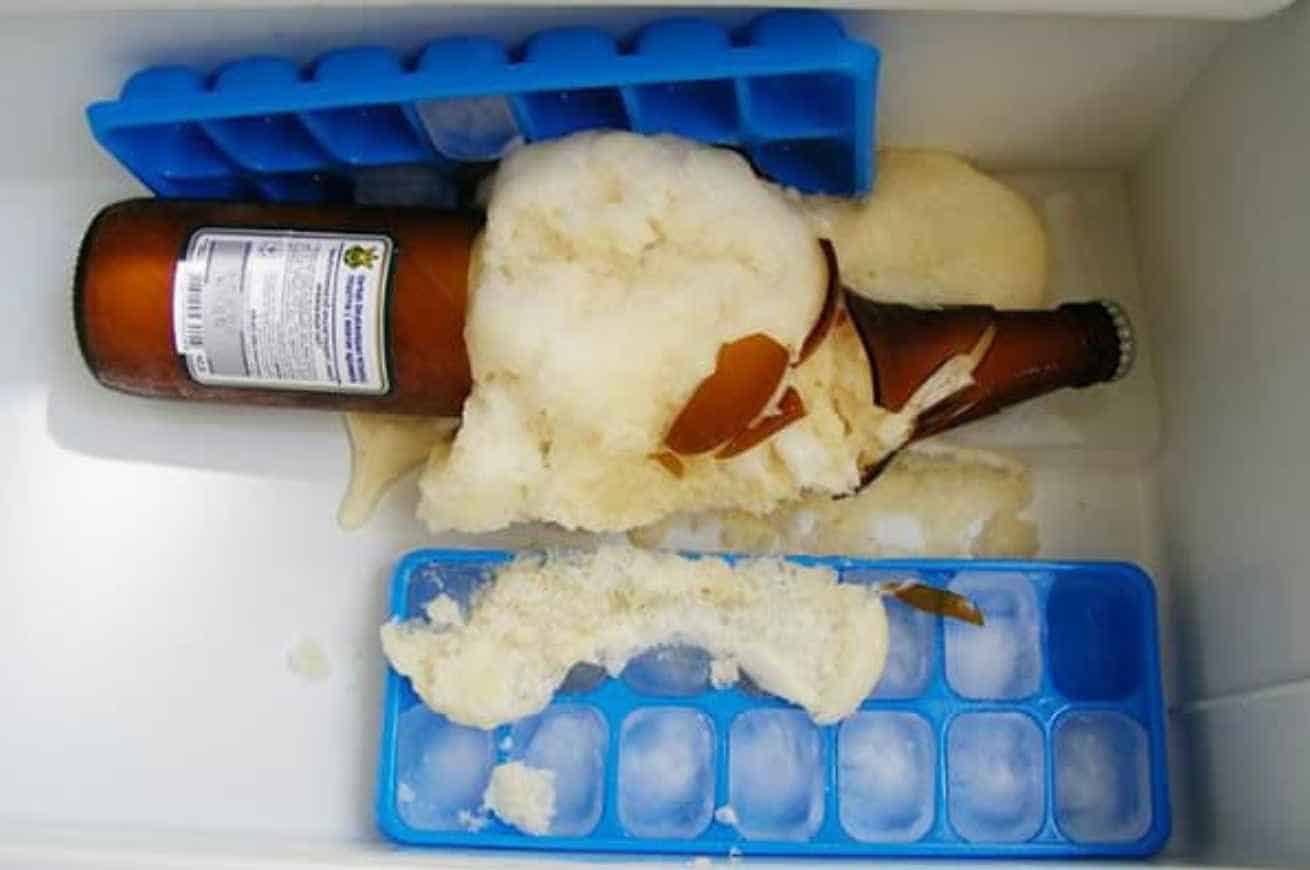 If you want to chill your beer in a freezer, remember to put the beer inside the refrigerator. The beer that has been in the freezer for a long time tends to explode its bottle.
So the answer to this question is that you should only store your beer in the freezer for a short time! You can put your beer in the freezer to freeze, but the most effective way to chill it is to store it in a cool, not freezing, dark place.
If you put the beer in the freezer, of course, there is a chance that the beer will freeze, especially if you let it sit in the freezer for a long time. Hence, letting your beer sit in the freezer for an extended period can make your beverage explode.
As mentioned above, beer is composed mainly of 95% water, and when it freezes, the beverage starts to expand, making the bottle or a can of beer explode once you place it in the freezer.
How long until the beer Freezes?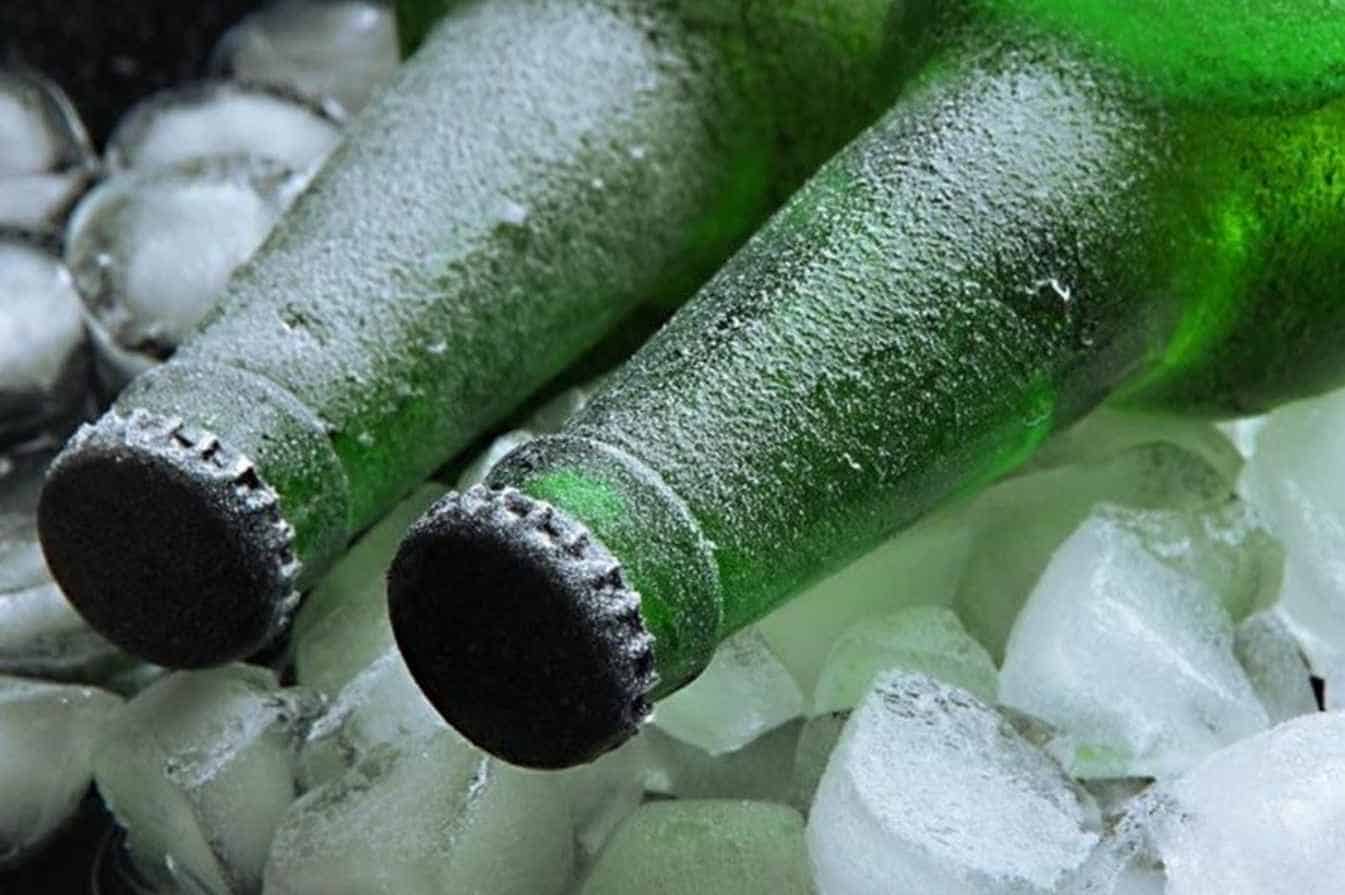 Since beers have different Alcohol by Volume content, the ABV decides how long a beer will freeze. Lighter beer can freeze for about two to three hours in between, while stronger beers can freeze for over six hours.
Below is a temperature chart of different types of beers, which can be your guide on serving your beverages.
Type of Beer
Best temperature to Serve
In Celsius
In Fahrenheit
American Lagers
0.56 to 4.44 Celsius
33 to 40 Fahrenheit
Pilsners
3.33 to 7.2 Celsius
38 – 45 Fahrenheit
Blonde/Cream Ales
4.44 to 7.2 Celsius
40 – 45 Fahrenheit
Nitro Stouts
40 – 45 Fahrenheit
Belgian Pale Ale
40 – 45 Fahrenheit
Wheat Beer
4.44 to 10 Celsius
40 – 50 Fahrenheit
Lambics
40 – 50 Fahrenheit
Dark Lagers
7.2 to 10 Celsius
45 – 50 Fahrenheit
Stouts and Porters
7.2 to 12.78 Celsius
45 – 55 Fahrenheit
Strong Lagers
10 to 12.78 Celsius
50 – 55 Fahrenheit
Belgian Dubbels
50 – 55 Fahrenheit
If you want your beer to reach its actual drinking temperature, the number of times it changes, and it would take almost an hour for the beer to chill thoroughly. An hour in the freezer would be a temperature of 40 degrees Fahrenheit which would make your beer the best if the beverage you are drinking is a crafter beer.
Can You Still Drink a Beer That Has Been Frozen?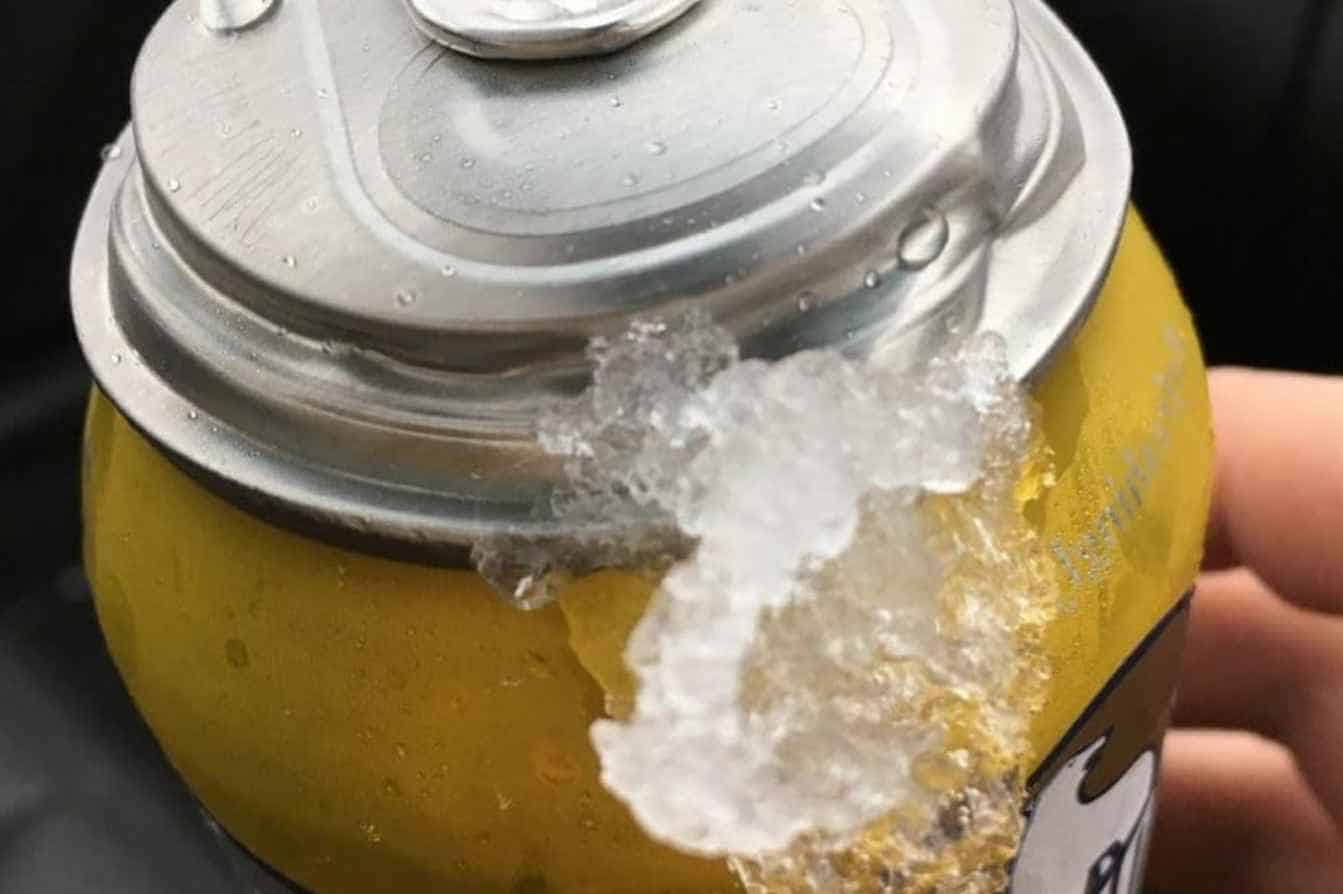 The answer to this question is both yes and no. Yes, you can still drink a beer that has been frozen, yet it does not mean you should drink a frozen beer.
You cannot drink your frozen beer if the beer is oozing out from its bottle or the bottle has a crack on it—the best thing to do if you find out that your beer is like this is to throw it away because it has a chance that the beer will explode or it already exploded.
Another thing is if your beer is frozen and it does not have a crack, or the beer is not oozing out, it is still safe to drink the beer.
Drinking icy beer as long as it is not oozing out and the bottle does not explode is not dangerous to drink, but you should consider the taste, texture, and if the beer is still carbonated.
Hence, if you found your beer miraculously before it exploded, you can drink it, but remember to move it into the refrigerator first and wait for it to reach its best temperature.
Frozen beer usually does not taste good and is going to taste different. The taste will be flat, but the chemical composition of the beer will subtly be different because of the freezing.
Regardless, none of these changes affect entirely and will ruin the beer; nevertheless, the taste will be different.
What is the safest way to chill a beer?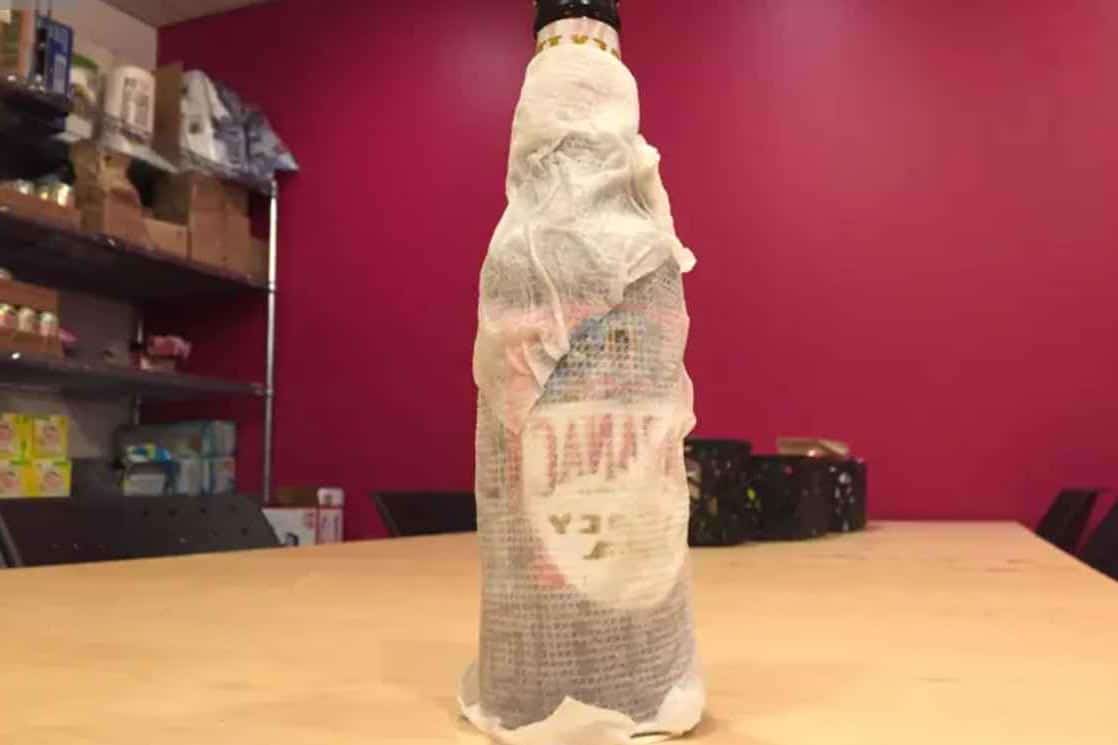 If you want to chill your beer without worrying about the danger of freezing your beer, the safest way to do that is these three ways to safely chill your beer without getting frozen
Chill your beer with air that is compressed:

To do this, you need to hold a bottle of compressed air upside down so the air will become extra cold when it comes out. Then spray the side of a canned or bottled beer for a few seconds until you can see the frost forming. The chilling time is about 30 Seconds.
Put the beer in ice water with salt:

Put your beer in a large pot or bucket with salt and ice water. The purpose of salt is to lower the water's temperature by making the ice melt faster and make the beer chill faster. The chilling time is about 15 Minutes.
Wrap your beer in a wet towel:

Take a wet paper towel, wrap the tower around the beer bottle, and put it in the freezer. The towel helps the water evaporate, making the heat disappear from the beer. Make sure to track of time so your beer will be fresh. The chilling time is about 15 Minutes.
How Will You Recover a Frozen Beer?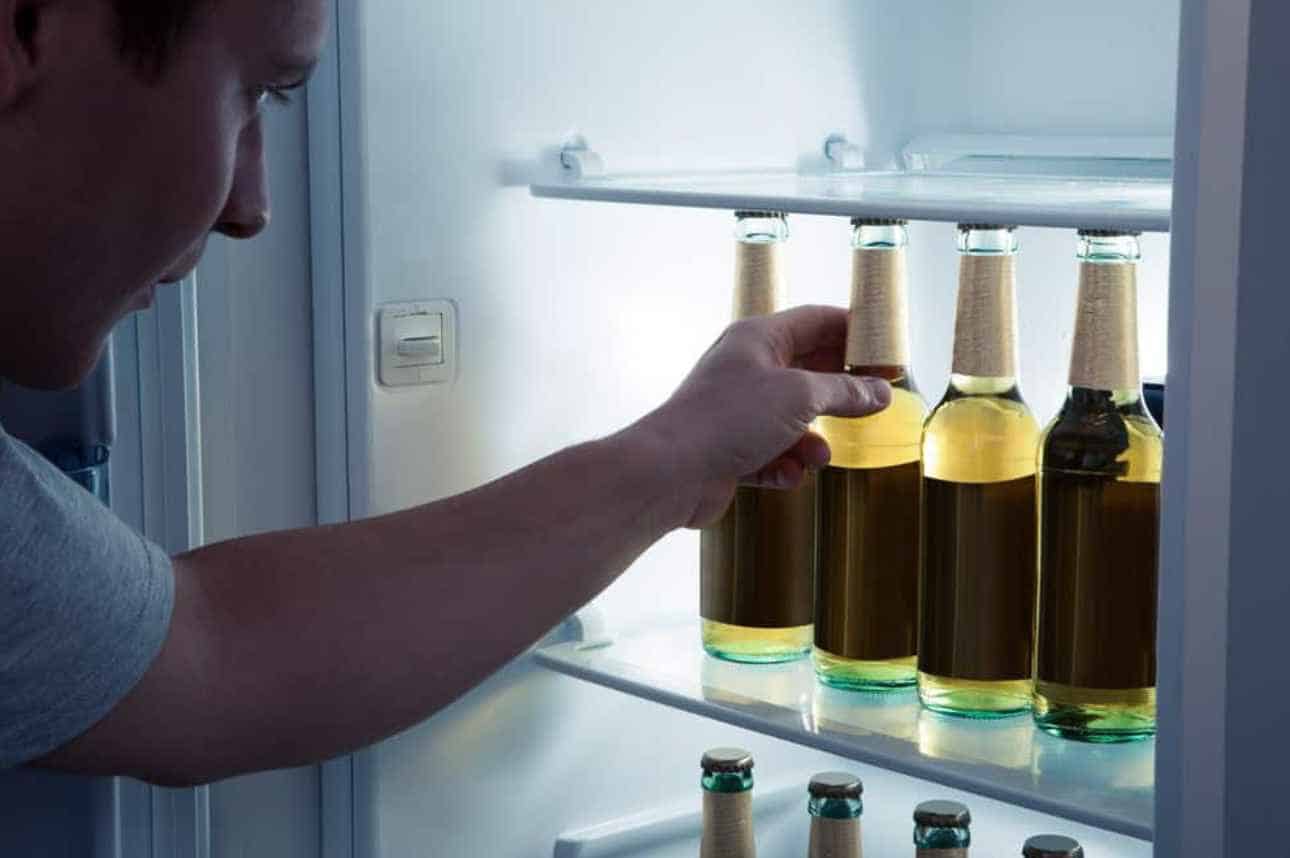 After discussing how to chill your beer correctly, we will now tell you how to recover your frozen beer!
There are plenty of options you can choose from, but you should consider throwing away the beer if it has already exploded—even if the top is the only thing that has been broken, you should not drink it, for it may contain a shard of glass or metal.
As we have stated before, if you catch your beer in the middle of its freezing, put it in the refrigerator and let it defrost. The taste and flavor will be different, but it is still enjoyable since the alcohol level may have slightly increased.
If you find your beer did not explode, the carbonation is lost. You can make a beer margarita or a beer Popsicle. Some beers even taste delicious if they are added to a dinner recipe!
Who would not love beer-battered chips, fish, or even a battered chicken, right? You can even use beer to marinate your steaks. If you do not want any of these options, you can use a flat beer as a cleaning material.
Some Beer Aspects You Need to Know to Have Less Freezing Point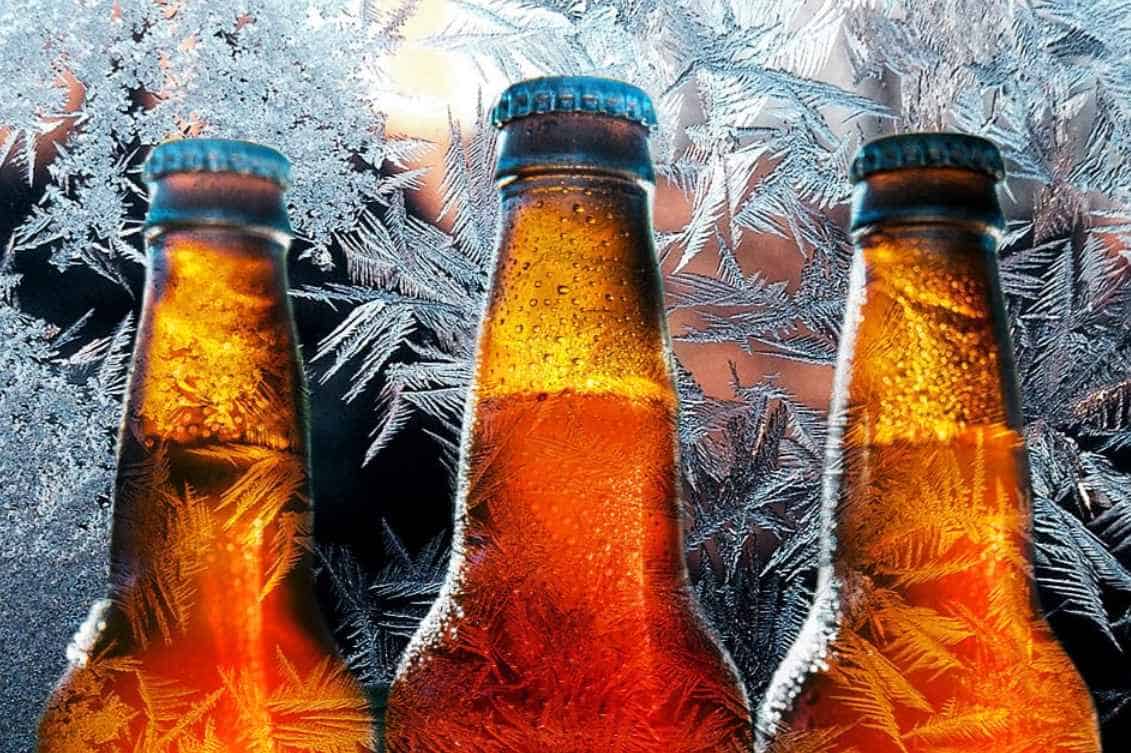 There are plenty of beer aspects that you should consider to have a lower freezing point. Here are the three beer aspects that you should know.
Sugar Content:

Sugar is a preservative food; because of this, you cannot find the icy fragments in your beer, making the beer taste different. What sugar does is keep the water condensing, making the beer lowers the freezing point the same as alcohol.
Alcohol: Alcohol is the second factor you should consider since it influences the beer rate. Alcohol has an ethanol element that makes the beer freeze at -173 degrees. This means the higher the alcohol level of a beer, the lower the chance of the beer freezing faster. But since beer is composed mainly of water, you will find icy flakes on your beer.
Size and Material of the container:

The size also matters in controlling the temperature of the beer. Sometimes containers and sizes are the reason why beer freezes faster.
Summary
The answer to your question is if beer freezes and what temp does beer freeze; it depends on how much alcohol it contains, but it will start to freeze at a temperature of -2 degrees Celsius or 28 degrees Fahrenheit.
So stay focused and track your time if you want to chill your beer or put it outside in the snow because beer can freeze, turn into ice, and explode for an hour!