Do you love good craft beer? Do you enjoy laughing with friends around an outdoor fire pit under crisp California stars, sharing stories after long days filled with sunlight, and worry-less conversations into cozy late nights? Well, have I got news for you! Try all of this alongside a refreshing glass (or growler!) of Santa Barbara's own 805 beer.
This blonde ale embodies everything SoCal, from those golden, laidback beach vibes to the twinkly secrets whispered under endless summer skies.
And here is an article dedicated to celebrating this wonderful creation from Firestone Walker Brewing. Join me as we take a deep dive into 805 beer.
Firestone Walker Brewing Co.

● Light gold color
● Crystal clear
● Thick creamy head
● Impressive head retention
● Impressive beer lacing

● Citrus and floral hops
● Sweet malt
● Banana and pear

● Bready maltiness
● Starts sweet
● Finishes dry
● Floral hops
● Citrus esters

● Light body
● Crisp & refreshing taste

Serving & Storage Temperature

● Steak
● Sushi
● Pasta
● Deviled Eggs
● Salad
805 Beer: Origins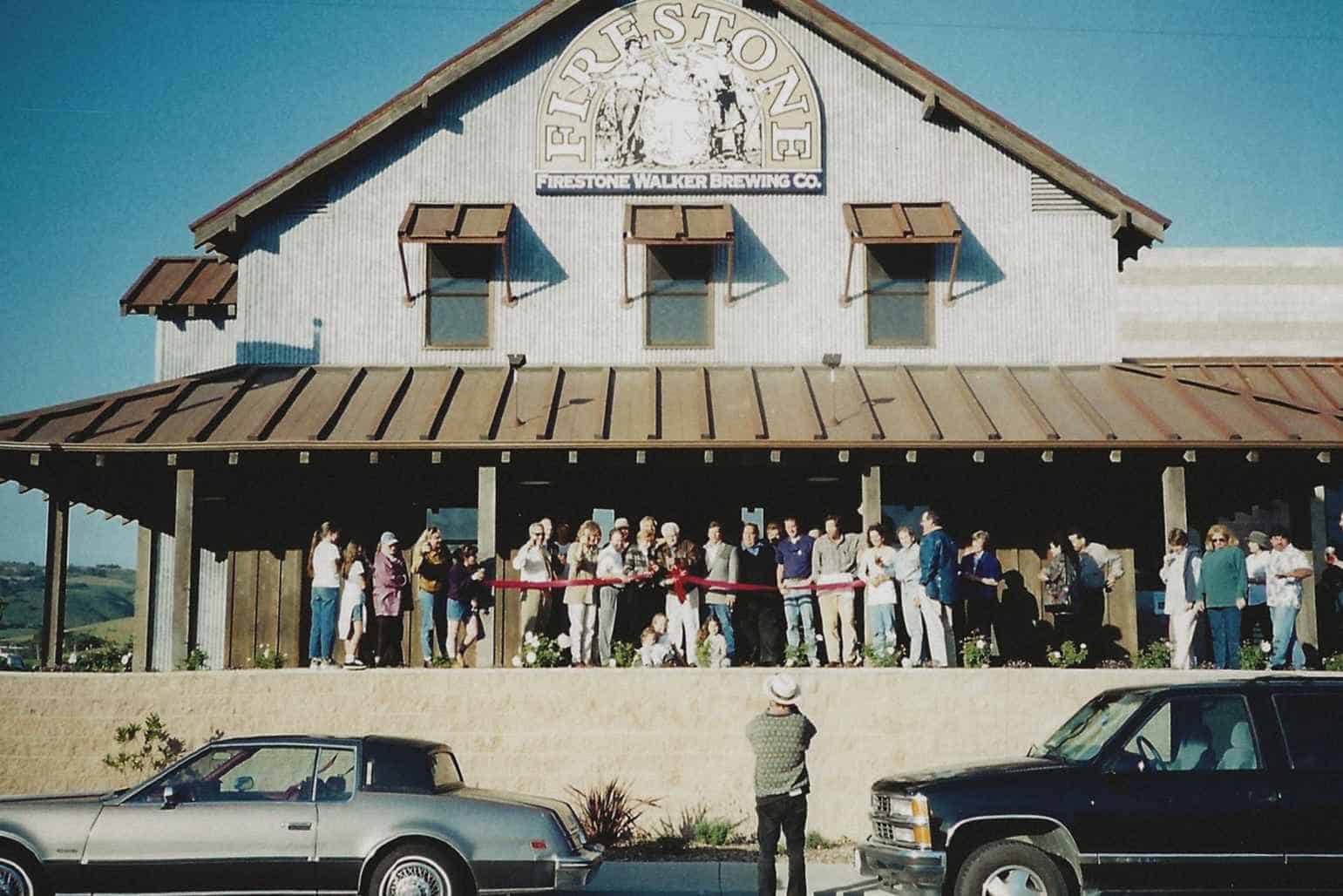 Every superhero has a good origin story, and 805 beer is no different. Like the best superhero origins, 805 beer came from humble beginnings. 805 beer isn't an ancient line of beer that has been around since the 19th century or survived wars and strife to become what it is today.
No, the 805 doesn't have one of those stories. In fact, the beer is quite a recent entry and has only been around since 2012. But sometimes, you don't need 100 years to make an impact. In 805's case, it only needed five years to shake the beer market.
805 beer emerged in 2012, and by 2017 the beer had a gold medal at 2017's US Open Beer Championships.
805 beer, named after the area code of the central coast, was specifically developed for the California market. By 2016, 805 had spread to Nevada, Arizona, and Texas. And by 2018, Minnesota, Chicago, Washington, and Hawaii had caught the bug.
By 2022, 805 was ranked as the 12th best-selling off-premises craft beer brand in America. And the beer's future only looks brighter.
The Style of 805 Beer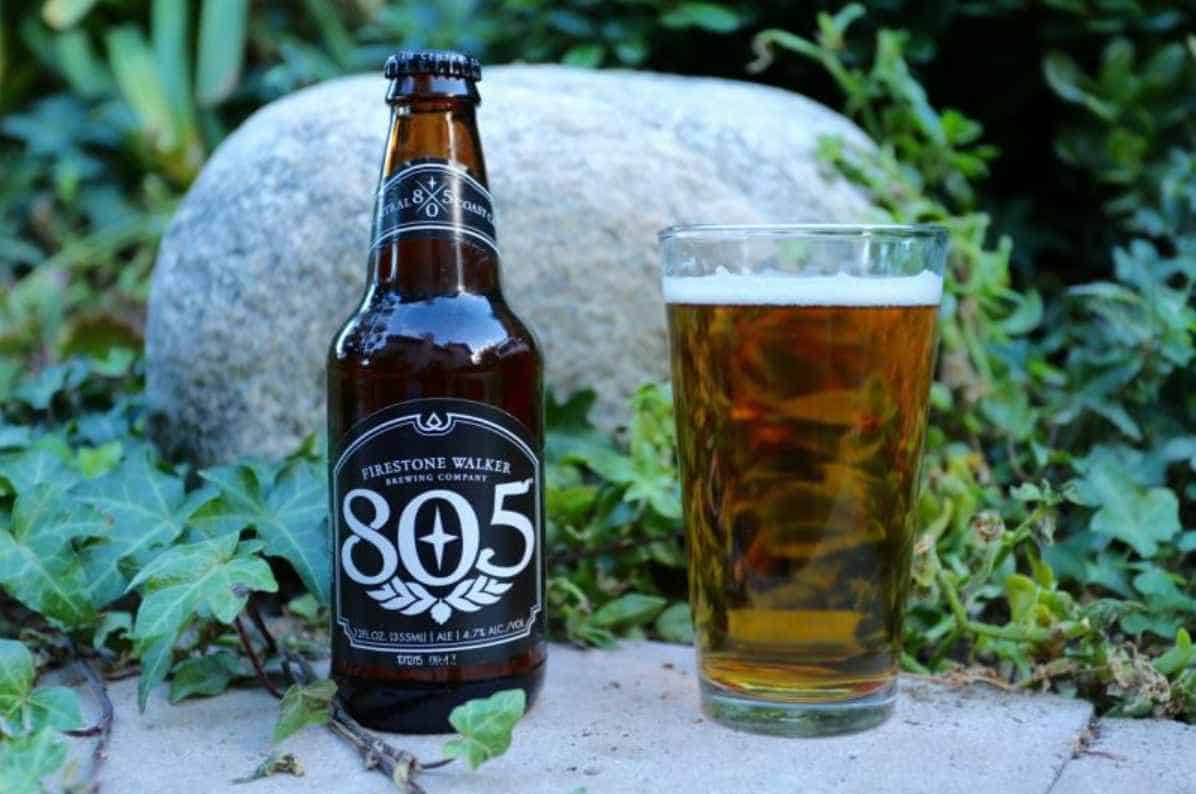 So, 805 is a blonde ale, which means it's got a sunny disposition – literally! Blondes may have more fun, but blonde ales have a golden hue that makes them stand out from the crowd. They're light and refreshing, perfect for quenching your thirst on a hot day. Plus, who doesn't love a good buzz? Am I right?
Now, blonde ales typically fall into the SRM chart range of 3 to 6. But 805 is no ordinary blonde ale – it clocks in at an SRM score of 5, meaning it packs even more punch than some of its peers. Like Cinderella, this brew might just turn heads with its unique blend of fruity flavors – think bananas, pear, lemons, all the good stuff.
Overall, 805 scores big time when it comes down to the nitty-gritty details that make a blonde ale great. From looks to taste and everything in between, it's pretty clear that folks will be talking about this brew long after last call.
Flavor Profile of 805 Beer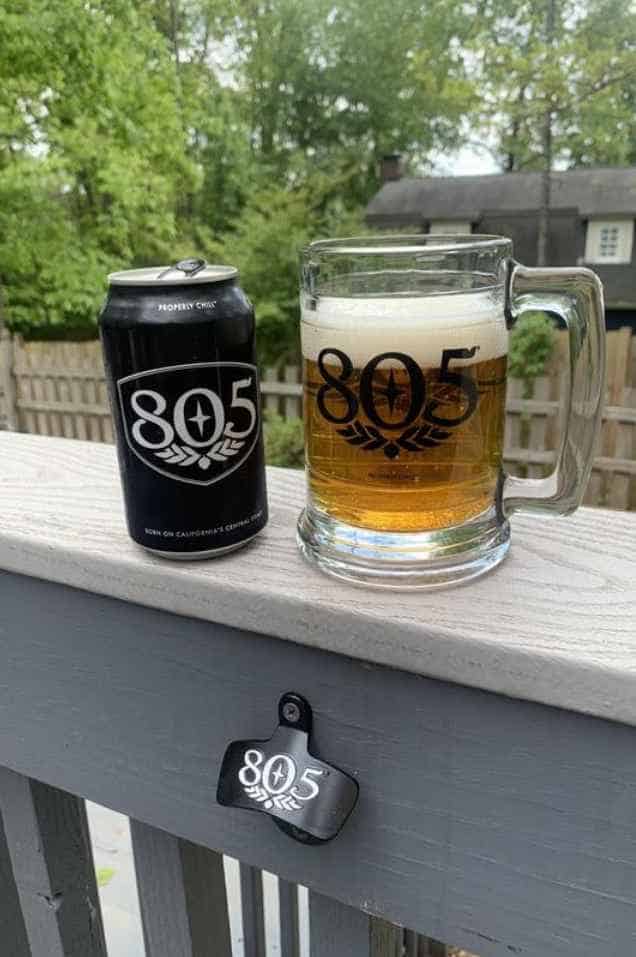 When you crack open a can or bottle of ice-cold 805, the first thing that hits you is the aroma. And 805 has this sweet and clean aroma that's punctuated with floral and citrus hops. If you have a sharp nose, it can also capture a faint whiff of bananas and pears.
When you investigate further and take a sip, it doesn't take long for you to realize that taste and aroma are consistent. First of all, 805 is a malt-focused beer. The malty flavor reigns supreme with prominent bready taste characteristics. Over the sea of malt, you can pick up the taste of floral hops and some lemon and orange esters.
805 beer does a great job balancing sweetness and bitterness. The beer starts off with moderate sweetness and finishes dry with a little bitterness. 805 doesn't have a bitter aftertaste or lingering bitterness.
And the light body of the beer helps with drinkability. 805 is a crisp and refreshing beer, perfect for the west coast heat.
805 Beer Recipe
The official 805 beer recipe is a closely guarded secret protected by Firestone Walker Brewing. On its website, the brewery only reveals that the beer is made from four key ingredients; (you guessed it) hops, malt, water, and yeast.
But the beer style of the 805 can help us decipher the specifics of these ingredients. Below are common ingredients used to brew blonde ales:
Grain Bill: Blonde ales, in general, use pale malts as their base. More specifically, 2-row pale malt. This grain gives the beer the blonde or golden appearance it has. To complement the pale malts, the brewer adds wheat malt and Crystal malt. Vienna and Victory malts are also excellent alternatives as they add a bit of that malty sweetness and some bready characteristics.
Hop Choice: 805 beer has noticeable citric and floral hop flavors. To brew an 805 of your own, you need hops with a similar flavor profile. The best candidate for this flavor effect is Willamette hops. It has a spicy and woody aroma. It is also known for its grassy and floral characteristics.
Yeast Choice: The blonde ale is still an ale. As such, you need an ale yeast. English Ale and London Extra Special Bitter (ESB) yeasts yield the best results.
805 Beer's Popularity
Before it became popular, 805 beer was known as "Honey Blonde Ale," and it was only offered on-premises at Firestone Walker taprooms. David Walker and Adam Firestone, founders of Firestone Walker, took notice of their new beer's popularity and anointed it the "805" to pay homage to the central coast region of California.
Initially, 805 beer was only available in the central coast region of California. Beer enthusiasts would "bootleg" the 805 beer and smuggle it to northern and southern California.
By bootleg, I mean beer aficionados would drive up to retailers on the central coast, buy lots of 805 beer and drive back to northern and southern California.
So Firestone Walker Brewery had to find distributors that would deliver the brewsky to the backyards of its biggest fans. It started with California and then slowly bled into the rest of the country. But what factors contributed to 805's popularity?
Factors Contributing to 805's Popularity
The Beers Taste
For 805 beer to draw in customers, it had to taste good. 805 beer was a breath of fresh air in comparison to the Double Pale Ale that was popular at Firestone Walker taprooms. The blonde ale (Honey Blond Ale at that time) was striking visually, and it had a refreshing character. As a result, beer fans across the central coast quickly embraced
The Beers Name
There's something about a brand that recognizes its hometown. That's why sports teams grab the attention of the local residents.
For example, residents of Los Angeles feel obligated to support the Los Angeles Lakers. Houston residents are more attracted to the Houston Rockets than any other team. And California residents gravitate towards the 805 because it is named after a local area code.
David Walker and Adam Firestone's naming strategy was a huge success. It set the ball rolling, and now 805 beer has become a national sensation.
Food Pairings with 805 Beer
The flavor profile of a beer determines its food pairing options. How about 805 beer? We know it has a light body and a super drinkable character. What foods are the best companions for this West Coast beer?
When it comes to pairing beers with food, there are four strategies:
Contrast
Complement
Cleanse
Let's explore how to use these strategies to find the best food pairings for 805 beer.
Contrasting Food Pairings
As a blonde ale, 805 doesn't have the strongest of flavors. It also has a light body, a refreshing character, and a super drinkable profile. These properties make the 805 an excellent companion for foods with strong or complex flavor profiles.
By complexly flavored dishes, I mean barbeque and steak. 805 beer can cut through the strong flavors in meat and bring balance to your palate.
Complementary Food Pairings
Sometimes a beer with a mild flavor deserves food with equally mild or delicate flavors. To complement the flavor profile of the 805, you need foods with delicate flavors. As a light-bodied beer, 805 beer is complementary to salads and fish. Among the fish dishes, sushi is the best companion for a pint of 805 beer.
Palate Cleanser
As an easy-breezy beer with a light body and refreshing taste, 805 beer makes an excellent palate cleanser. It puts out the fires from these spicy foods as you prepare to take another bite. The brewsky also cuts through the dryness of crunchy foods, quenching your thirst.
Some of the spicy foods that combine well with 805 beer include:
Buffalo wings
Lemon pepper wings
Spicy noodles
As for the dry foods, 805 beer is an excellent pairing for the following:
Hot dogs
Pizzas
Potato chips
Final Thoughts
And that, dear reader, is everything you need to know about 805 beer. But just to recap, below is an overview:
Have I done enough to convince you to try the 805? Or maybe you've already tried it. If so, what was your impression of the beer from the central coast?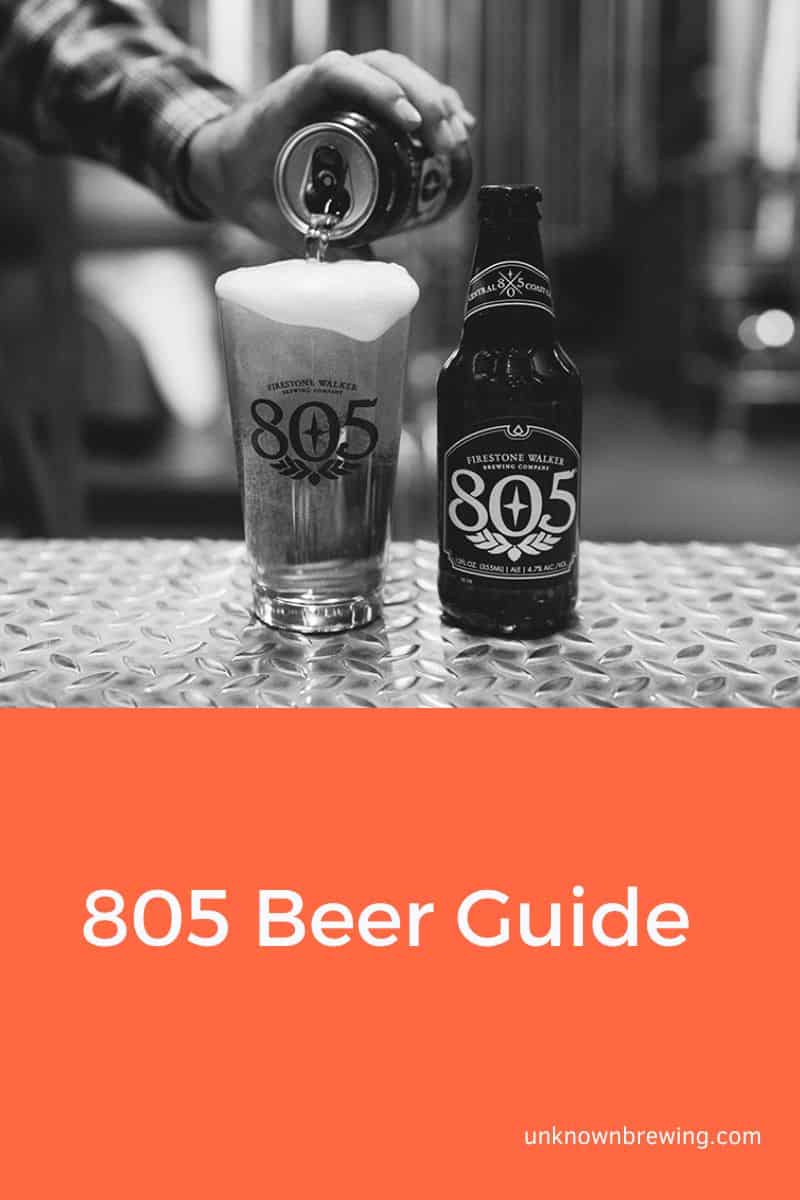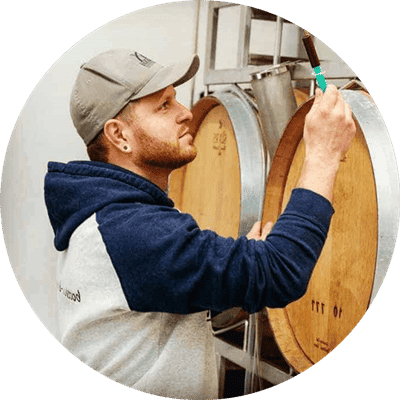 As a homebrewer, Michael would get frustrated about the lack of brewing information on the internet. After hundreds of gallons of spoilt batches, Micheal had enough. And he founded Unknown Brewing as a resource for homebrewers.