Got a lemonade, fruit juice, or beer at home? Then, you have the perfect ingredients for a light and refreshing shandy beer. Hailed as the awaited drink of the season, people love shandy beers for their lightness, low alcohol content, and versatility!
If this beer sparks your curiosity, scroll down, and together let's discover what makes this drink fascinating. Plus, we've got 20 Best Shandy Beer Recipes just for you!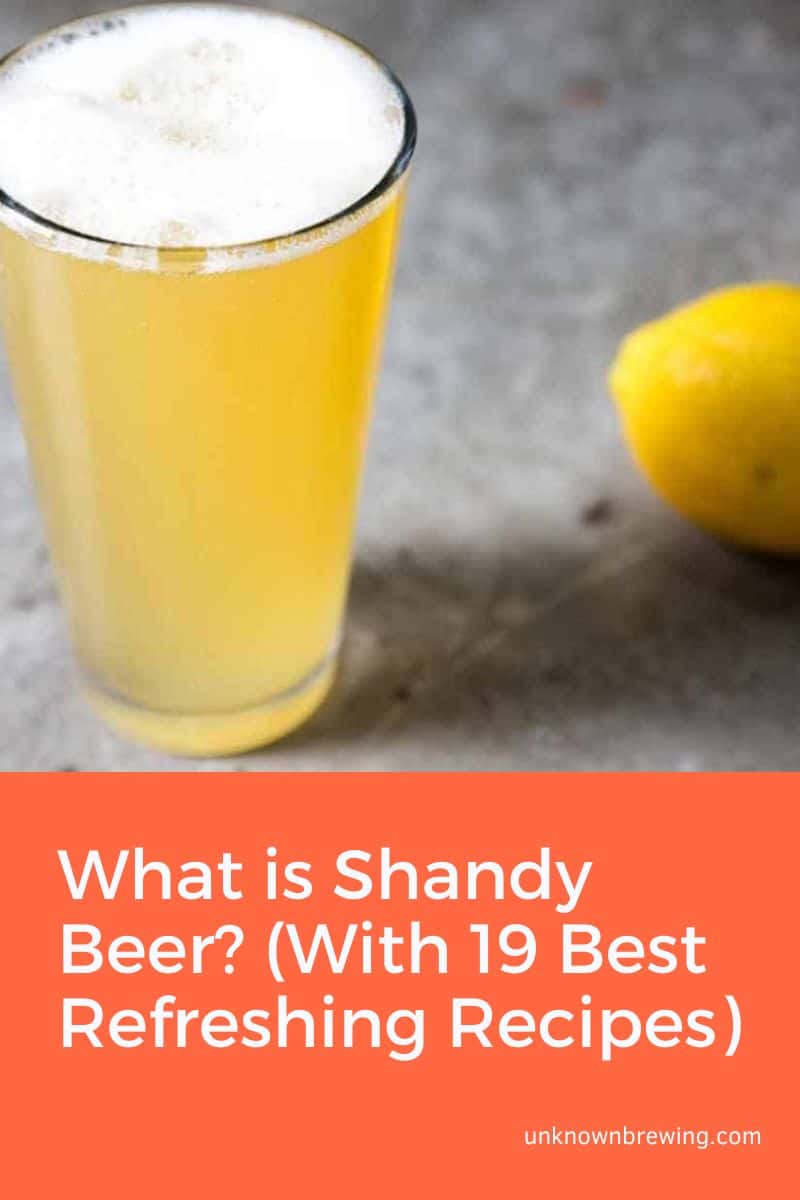 What is Shandy Beer?
Shandy Beer is a cocktail made of equally mixed parts of beer and citrus lemon soda. Unlike other beverages dominating the market, these lines of beers are light, refreshing summer drinks with low alcoholic content. Traditionally, shandy beer is a blond lager combined with wheat beer with lemon that's carbonated or not.
Because of its fantastic light finish, people enjoy and love shandy beers as a summer drink. You can also have it as an easy beer cocktail exploding with flavors. Nowadays, people commonly recognize shandy beer as a bursting combination of beer with lemonade and other fruit juices such as cider, orange, grapefruit, and apple juice.
A Portal to the Past of Shandy Beer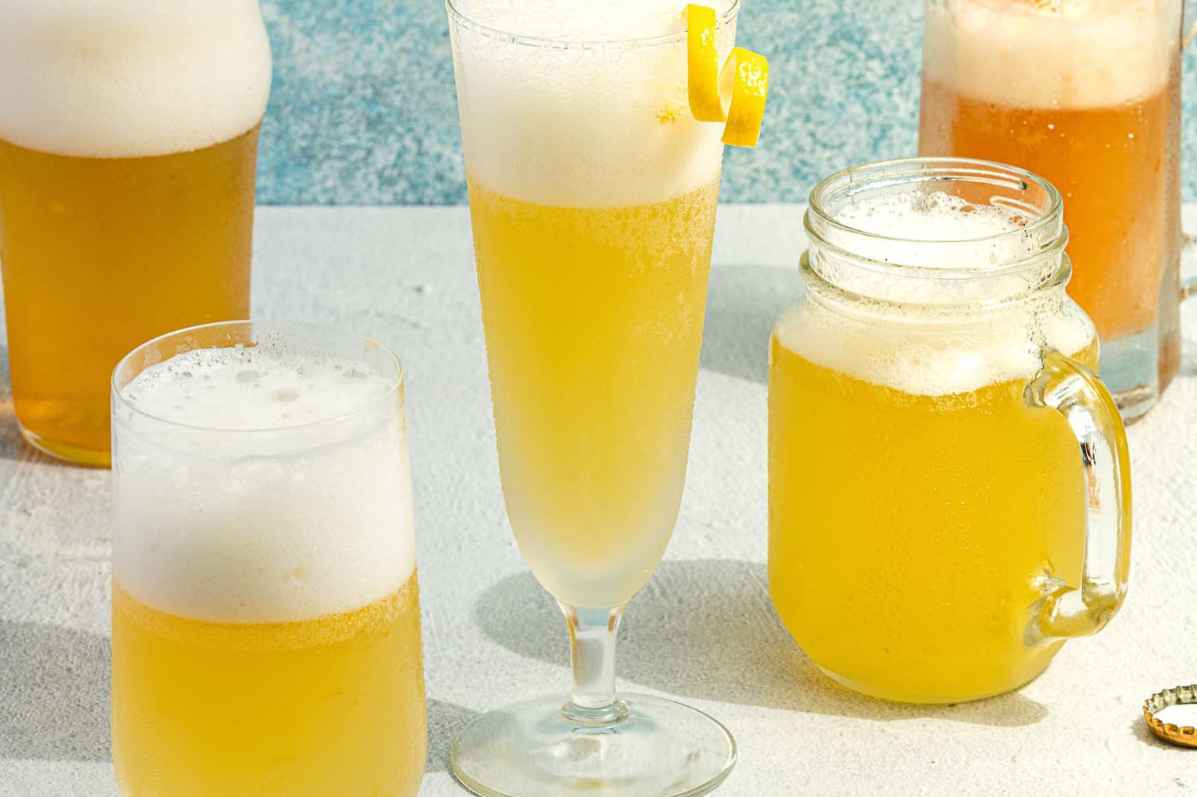 In our modern day, you might be aware that shandy beer is the infamous British pub drink you can easily make with any beer and soda you want. But to make things more fascinating, let's dig deeper and unleash the historical roots of shandy beer.
In the 19th century, shandy beer was born when the mix of ale and champagne became popular. At this point, the main ingredient of shandy beer is ginger ale. For most people who could not afford sophisticated and fancy French sparkling wines, lemonade or ginger best would be the alternative go-to drink.
Later, shandy beer made its name as "shandygaff," where brewers pour beer and lemonade together. Flash forward, and these beers slowly entered different bars, pubs, and our humble homes.
Today, shandies pave their way to the commercial market. In 2007, a beverage company in Wisconsin, Leinenkugel, first launched its bottle version. This brand is the first to garner recognition.
19 Best Shandy Beer Recipes
No one can deny that shandy beer is a versatile drink. Plus, you can easily have your style of this drink on a summer noonday. Just grab all the best ingredients. A little soda, a little beer-here are the fantastic shandy beer recipes you don't want to miss!
1. Lemon Grapefruit Shandy Sangria
Finally, here's a recipe you must not hesitate to try! Lemon Grapefruit Shandy Sangria is made of sliced apple, orange, lime, Meyer lemons, segmented grapefruit, and blueberries. Mix it with lager, lemon juice, lemon syrup, red grapefruit syrup, soda water, ginger beer, and wheat beer. And serve with ice!
2. Shandy Wheat Beer & Grapefruit
Here's another easy recipe you can easily pull off in minutes. The first thing to do is to slice the lemon and squeeze its juice. Then, strain it directly into a glass. Grab your favorite beer and make some pouring. Lastly, splash the lemon. And there you have it. Just slice, squeeze, strain, and sprinkle!
Lemon Summer Shandy Recipe is a great beverage style to try. Promise, it's an excellent way to enjoy your favorite beer on hot days without getting too drunk. For a one-glass serving, prepare six ounces of beer, lemonade, and a lemon slice for garnish. On top of everything, this shandy recipe comes in easy steps.
First thing, gather the ingredients. Fill the standard glass halfway with your choice of beer. Then, pour the lemonade until complete. Garnish your shandy beer drink with a slice of lemon.
4. Blueberry Summer Shandy Beer Cocktail
The makers recommend a light lager or a good wheat beer for this classic shandy beer recipe. In this video tutorial, they use an American Blonde that's crisp and delicious, the Blue Point Summer Ale.
Of course, it's always better to use homemade lemonade. But if it's unavailable, grab a premium quality lemonade at your nearest grocery store. Put a handful of fresh blueberries into the glass to make it more extraordinary!
If you like beers that are not too filling or too heavy, Ginger Summer Shandy Beer is something you must try! For this drink recipe, Food Fidelity goes through the traditional way and uses ginger beer, red stripe beer, crystallized ginger, and lime juice.
Once you try this refreshing, light drink, I swear that you'll love it. When your friends come over, go for this drink and sip it at your pool party.
6. Pineapple Habanero Shandy
Pineapple Habanero Shandy is a beer recipe where you can easily show off your skills in making the best summer drink. To make the quick homemade lemonade, add one cup of fresh lemon juice and one cup of water and sugar.
Afterward, make shandy with orange wheat beer, champagne, lemonade, pineapple, and habanero craft puree. Finally, garnish the drink with orange slices and pineapple wedges for the best touch. For excellent results, making lemonade mix a week before this recipe is better.
How about turning on the sunny vibe with a drink? Filled with a sweet and fruity flavor, Citrus Shandy is the season's most-awaited cocktail.
Prepare Campari, fresh orange juice, Aleppo-style pepper, lime juice, chilled light beer, and kosher salt. If you like nothing but a simple and delightful drink, this beer is the answer!
8. Shandy Beer Cocktail
Here's a beautiful beer cocktail you can sip and savor while resting on the patio. It's nothing but delicious, refreshing, and flavorful. Whip your style of shandy beer with these ingredients: Pilsner Beer, Fresh Lemons, Vodka, Agave, Lemon Wheels, Fresh Mint, and Ice.
Kickstart this recipe by pouring the Pilsner beer into the pitcher. Then, add the ginger, vodka, agave, and lemon juice. Toss in the lemon wheels and fresh mint. Chill for an hour, then wrap your shandy beer cocktail with ice!
How about mixing your two favorite drinks, soda and beer? Recreate a shandy beer recipe by combining 7Up and your preferred light beer. If desired, wrap the drink with lemon and lime wedges for an additional layer of citrus flavor.
You can have a cool, refreshing drink under the shade with few ingredients and two minutes of preparation time. And yes, this drink will be best served using a pint glass.
10. Limca and Beer Cocktail Soda Shandy Recipe
Next on our list is another summertime cocktail drink you wouldn't want to miss. This shandy recipe is all up to you.
Whether you blend your light beer with sweetened soda or lemonade mix, you'll have another favorite beverage to look forward to. What's fantastic is this video recipe would not take too much of your time.
Melissa D' Arabian takes us into her favorite drink recipe: the Touchdown Lemon Shandy. Prepare ice, two cups of lemonade, and one bottle of lager beer for this great beverage. Then, fill four glasses with ice, pour the lemonade, and top it with beer. Easy peasy, right?
12. Campari Shandy Beer Cocktail Recipe
Make your cocktail beer recipe in the comfort of your humble home. Try now this Campari Shandy Beer Cocktail. Here are the prepared ingredients: one bottle of lager beer, two ounces of Campari, and one squeeze of lime. And that's it! You'll have another beer recipe you can share and enjoy with your buddies!
Promise, the real surprise comes when you take note of this Citrus Honey Shandy Beer Recipe.
Its primary ingredients include honey, vodka, orange juice, hefeweizen beer, fresh lemon juice, and orange slices. What a fruity drink to brighten up your day! And for the best taste, complete the glass with ice cubes!
14. Pomegranate Shandy Beer Cocktail
Pomegranate Shandy Beer Cocktail is a perfect drink recipe for Valentine's Day. Unlike other shandy recipes, its fruity juice mixer base makes this one stand out. For this video tutorial, they use a vegan lager. For a hint of tang, never forget the lime and soda water!
This shandy beer recipe comprises Grand Marnier, simple syrup, lemon juice, raspberries, ice, and draft beer. Have this made at home and pair it with your favorite meals like barbecues and tailgates. This drink is dairy-free and would be a fantastic drink for cocktail parties.
16. Pumpkin Shandy
Spice up your favorite beer by blending pumpkin ale with orange liquor, juice, and apple cider. Once you've tried this recipe, you'll love its sweet, tart, and fruity finish. So, if you like a bright and lively drink for the autumn season, watch this video recipe brought to us by Giant Eagle.
Next on our list is an orange ade shandy beer recipe that fits your summer schedule. Feel free to have this drink since it's a low-alcoholic one.
You will need five oranges, two lemons, one-half cup of sugar, and wheat beer. And nothing more! Follow the instructions, and you'll have an excellent hot-weather cocktail you'll like!
18. Refreshing Summertime Shandy Drink
Chris Dela Rosa of Caribbean Pot showcases a straightforward guide to crafting a refreshing shandy beer recipe for sunny days.
Prepare five slices of ginger, four beers, one sliced lemon, and one can of frozen concentrated lemonade for this drink. As the recipe name suggests, try this recipe, chill your way out, and beat the summer heat!
Here's a recipe featuring a fun twist for your summer favorite: the shandy beer! This one uses ginger, orange, and cranberry to feature the flavors of winter and fall and is still a light, refreshing beer!
Expect the finishing taste to be bright ginger and fresh orange pops. All in all, Cranberry Shandy Recipe will take less than five minutes to prepare and make.
Got No Chill? Have Shandy Beer!
Easy to drink and thirst-quenching, shandy beer is the ultimate summer drink. While this drink dominates the commercial market, there's no stopping you from crafting a shandy beer at home.
Grab a chill, light beer and wrap your glass with a lemon slice for the ultimate pleasure. Take your time slowly, and have a shandy beer!