Winter season's almost ending, so summer is almost near; now, get your trendy summer outfit—and be ready for a stroll and a sip of beer.
If there are beer gardens over your location, you should not be hesitant to go to that place since everyone's welcome at different venues and places of beer gardens!
Now come and tag along as we find out everything: Why beer gardens create an appealing summer hangout and inform you regarding the question you keep asking yourself, "What is beer garden?"
Introduction to Beer Garden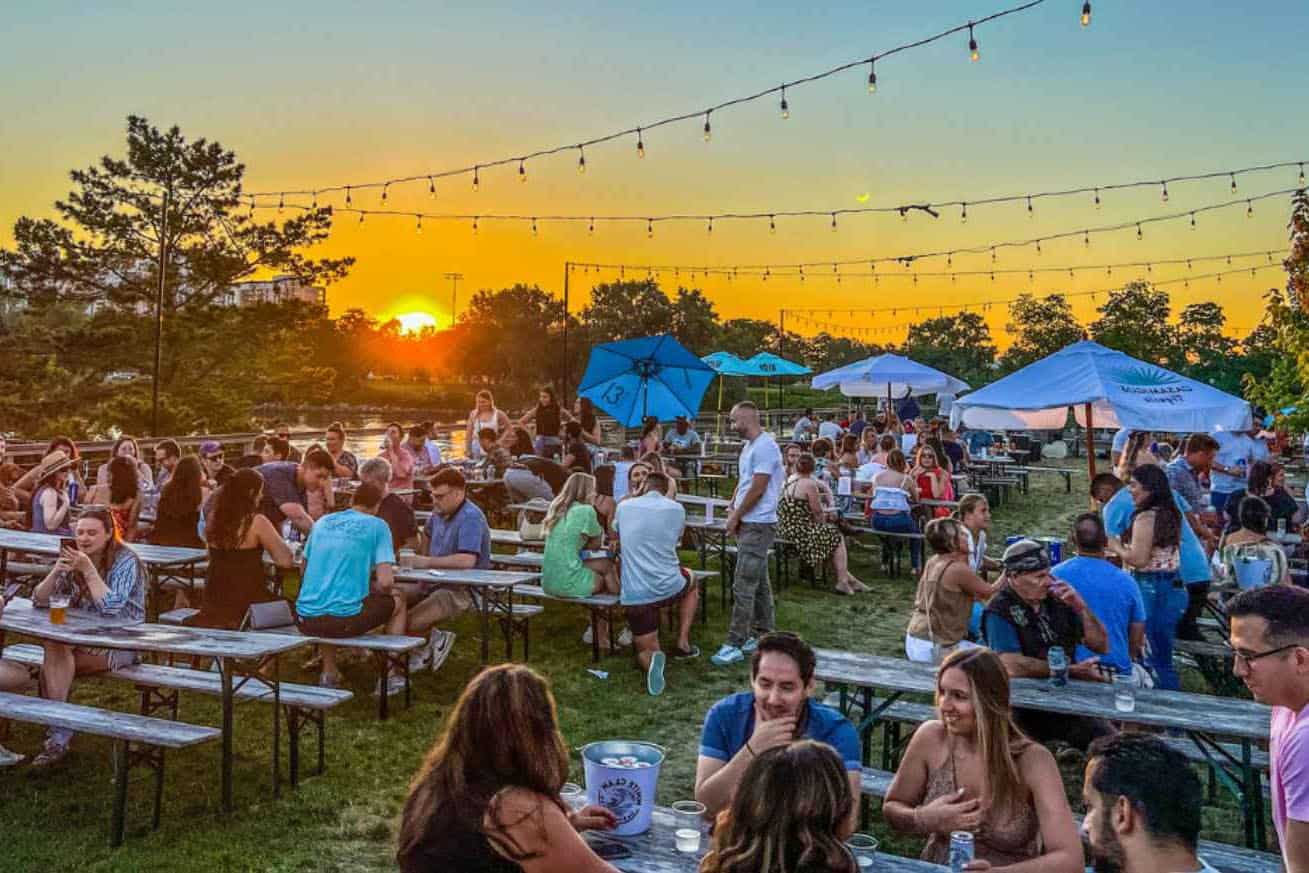 Who wouldn't love to dine and eat their food if there is an amazing view around them? Everyone loves sipping drinks and eating their food, together with such an amazing view.
So if you are looking for a place like that—where you can enjoy everything, beer gardens are the place you! It is where we, humans, can enjoy and calm our minds despite being overworked and stressed about our life.
When we say beer garden, it is commonly known as an outdoor place where we can enjoy the surroundings together with the food and alcohol we ordered! Take note that beer garden is different from other outdoor spaces since beer gardens are mostly surrounded by trees—just remember the word "garden."
So basically, beer gardens are usually involved in nature since it is an outdoor place that is surrounded by greeneries where you can drink your favorite local beer while enjoying the surroundings. So if you found a place like this, you might want to try it out because you will enjoy it for sure!
If you are planning to go Germany, this type of place is very popular especially in the main square so remember to consider going to a place like this for an original experience!
In some other places, you might hear or see the word "Biergarten," which pronounced as bi-YA-Gah-ten, and whenever you encounter a phrase like that, you don't need to get confused because Biergarten and Beer Garden are both used in this place and they have the same meaning!
If you are planning to open a business, especially a bar, try considering adding a beer garden! Because some believe that beer gardens create calmness for people and it helps them chill for a while making this kind of place an essential thing to add to your bar. Imagine how it creates new opportunities for your business!
Food and Drinks Served in Beer Garden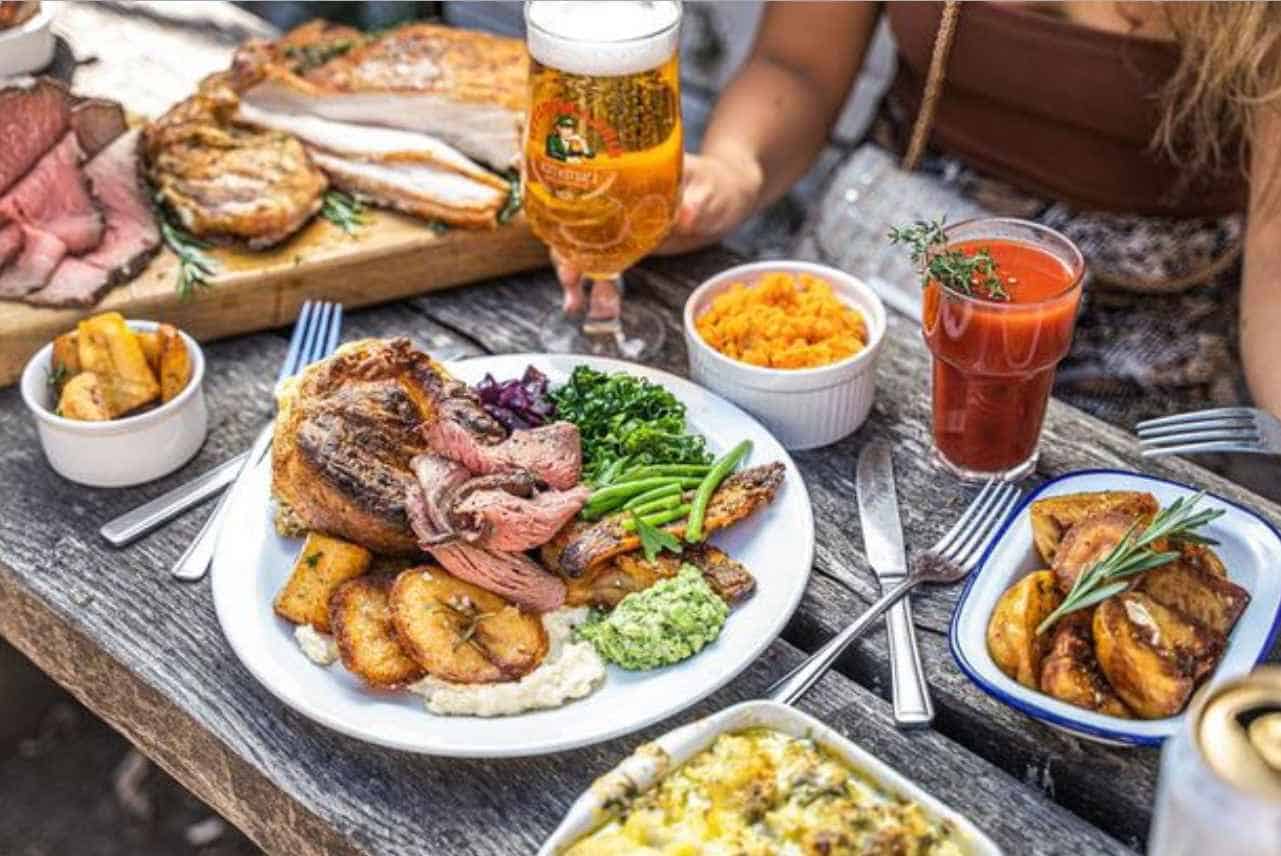 Let's now talk about food and drinks served in beer gardens. In case you are wondering, beer gardens are still famous these days as they still serve different kinds of foods, wines, ale, and even their favorite traditional beers!  This drink is definitely a must try, by the way.
But before ordering, there's a German word that you should remember so you won't feel out of place and be confused upon going to a place like this. An example of the word that you must remember is this "Ein Mass Bier bitter," which means "A beer, please!" Try practicing this word and let the magic happen.
So, upon ordering and you wish to drink different kinds of beer, beer gardens can't offer you other varieties of beers because most beer gardens are part of their place or brewery, so the beers they serve are mostly their own created beer.
But you do not need to worry about the food since most beer gardens offer delish foods where you can choose different types of it, such as their famous salty pretzels and German sausages, or you can freely bring your own food to this place!
Actually, in some cases, beer gardens in America serve foods that complement well with the taste of the beer, such as wings, fries, nachos, and burgers. While some have their staffs where you can order your beer, it is not a hundred percent guaranteed, and they do not accept cards sometimes.
So if you wish to try the local specialties when you are in a beer garden, you should not expect much because most beer gardens only focus on the place, foods, and the beer itself.
Here below is where we created a table guide wherein you can freely be informed about the Menu of a German Beer garden.
| | |
| --- | --- |
| | |
| | Mostly contain bacons that fits well with sausage and beer |
| | A black bread with pickle, radish, sausage, and cheese filled with onion and chives |
| | Goes well with fried onions and chees,a vegetarian noodle with egg |
| | |
| | Alsatian Pizza that comes with onion, creme fraîch, and bacon |
| | |
| | Chicken that has garlic sauce |
| | |
Beer Garden and its History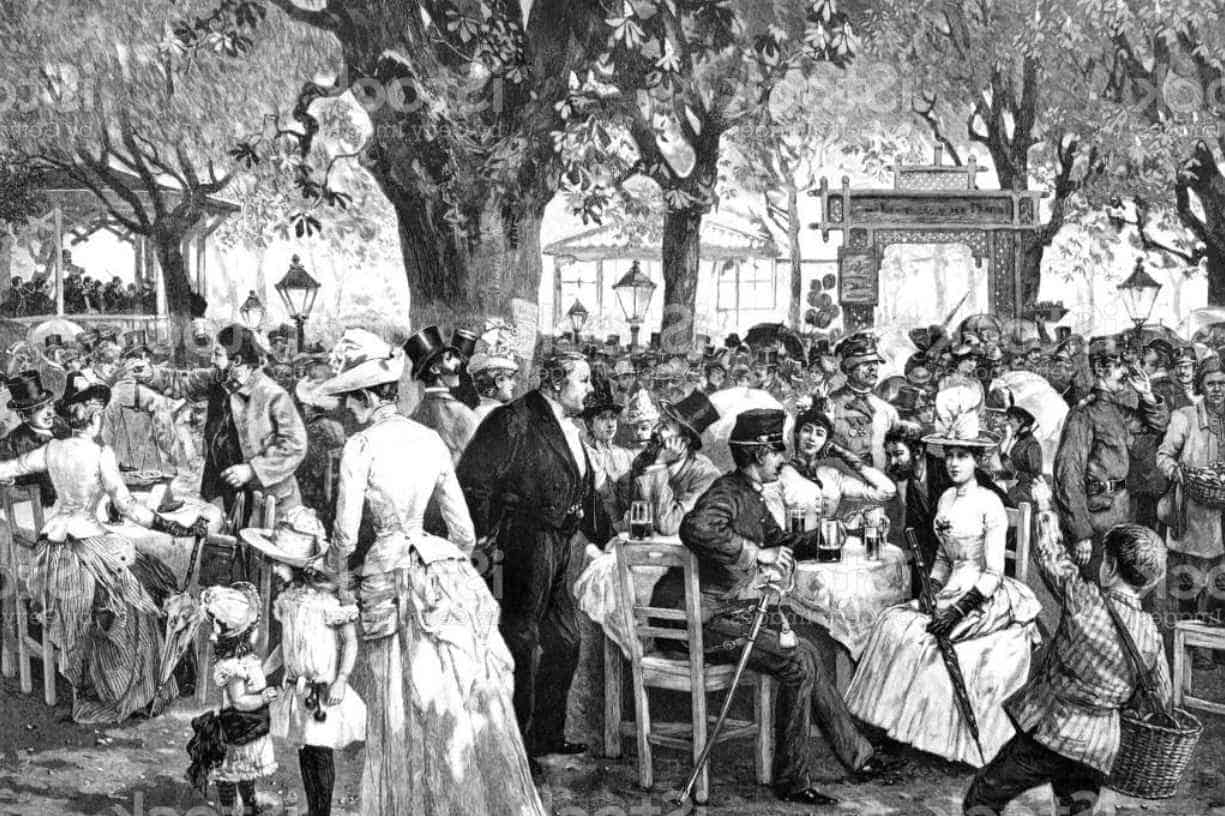 Let's now talk about the beer garden and where it originated from. So beer Garden started in the region of Bavaria, Germany. And on the 19th century, the law in Germany forbade breweries from making beer since it could cause major fires on a place.
So in order to deal with the new set of restrictions, the breweries decided to expand their place to have more space regarding their supply. Then, the breweries decided to plant trees above the land in order to keep the temperature of the beer around the cellar maintained.
Because of this, the owners saw a promising opportunity wherein—the place could be used as a location so people could enjoy sitting and eating with their beer, making it the birth of the beer gardens.
As time went by, these places became popular for those drinkers, and people thought that once they started selling foods, they would be even more popular.
And since the locals who owned restaurants felt threatened by how beer gardens were so successful, they decided to inform the Bavaria King Maximilian, and the King proclaimed that brewers could only sell bread and beer inside their cellars.
When the modern time came, which was around 1897, Beer gardens in Bavarian already had permission to sell food, but people did not want to break the habit of bringing meals at home. However, in 1997, the Bayerische Biergartenverordnung legalized bringing food to the beer garden.
Throughout this century, various beer gardens in Munich became so popular and still keep the stories and anecdotes about different famous beer gardens.
Beer Garden in the U.S
During the 19th century, German people brought the idea of beer gardens to the United States; and since beer gardens are unique, they created a start between their traditional taverns, saloons, and bars, making the beer gardens very popular.
People in America thought that rather than drinking in a dark and dull place—why not enjoy sipping in a beer garden because of their bright surroundings making the people enjoy their drink.
Tips when you visit a beer garden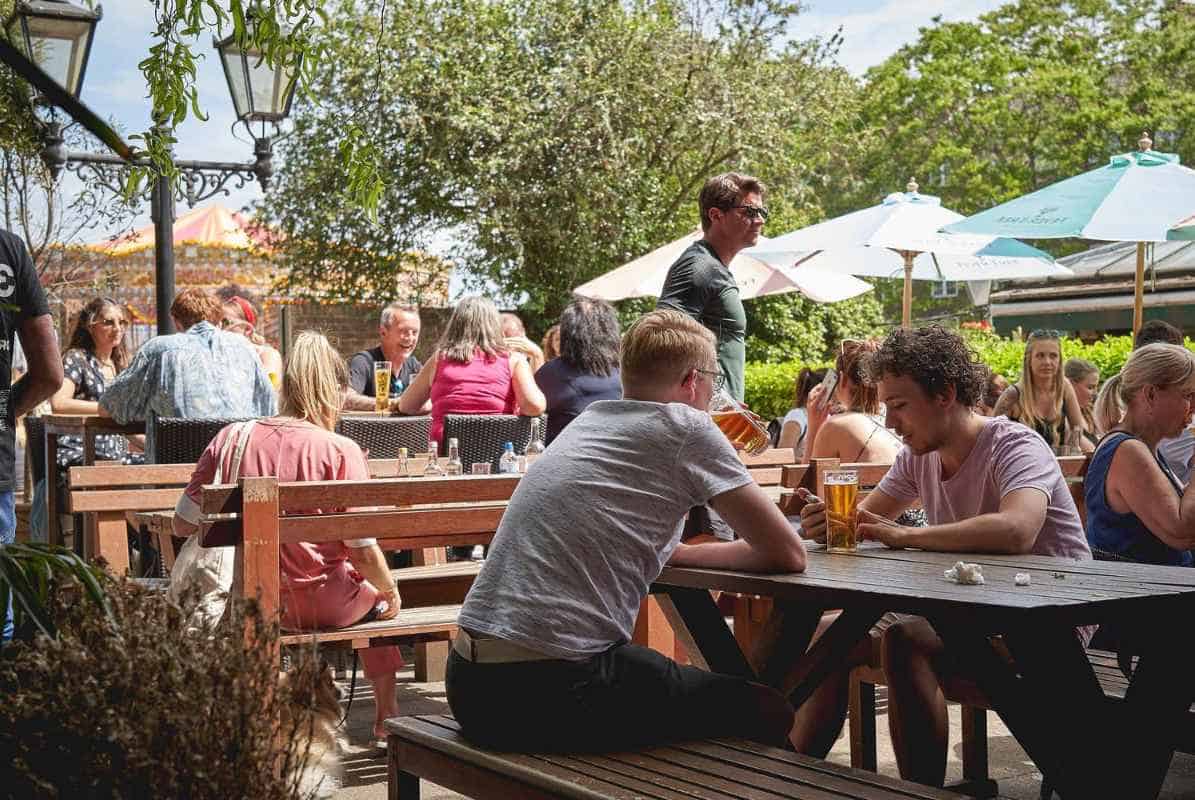 Actually, there are numerous people who don't really fathom the things you need to be mindful of if you are in a beer garden. So our blog lists down a few conditions that you wish to know if you have plans to go to a place like this.
You should drink moderately
Since beer gardens are commonly recognized as an area for a get-together—if you have plans to get wasted and be drunk, basically, beer gardens are not the spot for you; try going to a bar instead.
We are all informed that beer gardens are spots where you can see kids toying around, moms feeding their babies, and seniors who enjoy the lovely weather, so it is inappropriate to ruin the moment of these people, considering that you did not drink moderately.
So make sure you avoid drinks that consist of high levels of beverage and do not order abundant beers in a short time.
When you order a beer
Upon requesting a beer, make sure you will order a big portion or large stein of beer more than once in your life, and you shouldn't order a beer frequently because they trust it as an unsuitable behavior.
Do not order Commercial Beers
If you are thinking of going to a beer garden, make sure to taste their local homebrewed and crafted beers! You can order those advertised beers anywhere, but the homebrewed beers will make your day memorable on how unique they taste, so make sure to give it a try.
When you order a food
You see, you can drink and eat anywhere if you are in a beer garden. The oily and salty snacks add more flavor to the beer making it more delightful. Actually, you can bring any particular food as stated above to this place. Remember that drinking while eating is recommended, and you should take note!
Does Indoor Beer Exist?
Beer Gardens are known as an outdoor places where they serve alcohol. So to retort to your question, no, there are no indoor beer gardens.
There may be a closed space where they serve alcohol, and it has a kind of Bavaria or German theme—so people claim that it is a beer garden, but it is not an open-air garden; hence it is called a beer hall.
So in order for a place to be called a beer garden, basically, the number one characteristic is that the place must be outside and it is surrounded by nature or trees.
Beer gardens are excellent to add to any restaurant or tavern since they can expand the accommodation of your business and also creates a social gathering for all people to enjoy!
Conclusion
In conclusion, we are all informed that Beer Gardens are among the most amazing area where we, humans, enjoy gathering, socializing, and feasting on our drinks–who wouldn't be, right?
The beer garden is a spot that will guarantee to give us the calmness and peace that we need! And this is the kind of setting so that shy people will interact with others and show their hidden friendliness.
We hope that this blog answers your self-question: "What is Beer Garden?" If you want more blogs like this, stay tuned for our coming-up post!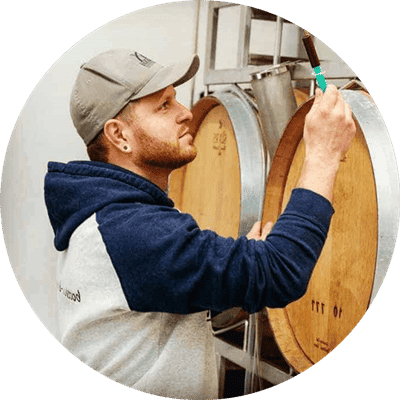 As a homebrewer, Michael would get frustrated about the lack of brewing information on the internet. After hundreds of gallons of spoilt batches, Micheal had enough. And he founded Unknown Brewing as a resource for homebrewers.