Corona is not only one of the best-selling Mexican beers in America but also around the world. Available in over 150 countries across all continents, Corona sits comfortably among the world's top five best-selling beer brands. But how well do you know your Corona beers?
In this guide, we'll discuss the Corona brand, the beers under this brand, and their characteristics. We won't discuss hard seltzers because those deserve an article of their own. But before we get ahead of ourselves, what are the origins of Corona beers?
History of Corona Beer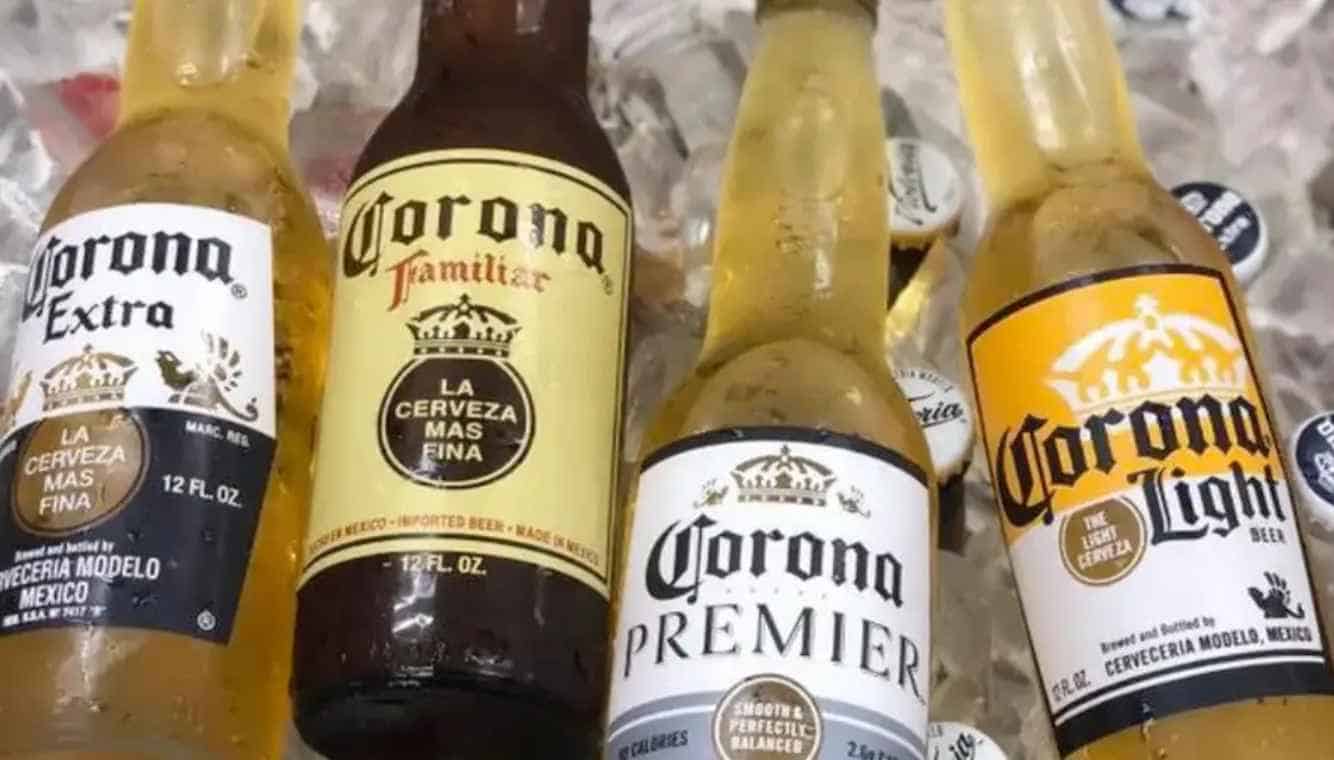 Corona is a brand of beer produced in Mexico by Grupo Modelo S.A. de C.V. It was first brewed at then Cerveceria Modelo, Mexico City, in 1925. Corona was a hit, and it became Mexico's best-selling beer within the first ten years of its launch.
Since then, the popularity of Corona beer has grown exponentially. It has retained its status as the best-selling beer brand in Mexico. As per market share, Corona beer sits among the top five best-selling beers in the world.
Over the years, Corona has spawned multiple varieties, including:
Corona Extra
Corona Light
Corona Premier
Corona Familiar
Corona Beer Variants
With a focus on their characteristics, let's look at each variant of Corona beer.
Corona Extra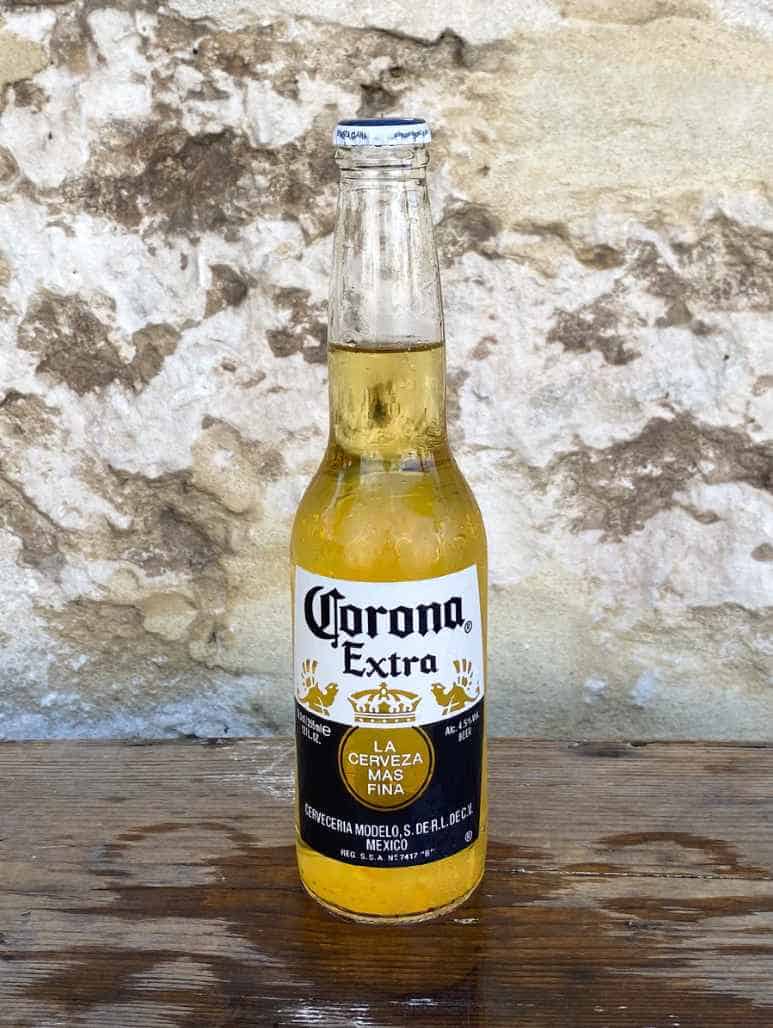 Corona Extra is Corona's flagship beer brand. It has been in production since 1925. Corona Extra is a 4.6% ABV American adjunct lager. It's brewed from European malts and unmalted corn. Corona Extra is a staple of any beach bar and always comes with a lime wedge.
Appearance: Corona Extra is a pale straw lager with a superb clarity profile. It pours to form a thin white head with poor retention. Beer lacing is also minimal.
Aroma: Corona Extra emits a faint scent of sweet malted grains. Your nose can also pick hints of green apple and citrus aromas. When you crack open a Corona Extra, you cannot help but notice a skunky smell. It could be the result of photooxidation since the bottle is clear. But that's just speculation.
Taste: Corona Extra is a malt-forward beer like other lagers in its class. It starts sweet with a strong biscuity flavor. Corona Extra has low hop bitterness (18 IBU) with mild grassy notes. The beer also finishes the same way it starts; sweet.
Mouthfeel: Corona Extra has a light body and crispy taste. These characteristics make it a super drinkable beer.
Corona Extra: Food Pairings
Corona Extra is a highly drinkable lager with a sweet finish. This profile makes it the perfect pallet cleanser for spicy foods like hot wings, salsa, and Thai foods. Any spicy food is a good companion for a cold Corona Extra.
On the dessert front, Corona Extra complements fruit-based desserts. It pairs well with fruity pies and cobblers. Sherbet treats are also excellent companions for a Corona Extra.
Corona Extra: Serving
Corona Extra is best served cold at 33-49°F. The best glassware for serving a Corona Extra is its own glass bottle.
No Corona Extra serving is complete without a lime wedge on the neck of the bottle. Order Corona Extra at any bar, and they will present it in this format.
To infuse your Corona Extra with lime, follow these steps:
Shove the lime wedge into the beer bottle.
Plug the mouth of the bottle with your thumb and flip it upside-down.
Let it sit in this position briefly before flipping it back.
Withdraw your thumb and enjoy your lime-infused Corona Extra.
Corona Light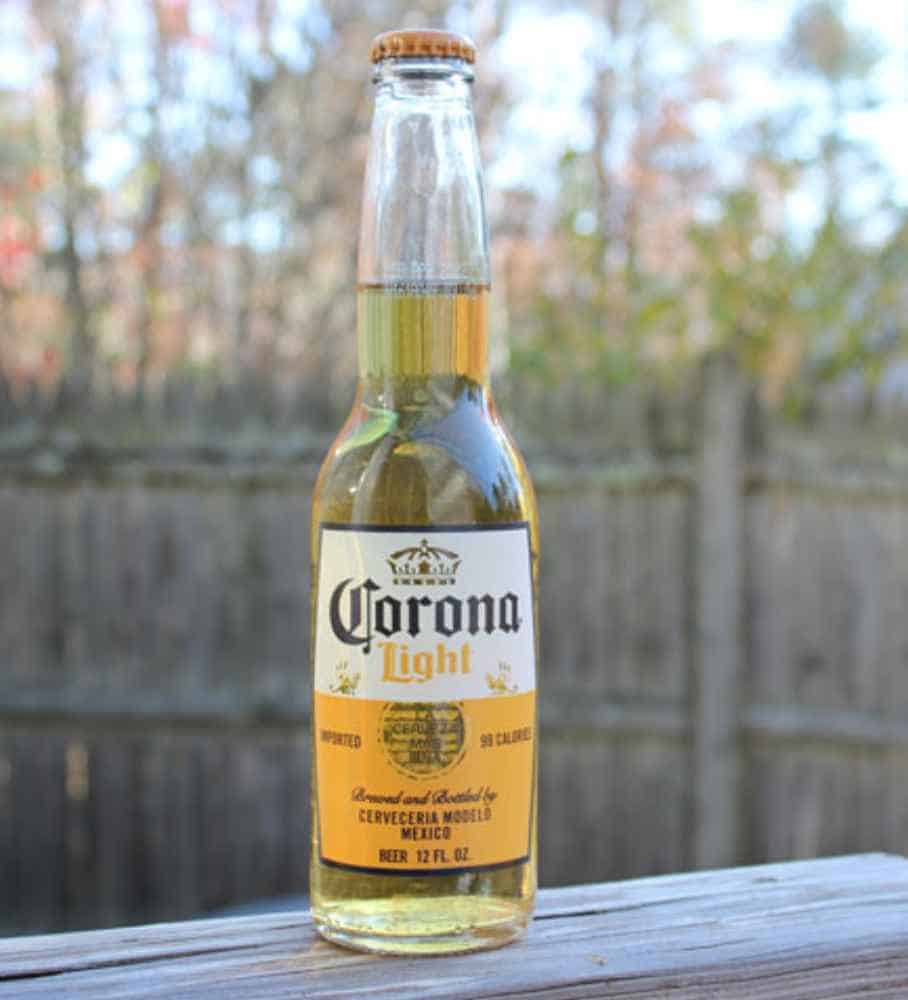 In terms of popularity, Corona Light comes second. At 4% ABV, it is a lighter version of Corona Extra. People love Corona Light for its low-alcohol content and low-calorie count. It only contains 99 calories, making it a healthier beer than Corona Extra's 148 calories.
Corona Light has been a regular in U.S. liquor stores since its introduction in 1989.
Appearance: Corona Light has a golden-orange body with a white head. However, head retention is poor, and beer lacing is minimal. Like Corona Extra, Corona Light has a clear body.
Aroma: Corona Light releases noticeable notes of sweet corn bathed in a light skunky aroma. You can also pick up fruity notes over a background of bready aromas.
Taste: Corona Light is lightly hopped with a sweet malty flavor. It has low hop bitterness at 18 IBU, a range similar to Corona Extra. Overall, Corona Light is a crisp, refreshing beer with little to no alcohol warmth.
Mouthfeel: Corona Light has a light body and low alcohol content, which boost its drinkability.
Corona Light: Food Pairings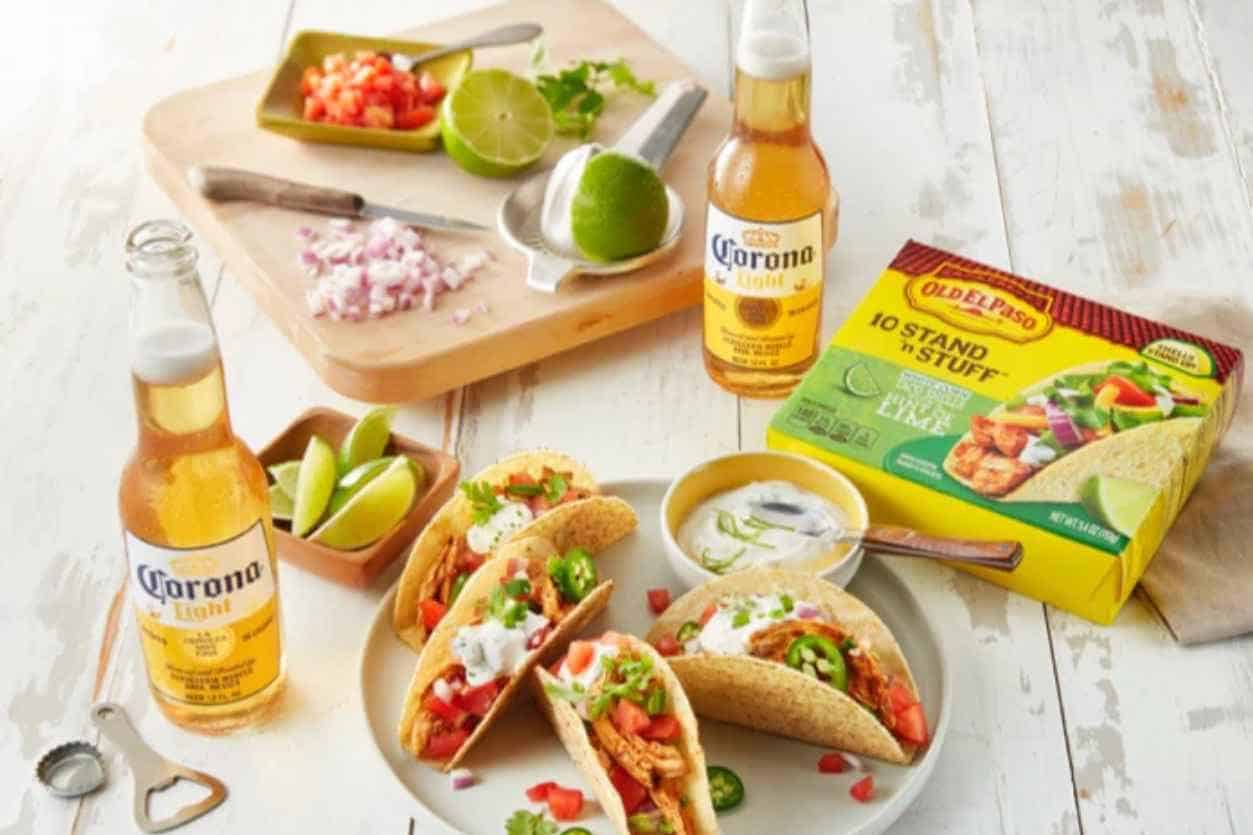 Corona Light has a light body and a refreshing character. You can drink a lot of it before catching a buzz. These are the kinds of characteristics you want in a pallet cleanser.
Corona Light is recommended for spicy dishes. But it can also cut through the dryness of pizzas, hot dogs, French fries, and potato chips. It washes your throat as you prepare for another bite.
Corona Light: Serving
Corona Light tastes best at low temperatures, typically 33-49°F. Like Corona Extra, Corona Light does not need special glassware. It's best served in its own bottle with a wedge of lime. Refer to the video below to learn how to infuse your Corona Light with lime.
Corona Premier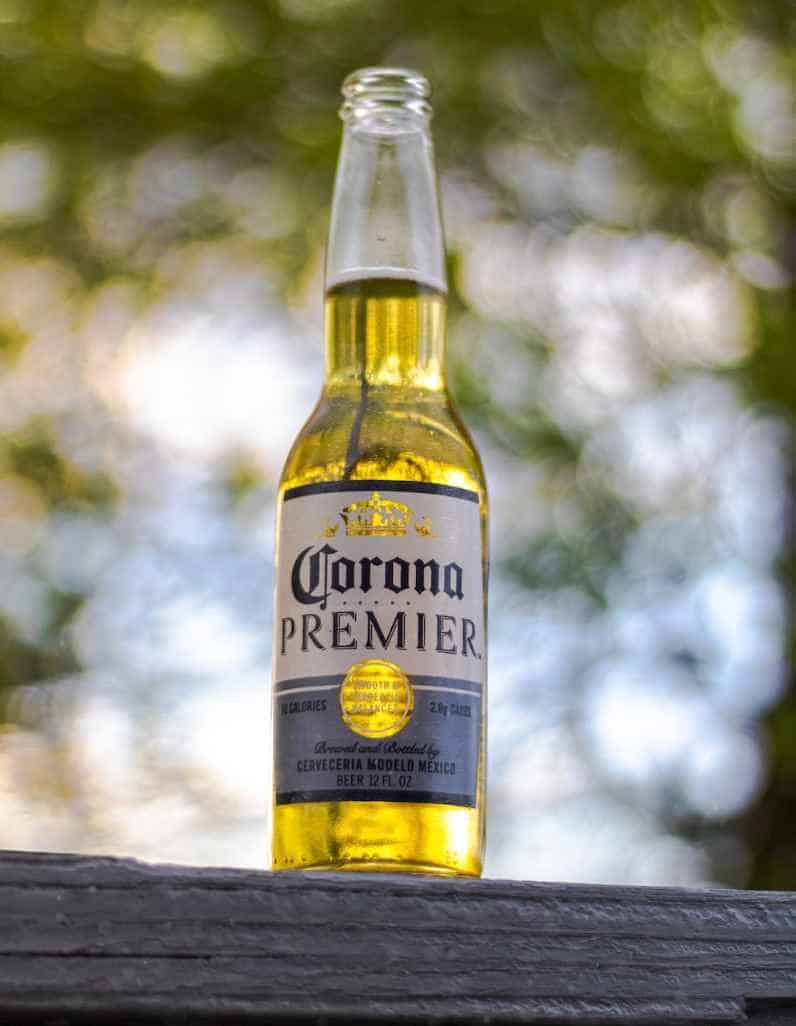 Introduced in 2018, Corona Premier is the youngest brand in the Corona lineup. At 4% ABV, it has the same alcohol content as a Corona Light but nine fewer calories. Let's look at the characteristics of this light lager from Grupo Modelo.
Appearance: Corona Premier is a pale-colored lager with a golden hue. The beer is as clear as the glass it resides in. The beer forms a white head on the pour with poor retention. Beer lacing is also minimal.
Aroma: Corona Premier has a similar aroma profile as Corona Extra. It releases aromas similar to freshly-cut grass. And yes, it has a skunky smell. Corona Premier oxidizes when you allow it to sit, giving off the smell of wet cardboard.
Taste: Your tongue can pick grassy notes over a background of sweet corn. The sweetness is somewhat watered down to what you expect in a Corona Extra. Corona Premier finishes with floral hops over a hint of biscuity sweetness.
Mouthfeel: To make Corona Premier, Grupo Modelo took an already-light beer in Corona Light and made it lighter. As you'd expect, Corona Premier has a light body and a refreshing profile.
Corona Premier: Food Pairings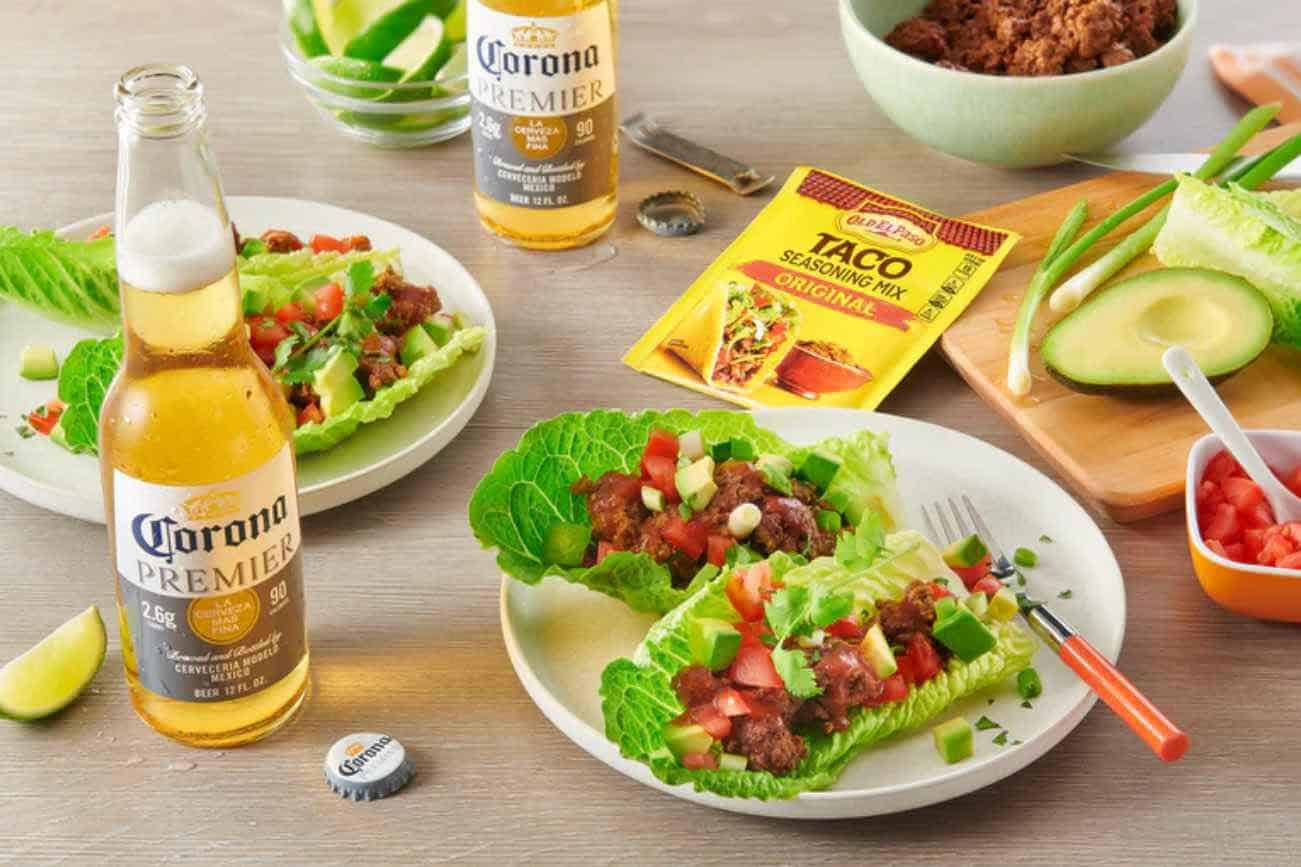 The drinkable nature of this beer makes it a perfect companion for spicy goods. But it can also complement dishes with delicate flavors like grilled fish, chicken, and pork.
Corona Premier: Serving
Corona Premier is best-served cold between 33-49°F. Corona Premier has a bland and watery taste. Adding a lime goes a long way to spruce up the beer's flavor. As for glassware, you don't need any.
Corona Familiar
Corona Familiar is the ugly duckling of the Corona beers. It comes in a brown growler-style bottle. But underneath this brown bottle, you'll find a 4.8% American Adjuct lager. Corona Familiar is the maltiest and strongest beer in the Corona lineup.
Appearance: Corona Familiar is a golden lager with a clear body. It pours to form a white head with poor retention. Like other Corona beers, lacing is minimal.
Aroma: Corona Familiar is the maltiest of the Corona beers. As such, it gives off strong bready notes. It lacks the skunky characteristic that defines other Corona beers. Like Corona Extra, you can expect noticeable grassy notes under the blanket of malt.
Taste: Its maltiness is richer and more pronounced. You can feel the essence of corn just from sipping the beer. Despite having a grassy aroma, the beer lacks a similar trait in its flavor.
Mouthfeel: Corona Familiar has a medium body with a refreshing characteristic.
Corona Familiar: Food Pairings
Corona Familiar's drinkability may make it compatible with spicy foods, but it's a stronger alcohol. Corona Familiar is an excellent companion for delicately-flavored foods like fish, chicken, and salads.
Corona Familiar: Serving
Corona Familiar is quite flavorful, and it does not require lime. However, you still have to serve it cold, 33-49°F.
Fun Facts about Corona Beer
Now that you understand the character of Corona beers, we can get to other aspects of the beer brand. Below are some fun facts about Corona beers.
Corona Beer: Marketing and Advertising
When Corona beer broke into the US market, they realized it was popular in Texas and Southern California. Corona was particularly popular among beachgoers, so they came up with the tagline, "Find Your Beach." And just like that, Corona found its audience.
The Corona brand is built around blue skies, sandy beaches, and summertime. Corona beers are brewed for the warm weather.
Corona Beer: Association With Lime
You can expect two things from a Corona ad; a sandy beach and a wedge of lime. But have you ever wondered why?
Serving Corona with lime was a trend started by bartenders in the early '80s. The customers liked the combination so much that Corona embraced it as part of its brand.
Also, many people complain about how bland Coronas tastes. A squeeze of lime juice does spruce up the beer's flavor.
Final Thoughts
And that's everything there is to know about Corona beer. It started in Mexico in the 1920s and went on to conquer the world. What's your favorite Corona beer?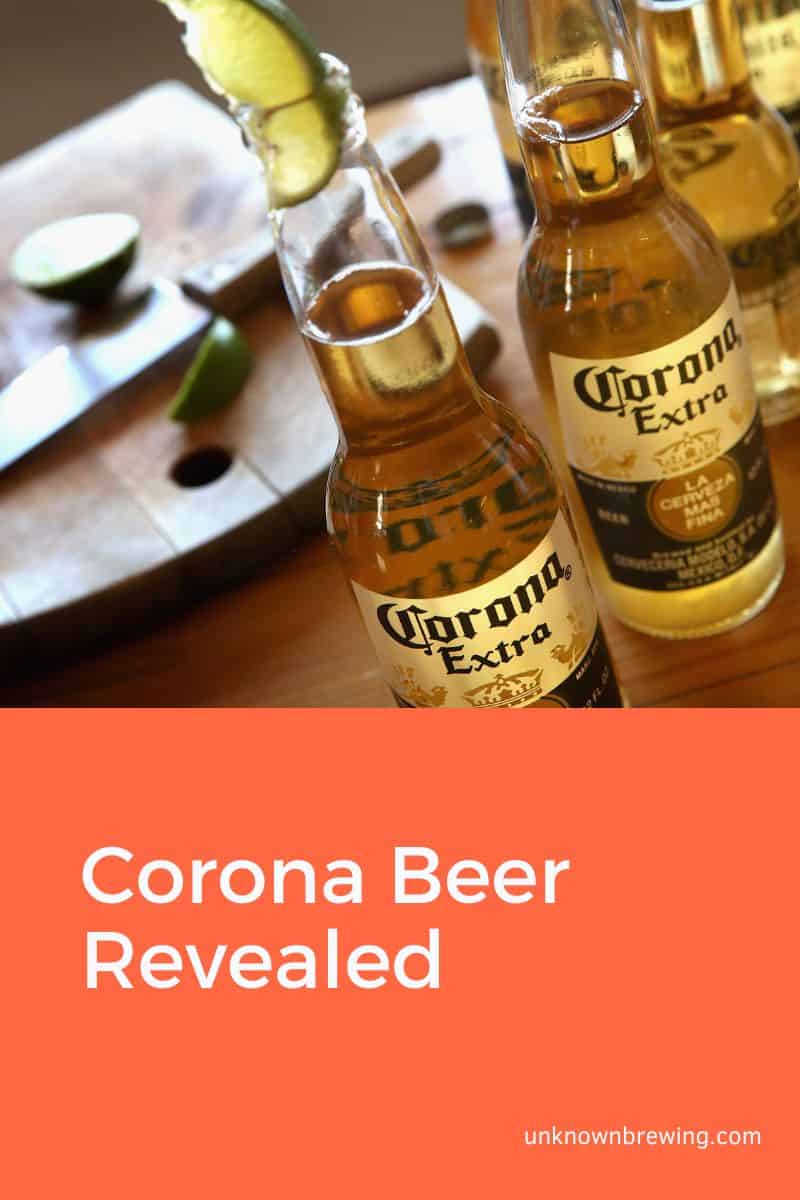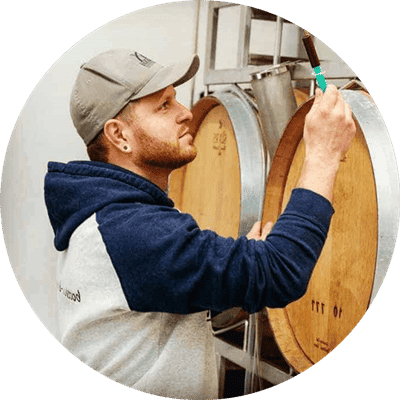 As a homebrewer, Michael would get frustrated about the lack of brewing information on the internet. After hundreds of gallons of spoilt batches, Micheal had enough. And he founded Unknown Brewing as a resource for homebrewers.