Schwarzbier is a dark lager with German origins. The term "Schwarzbier" actually comes from two German words, "Schwarzes Bier," which translates to "Black Beer."
The color of Schwarzbiers ranges from amber to black. While they may look like stouts and porters, Schwarzbiers are light-bodied lagers that wash down easily.
We've compiled a compelling list of 17 Schwarzbier recipes. We were looking for easy-to-follow instructions that you can trace to brew your own Schwarzbier.
Listed in no particular order, below are 17 Schwarzbier recipes:
Named after Punalu'u Black Sand Beach in Hawaii, this beer got enough attention to appear in the January/February 2002 issue of Zymurgy Magazine. Despite its dark color, Puna Coast is a light-bodied lager with chocolate and coffee flavor notes.
This recipe relies on Pilsener pale malt as the base and Belgian aromatic malt as the specialty grain. German Hallertauer hops are responsible for bittering. This recipe provides direction for both extract and all grain brewing techniques.
2.
Stormin' Norman Schwarzbier by TheApartmentBrewer
On TheApartmentBrewer YouTube channel, Apartment Steve demonstrates how to brew the Stormin' Norman Schwarzbier. The final beer is a dark brown lager with ruby-red highlights. Stormin' Norman has a strong Munich malt aroma with undertones of caramelized sugar.
While the beer is not light-bodied, it isn't as heavy as a stout or porter. It is drinkable and perfect for cold seasons.
AparmentSteve does a great job explaining how to brew the beer. His process is simple and easy to replicate.
On their website, American Homebrew Association publishes a Schwarzbier recipe featuring amber malt extract, Bavarian lager yeast, and Spalt hops. The resulting beer is a ruby-brown lager with a fruity, flowery, spicy aroma.
The brewing process is a hybrid involving extract and all grain styles.
The Doktor Schnurrbart Schwarzbier pairs well with foods with a complex flavor profile. A hearty stew would be a perfect match for this dark German lager.
4.
Czech-Style Dark Lager by Homebrew 4 Life
In a Homebrew 4 Life YouTube video, the host (CH) explains how to make his Czech-style Schwarzbier. While the original recipe comes from the Craft Beer & Brewing Magazine, Homebrew 4 Life tweaks it to make a unique Schwarzbier.
Instead of using Bohemian Pilsner malt as a base, our instructor opts for Two-Row malt. Pale chocolate and Carafa III malts are his specialty grains.
If you persevere through the jokes and memes, you'll find a pretty actionable recipe.
While trying to make a chocolate cherry beer, Israel "Izzy" Arrieta stumbled into this dark lager completely by mistake. Izzy thought that cherry-wood malt would complement the chocolatey flavor of roasted malt. Instead, he concocted something completely different.
Over his next brews, Izzy refined his recipe to create the masterpiece that is Izzy's Freudian Schwarz.
The beer uses German Light Munich malt as a base and chocolate wheat, Pilsner, and cherry-wood malts for flavoring. As for bittering, the beer only relies on Spalt Spalter hop pellets.
6.
5 Minute Brewery's Schwarzbier
In a video posted on their YouTube Channel, 5 Minute brewery demonstrates how to make their version of the Schwarzbier. The instructor uses Pilsner malt as his base and chocolate malt as his specialty grain.
After two weeks of conditioning, the emerging beer was dark with roasted coffee notes. And like any other lager, the 5 Minute Brewery's Schwarzbier is light-bodied and easy to consume. The instructor does a great job explaining his process.
The Black Lager is a dark beer that gives off subtle notes of coffee flavor. It may be as dark as a stout, but its taste profile is lighter and more refreshing. The Black Lager is the perfect alternative to porters on cold winter days.
This Black Lager uses Pilsen malt as the base and Chocolate, Black, and roasted barley as specialty malts.
8.
Jan's Czech-Style Schwarzbier
In a YouTube video posted on the Get Er Brewed channel, Jan demonstrates how to make his Czech-Style Schwarzbier.
He uses Dingeman Pilson and Munich malts as his base and roasted barley and Carafa malt as his specialty grains. As for his hop selection, Jan went with Czech Saaz hops.
After conditioning for two days, the resulting dark lager emits a biscuit aroma with coffee notes.
Brewed by Fred Bonjour, Storm King won at Knickerbocker's Battle of the Brews. It snatched first place in the Dark Beer class. Storm King is a creamy dark lager with an alcohol content of 5.48% ABV.
The recipe posted on BeerSmith.com is of the all grain variety. It uses a five-grain malt combination and four different hops. The resulting beer is a high-calorie Schwarzbier with a spicy aroma.
Clawhammer Supply presents the recipe for their Forbidden Rice Schwarzbier on their website.
The brew uses Two-Row Pilsner malt and black rice as a base. Crystal 60 malt is the specialty grain.
To test their brew, Clawhammer Supply invites Apartment Steve from TheApartmentBrewer and CH from Homebrew 4 Life to taste the new creation. The beer gets positive reviews from the YouTubers as they explain the sensations boiling in their mouths.
Big Black's Revenge is a bottom-fermenting beer with noticeable malt sweetness. While smooth and full-bodied, the beer emits roasted malt and chocolate bitterness notes. Big Black's Revenge is the perfect beer for cold days.
The recipe features five different malts, mixing grains and malt extracts. As for bittering, Big Black Revenge relies on Hallertau hop pellets. This recipe is simple, straightforward, and easy to follow.
12.
Northernator Doppelbock Lager by NorthernBrewTV
The Northernator Doppelbock is a Schwarzbier brewed by NothernBrewTV. On their YouTube channel, they explain the history of the dark lager and the intricacies of brewing it. NorthernBrew also sells all grain and extract recipe kits for their beer on their website.
The resulting beer is brown-colored with a malty flavor. It's a beer perfect for the cold seasons.
BeerSmith.com gets playful by combining the fruity notes from Hallertau hops with the minty aroma from Perle hops. The result is a refreshing dark lager with a unique flavor profile.
If you enjoy all grain brewing, you'll like this recipe. This beer extracts its flavor from six different grain varieties.
BeerSmith delivers a detailed and easy-to-follow recipe. From boiling times to fermentation temperatures, you have all the details to replicate their Pitch Black Shwarzbier.
14.
The Homebrew Challenge Schwarzbier by Martin Keen
In The Homebrew Challenge's YouTube channel, Martin Keen explains how to brew his Schwarzbier. The resulting beer is black with no notable hop aromas. It is a dry, light-bodied beer with no sweet notes.
The lack of sweetness doesn't mean that this Schwarzbier is bland. It has a very malty taste.
Martin Keen uses a mixture of German Pilsner and Munich malts for his base. For his specialty grains, he uses Caramunich I grains. For the dark color, Martin uses Carafa II and Chocolate roasted malts. The instructions are clear and easy to follow.
This all grain Schwarzbier recipe by Brewgr combines six different malt varieties in its brewing process. 
Since the grain selection includes lightly caramelized and heavily roasted malts, the resulting beer is dark with an SRM designation between 17 and 30.
The nutty aroma from the toasted malt is complimented by subtle citric and nutmeg flavors from the magnum hops.
16.
Bitter Reality Brewing's Schwarzbier
In a video posted on their YouTube channel, Bitter Reality Brewing explains how to brew their rendition of the Schwarzbier. The instructor uses Munich and Pilsner malts as his base. He employs Dark Patagonia Chocolate and Carafa Special I malts for his specialty grains.
The resulting Schwarzbier is a light-bodied lager with an alcohol content of 5.5% ABV. It gives off caramel, chocolate, and faint coffee notes.
This recipe had the honor of featuring in the July/August 2010 edition of Zymurgy Magazine. This amber Schwarzbier is refreshing and light-bodied. It's the perfect beer for a hot summer day.
A taste of the Ugly Pug will give faint notes of chocolate and coffee flavors.
On their website, American Homebrewers Association outlines both all grain and malt extract recipes to the Ugly Pug. The directions are clear and straightforward. You, too, could brew your own Ugly Pug Schwarzbier.
Final Thoughts
There you go, 17 Schwarbier recipes. If you're searching for a new brewing project, take inspiration from any of these recipes. Their instructions are clear and easy to follow.
Which Schwarzbeer recipe excites you the most? For me, it's the Forbidden Rice Black Lager by Clawhammer. Please let us know your opinions in the comment section below.
17 Dark and Delicious Schwarzbier Recipes to Sip On
Directions
Select your favorite recipe.
Organize all the required ingredients.
Prep a Schwarzbier Recipe in 30 minutes or less!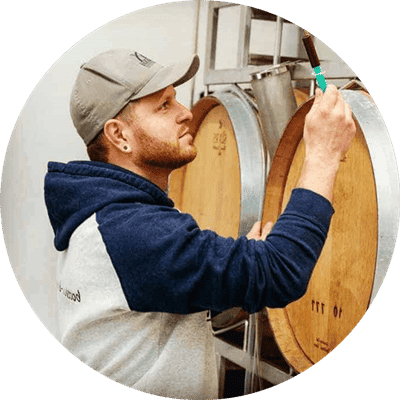 As a homebrewer, Michael would get frustrated about the lack of brewing information on the internet. After hundreds of gallons of spoilt batches, Micheal had enough. And he founded Unknown Brewing as a resource for homebrewers.