On Hulu are tales of a little town in rural Ontario called Letterkenny. This town's residents enjoy a local craft brew called Puppers beer. But is Puppers beer real or as fake as the fictional town of Letterkenny?
Puppers beer is a premium lager popularized by the Canadian hit TV show, "Letterkenny." While the beer started as a fake brand, it materialized in 2017 when the show's producers contracted Stack Brewing to bring it to life.
In this article, we'll look at Puppers beer, its unique qualities, and its characteristics. You'll also learn where to buy the beer and its associated merch. But first, here's an overview of Puppers beer:
Color Range
Pale golden color
Original Gravity
1.048 OG
Final Gravity
1.012 FG
IBU Range
Stack Brewing: 11

Labatt Brewing: 0

ABV Range
Stack Brewing: 4% ABV

Labatt Brewing: 5% ABV

Appearance
Clear with a frothy white head
Aroma
Malty, with biscuity notes
Flavor
Sweet corn with malty notes
Mouthfeel
Medium body
Serving & Storage Temperature
30-40°F
Shelf Life
Up to six months
Food Pairings
Spicy and dry foods
Is Puppers Beer a Real Thing?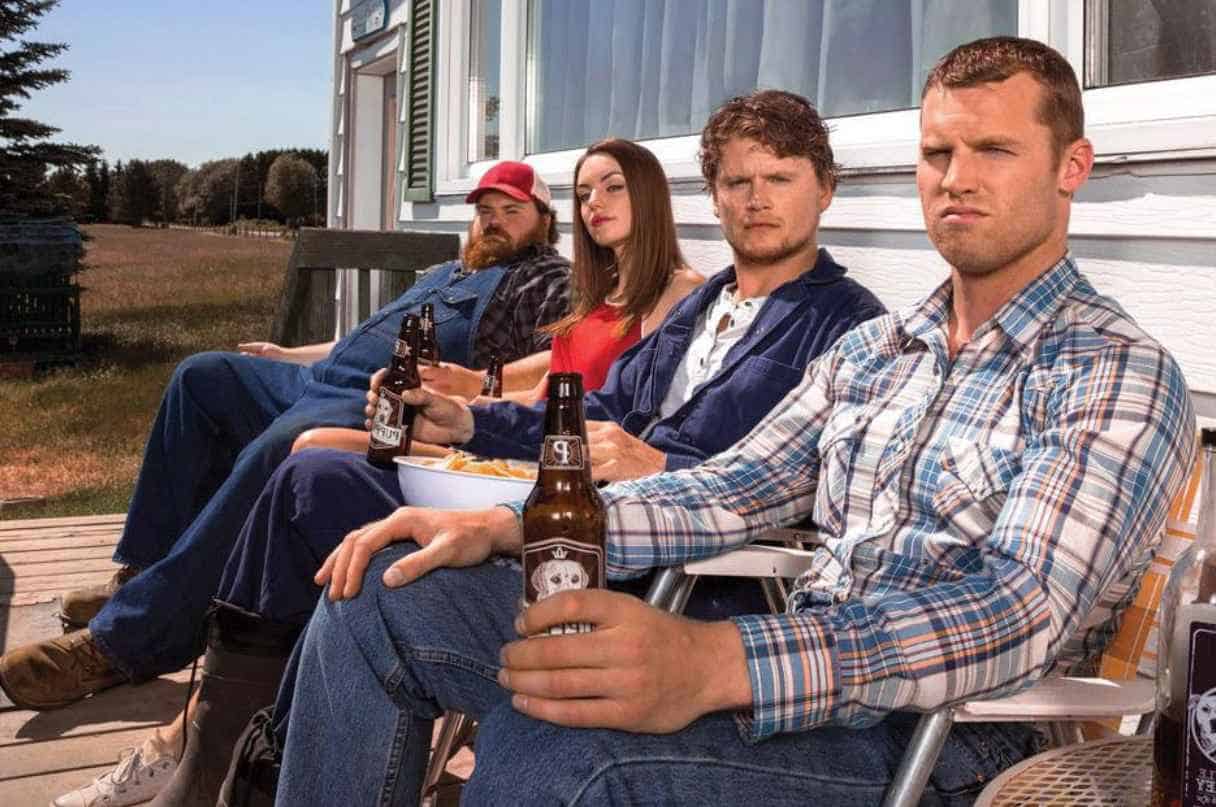 It's common for movie and television producers to create fictional brands and use them in their projects. Puppers Beer is one of those made-for-TV brands. And it's only natural for the show's fans to wonder whether the beer was real or fake.
Yes, Puppers Beer is a real beer brand made in Canada by Labatt Brewing Company. While you can buy it today, it wasn't always like this.
While "Letterkenny" premiered in 2016, Puppers Beer made its first appearance in the second season of the sitcom. The beer only existed as a fictional brand until the Summer of 2017, when the show's producers contracted Stack Breweries to bring the beer to life. But if Puppers Beer is real, what kind of beer is it, and what does it taste like?
What is Puppers Beer?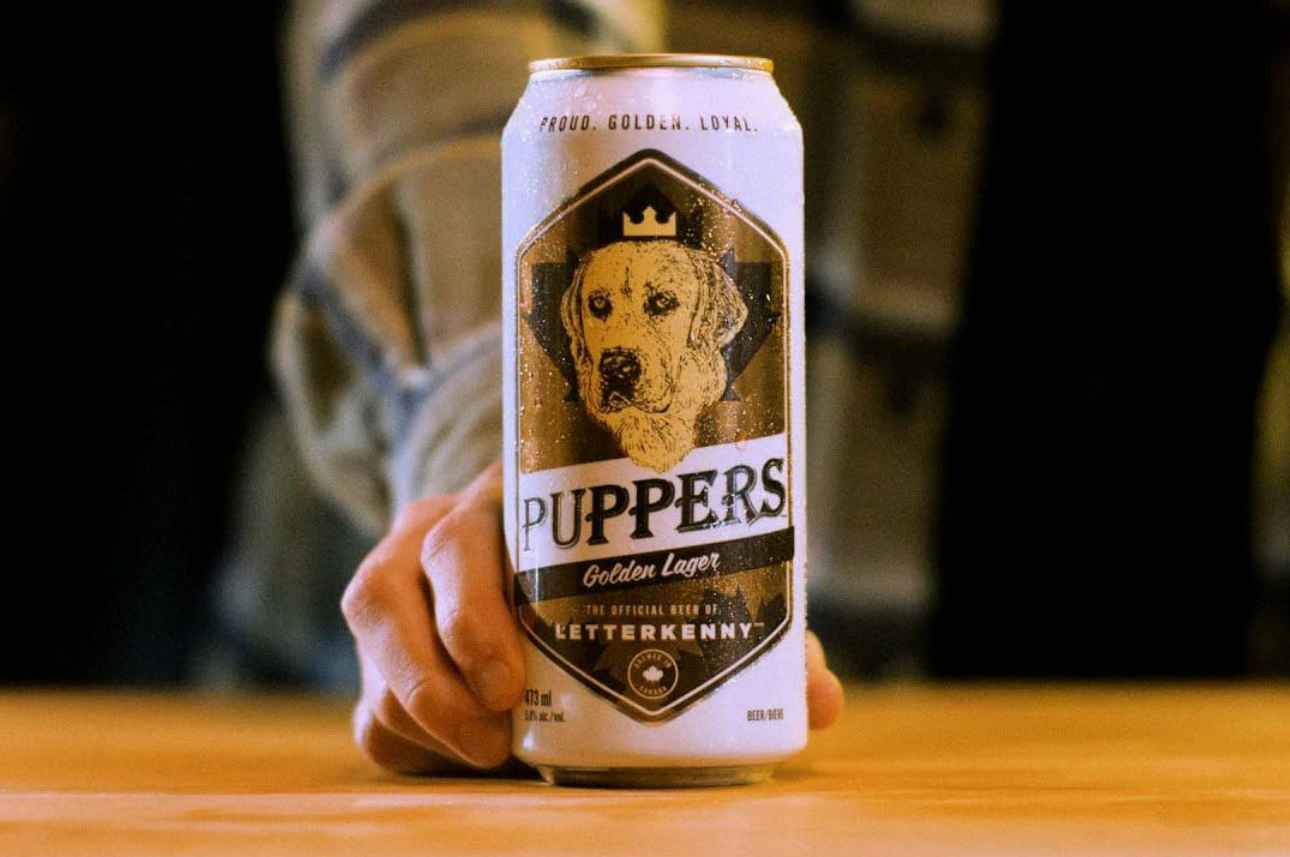 Puppers beer is a premium light lager with an alcohol content of 5% ABV. It is straw yellow with a golden character. Puppers beer has a medium body with moderate carbonation. The beer is super drinkable and a perfect pairing for spicy foods. It is the sitcom's official beer. According to the show, Puppers is the perfect beer to drink when vacuuming, lawnmowing, sweeping, or doing any other chore.
When poured, Puppers forms a white head (about an inch thick). While the head sticks around, it does not form a lace. The beer is straw yellow with a golden character.
Puppers beer is available in 473 ml cans. These cans are white with a brown Puppers label. The most distinguishing feature of this Canadian brew is the crowned golden retriever image over the brown maple leaf.
What Does Puppers Beer Taste Like?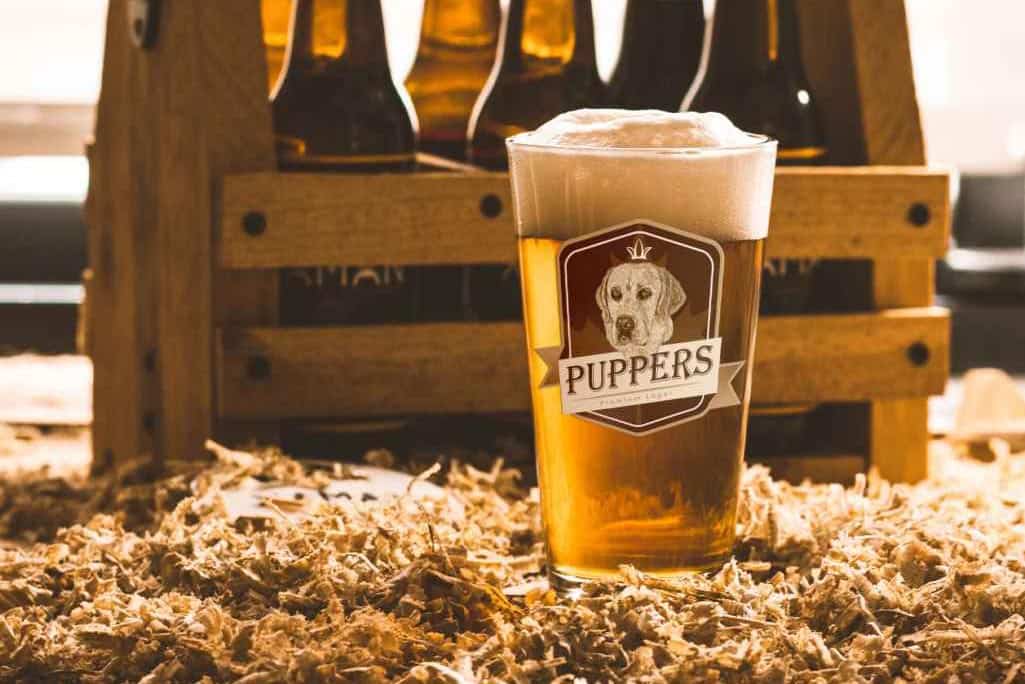 A whiff of Puppers beer reveals doughy biscuit notes. A sip of the beer reveals a sweet corn flavor with a hint of maltiness. Puppers beer also gives off a faint lemon flavor with lager yeast notes. According to reviews on BeerAdvocte, some beer enthusiasts detected the musty aroma of hops.
As for mouthfeel, Puppers beer has a medium body with moderate carbonation. The beer is super drinkable, with a crisp character and a clean aftertaste. However, some drinkers may feel light notes of lemon or yeast lingering on the tongue.
As a light lager, Puppers beer is the perfect pallet cleanser for spicy foods like hot buffalo wings and spicy noodles. It also complements dry foods like french fries, fried fish, and hot dogs.
Puppers beer is a refreshing brew perfect for winding down a long day. It is also a good companion for household chores and light yard work. Since the beer is light, you can keep your sharpness as you work.
The Origins and History of Puppers Beer
Puppers beer owes its existence to the Canadian TV show "Letterkenny." Premiering in 2016, "Letterkenny" is a Canadian sitcom written and developed by Jared Keeso and Jacob Tierney. Crave streaming service distributes the show in Canada and Hulu in the USA.
"Letterkenney" revolves around a group of friends that live in rural Ontario. Every so often, this party of friends gathers around a cold bottle of (you guessed it) Puppers beer.
This light lager debuted in the second season, published on Christmas Day, 2016. Since its initial appearance, Puppers beer has been popular among the "Letterkenny" fan base. Especially after the Season 3 line, "Get this guy a [email protected]*ing Puppers!"
There have been numerous attempts to bring the then-fictional beer to life. The earliest attempt was by Stack Brewing, who released their version of Puppers beer in 2017. This version had an alcohol content of 4% ABV and was available in Ontario and Alberta. Stack Brewing produced Puppers beer until 2021.
In 2021, New Metric Media (producers of "Letterkenny") announced their plan to shift Puppers beer production to a new plant. Labatt Brewery was the subject of this announcement, and they took over production in the summer of the same year.
Under Labatt Brewing Company, Puppers' alcohol content increased to 5% ABV.
Today, Puppers has vibrant Facebook and Instagram communities.
Where Can I Buy Puppers Beer?
Puppers beer is available for sale in Canada, specifically in Ontario. You can find chilled cans in LCBO stores throughout Ontario. LCBO, in this case, stands for Liquor Control Board of Ontario. Puppers beer is also available at Sobey's and Beer Store outlets.
During Stack Breweries' brewing days, Puppers cans were available at LCBO stores and the brewer's retail shop. In those days, Stack Brewing would ship their beers to Ottawa, North Bay, Marie, Saut Ste, Sudbury, Toronto, Thunder Bay, and White River. Due to the brewer's association with Puppers beer, there were rumors that Stack made the beer available in these locations.
Puppers beer was available in Alberta and even in select stores in Michigan for a short while—all thanks to Stack Brewing.
Is Puppers Beer Available in the USA?
Unfortunately, Puppers beer is not available in the United States. Limited distribution was expected in the Stack Brewing days since the brewer was a small local player. Despite Labatt taking over production, there has not been any progress on this front.
Since "Letterkenny" also airs in the USA (via Hulu), you'd think that distributor would capitalize on the need to capture the American audience. How awesome would it be to host watch parties of the sitcom while sipping their official beer?
During the Stack Brewing days, Puppers beer would pop up in Michigan, Ohio, Wisconsin, and other border states.
The best we can hope for is for "Letterkenny" producers and Labatt representatives to provide a few cases of Puppers during the sitcom's live tours.
How to Get Puppers Beer in the US
According to the Canadian Government, you can bring up to 287 ounces of beer to the US. This quantity is equal to a single case of Puppers. If you find yourself in Canada, please carry a case of Puppers beer.
However, the US government will require you to pay import duty. According to the US embassy, the government charges roughly 3% of the value of the beer.
How About Puppers Beer Merch?
Puppers merch would be an excellent consolation price since we cannot get Puppers beer in the US. Puppers merch is available at Letterkenny's online store. Branded merchandise includes toques, t-shirts, baseball caps, and beer glasses.
Puppers Beer: Frequently Asked Questions
Below are some helpful answers to common Puppers beer questions:
Is Puppers Beer Real?
Yes, Puppers beer is real. However, Puppers started as a fictional beer brand when the sitcom "Letterkenny" premiered in 2016. Due to the popularity of the show and its fictional beer, its producers made efforts to bring the beer to life.
In 2017, New Metric Media contracted Stack Brewing to brew the beer. The Sudbury-based brewer made Puppers until 2021, when Labatt Brewing took over production.
What Do They Drink in Letterkenny?
Letterkenny is a fictional town in rural Ontario and the subject of the sitcom "Letterkenny." Puppers beer is the local craft brew of this titular town. It is the most popular beer in Letterkenny. Many scenes feature characters drinking a bottle of Puppers beer.
One of the most iconic lines in the show is, "Give this guy a [email protected]©king Puppers!"
Apart from Pupper beer, characters in the show enjoy Gus n' Brew whisky. The bourbon is the defacto craft whisky of the rural town. Unlike Puppers beer, Gus n' Brew is not a real whisky. It only exists as a fictional beverage.
Video Source:
Conclusion
It's a common occurrence for producers to use fictional brands in their TV shows and movies. Sometimes these fake brands catch on and become subjects of online forums. But rarely do these fictional brands materialize in the real world.
Puppers beer is one of those rare fictional brands. Puppers beer transcended from the fictional "Letterkenny" universe to the shelves of Canadian liquor stores. Unfortunately, the beer is not available for sale in the US. To enjoy Puppers beer, you'll have to travel to the Great North.
And whenever you are in Canada, please get me a [email protected]©king Puppers!