Root beer is a classic American drink, and it is undoubtedly one of the best drinks to serve at parties, dinners, and game nights. People enjoy this fizzy drink as there are various things you can do with root beer, may it be for booze nights or dessert time. So, to help you make a delicious root beer in the comfort of your home, here are 28 root beer recipes you can easily follow!
1. Homemade Immune Root Beer
We know root beer today is packed with artificial flavors, extracts, and sugar, making it an unhealthy sugary drink.
But don't be sad, as you can make this healthy while still tasting like a treat by following this easy recipe from Dr. Glen Nagel. This homemade root beer recipe will give you and your kids an immune-boosting and refreshing drink at any time of the day!
Have you ever wondered if you can enjoy a fizzy drink that is tasty but healthy? Well, this easy root beer recipe will help you out!
This homemade root beer uses few herbs than usual to make a beverage that is less harmful to the body. And this recipe is easier to make and is also a budget-friendly option, so this is the perfect drink to make at home!
3. Traditional Root Beer
Let's get things straight; nothing can beat an old-fashioned root beer! This recipe from The Fermentation Adventure is a must-do for everyone who loves a classic, foamy, and tasty root beer.
Moreover, this recipe uses an easy fermentation method you can quickly follow. And to give you a special treat, this recipe is also perfect for making dairy-free root beer float!
Want to impress your kids and party guests? Then try this delicious homemade root beer recipe from Kelsey Nixon!
This root beer recipe is fun to make because you can do the brewing process with the help of your little ones or anyone who enjoy mixing things up. Moreover, this uses a gallon of carbonated water to get that bubbly soda-like fizz. And for extra carbonation, dry ice is used.
5. No Extract Homemade Root Beer
If you are the type of person who loves creating everything from scratch, this recipe is for you!
In this recipe, Steven will teach you how to make the best craft-brewed root beer from scratch in the convenience of your home. He worked years to make this recipe as perfect as he could, so you can trust this one to give you the best-tasting craft root beer!
Yep, you guessed it right! This next root beer recipe uses Sassafras roots as its main ingredient, along with several spices and molasses.
Following this will give you that tasty, non-fermented, and non-alcoholic root beer the kids will love! And aside from making a delicious root beer, this recipe will also help you in finding the best Sassafras plant to use for your drink.
7. Root Beer made from Actual Roots
If you are tired of commercial root beers, you find in stores, save this recipe from BVC and brew an authentic root beer. This recipe uses actual roots, herbs, spices, and hops, so expect to have a root beer with a more profound flavor than usual. Take note that this recipe makes a gallon of root beer, making it perfect for serving groups and parties.
Do you love soda made with ginger bugs? If you do, then you will like this fermented root beer recipe. The main ingredients used to make this root beer are sassafras bark, Jamaican sarsaparilla root, and birch bark. All of the herbs are then boiled together. After it, you need to ferment the liquid with the ginger bug, molasses, and sugar; then, you'll have a delicious gingery root beer!
9. Root Beer Recipe From Scratch
Making a homemade root beer from scratch can be quite complex, but believe us, the result is worth the effort! Following this recipe from Glen will take you into a very detailed root beer-making process that uses several actual roots, spices, and herbs. The mixing and boiling process will take an hour, and the fermentation will take 3-4 days.
Beat the summer heat with this easy homemade root beer recipe from C&H Sugar that is gluten-free and kid-friendly!
This recipe uses only four simple ingredients; water, sugar, unflavored seltzer, and root beer concentrate. For the process, you only need to boil the water and sugar together and cool it down before adding the root beer concentrate. Once refrigerated, add the seltzer, and your drink is good to go!
11. Simple and Tasty Root Beer
There are times when you need a root beer for casual drinking, and although you can buy commercial root beer in the market, a homemade one is just way better.
So to save you from hassle, take this simple and tasty root beer recipe from Jim. This one will only take you a few minutes to finish, and it will give you a good-tasting, carbonated root beer.
Looking for something tasty to quench your thirst? Why not make a creamy, foamy, and ice-cold root beer in the comfort of your home? This recipe from Spice Jungle takes only 30 minutes, but the real magic happens after 48 hours when you are done fermenting and letting the root beer carbonate. Once done, all you need to do is refrigerate it and enjoy the goodness!
13. Sweet and Refreshing Fermented Root Beer
Wondering how to make that sweet, refreshing root beer with a ginger kick? This homemade root beer recipe from TheBruSho will take you to the classic world of root beer, but with a twist, and that is fermentation featuring ginger bugs. And for a sweeter treat, this recipe is way healthier compared to those root beers that use a bunch of extracts.
You might think using dry ice in a root beer is complicated, but this recipe from Amy will change your mind! You only need to follow some safety precautions since handling dry ice is quite dangerous, but overall, this recipe is fairly easy. Once you learn the steps, you can make a delicious root beer without breaking a sweat.
15. Conventional Root Beer Using Spices and Roots
Most of us are scared of drinking carbonated drinks for fear that they might kill us, and that is okay. But it doesn't mean that all of these drinks are dangerous for the body. Take this root beer recipe from Flavor Lab as an example. This recipe will help you make a conventional, healthy, and delicious root beer, perfect for any occasion.
Who would possibly know that you can actually make a good old-fashioned root beer that everyone loves in the vicinity of your home? This easy homemade root beer recipe from McCormick will save you a lot of energy and give you a great-tasting, classic root beer. And, of course, this recipe only takes a few minutes to make and a few days to carbonate.
17. Homemade Root Beer With 3 Simple Ingredients
Got no time for all the mixing and brewing process? Don't worry, as this next recipe is by far the easiest one yet. All you need to have are three simple ingredients; sugar, yeast, and root beer extract. You only have to mix all these ingredients with water, bottle it up, let it ferment for a few days, and refrigerate it before consuming it.
Planning to make root beer for your upcoming party? Try this 15-minute root beer recipe from Mel and surprise your guests! This recipe will give you a festive root beer because you will be using dry ice. And yes, this root beer doesn't require fermentation, so you can immediately serve it to your guests once done and cold.
19. Dry-Iced Root Beer
Mix your root beer experience with science with this easy recipe from RoseRed Homestead. Following this recipe is fun and interesting as you will know how dry ice makes the root beer carbonated and delicious.
This recipe will make about 2 liters of root beer, and you can serve this to your kids. But make sure you strain out live dry ice pieces before serving the kids.
Everyone has their own opinion on what is a great root beer, so making it on your own is the best way to have a root beer that is right up your alley. And with this DIY root beer recipe, you can be creative on your own and tweak the recipe so you can create the best root beer that will suit your taste.
21. Big H Root Beer
This Big H root beer recipe is another easy-to-follow guide you should try. This recipe will make a gallon of root beer and will also need the use of dry ice.
What's also great about this recipe is the mixing and carbonation process only takes about 20 minutes, and the result is a delicious root beer. Add in a vanilla ice cream, and you have a tasty root beer float.
Make your dinner or party extra special with this tasty classic root beer recipe. This recipe from Alyssa is really easy that you can make it with your kids. But take some safety precautions, as you will be using dry ice to carbonate your root beer. Following this recipe will give you a refreshing and sweet-tasting root beer.
23. Frosty Homemade Root Beer
Who wouldn't love a meal paired with a frosty mug of delicious root beer? Everyone will love this ice-cold recipe as it gives the classic flavor of root beer we have all loved since our childhood days. You can enjoy this root beer as it is, or you can upgrade it to a root beer float by just adding a scope of vanilla ice cream into your mug.
Want to skip all the fermentation processes and long waiting times? Follow this quick and easy root beer recipe from All Recipes, so you get an instant delicious root beer.
The trick is to use carbonated water and root beer extract instead of having the boiling and fermenting process root beer usually takes. This might be a shortcut recipe, but it will undoubtedly give you a tasty drink!
25. Complex and Delicious Root Beer
If you are searching for a root beer with a rich flavor profile, this recipe from The Virginia Stew is a treat for you. What makes this unique from the other recipes is it uses a cinnamon stick, nutmeg, vanilla powder, malt extracts, and honey that give the root beer a deep flavor. And take note, this root beer is alcoholic, so this is for adults and not for kids.
This immune-supporting root beer recipe from Moutain Rose Herbs is by far the most time-consuming one, as it takes about 17 hours to complete this recipe.
However, the long process is definitely worth it, as the final product is a delicious root beer syrup, ready to be mixed with bubbly water. And you can store this for up to three months, saving you a lot of hassle.
27. Low-Carb Root Beer
Let's skip those unhealthy sugary drinks and switch to this root beer recipe from Tara. This is perfect for anyone undergoing a keto diet as this is low-carb and has zero added sugars. You might think that this will be tasteless since it is healthy, but you are wrong. This recipe will give you a delicious and refreshing root beer with a clean taste as it uses natural sweeteners.
Finally, we will be ending the list with an interesting root beer recipe from Cultures For Health. This is a unique way to make root beer as it uses Lacto-fermentation to add fizziness to the brew.
Instead of relying on sparkling water, this recipe uses whey to help with the carbonation of the brew. Once done, let it cool and enjoy a fizzy and tasty root beer.
Drink up!
Even with these 28 root beer recipes from different individuals, root beer is still the drink we have loved since our early years. So, make sure to find the recipe you like best and enjoy a delicious drink with your family!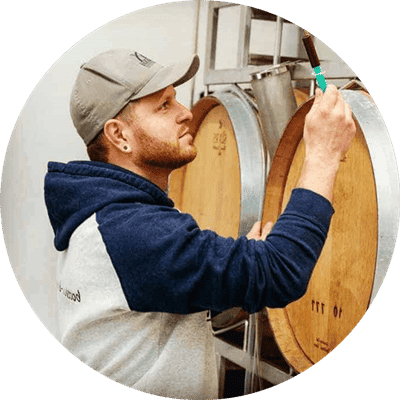 As a homebrewer, Michael would get frustrated about the lack of brewing information on the internet. After hundreds of gallons of spoilt batches, Micheal had enough. And he founded Unknown Brewing as a resource for homebrewers.