Some people take pleasure in drinking beer directly from a bottle. But one consequence of drinking from the bottle is you will need a bottle opener, and it's a bummer if it goes missing or you forget where's the last place you put it.
But don't worry, we got you! Here are 15 DIY bottle opener plans so the next drinking session won't be a hassle.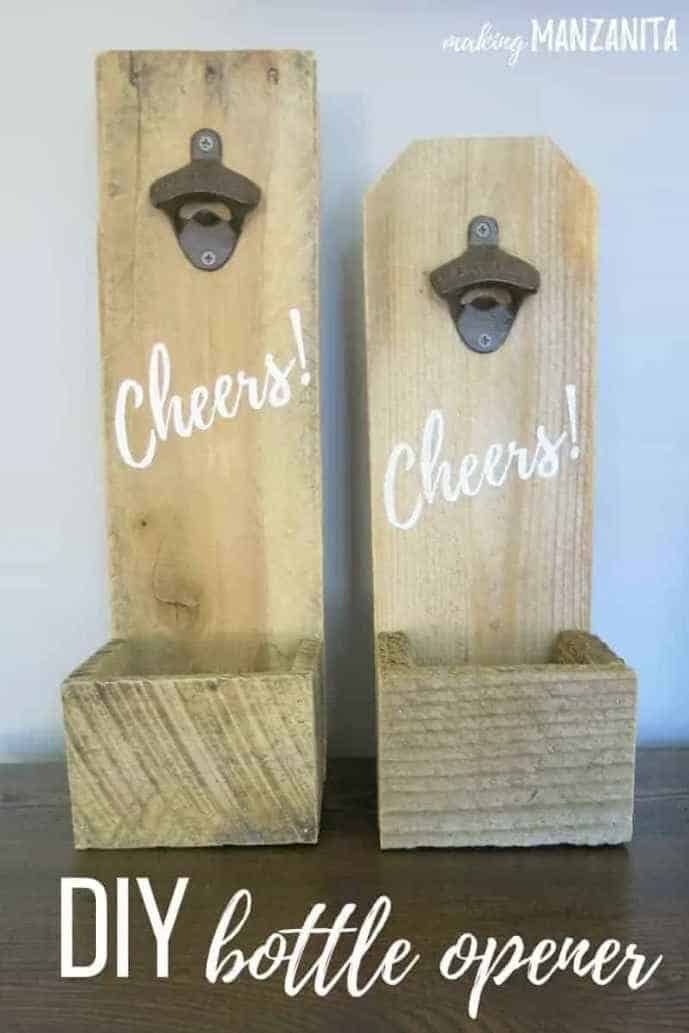 If you have some unused wood lying around your backyard or old palette boards or fence board, this is the perfect project.
Aside from the fact that you won't need to shop for materials, it is also environment-friendly since we are repurposing the wood. Sand it before cutting it. You can also add a bottle cap catcher below by building a box below the opener. Finally, you can screw the bottle opener at the top of the wood.
2. DIY Rebar Bottle Opener
Do you believe that you can create a bottle opener with just one material? This next plan will surely amaze you.
This project includes a 20mm (¾ in) rebar. With the proper tools and skills, you can transform your scrap rebar into a bottle opener.
You just need to cut the rebar to your desired length, and with an angle grinder, cut diagonally across the top part of the rebar. Once you're done, all you have to do is to file the rough edges, and you're done!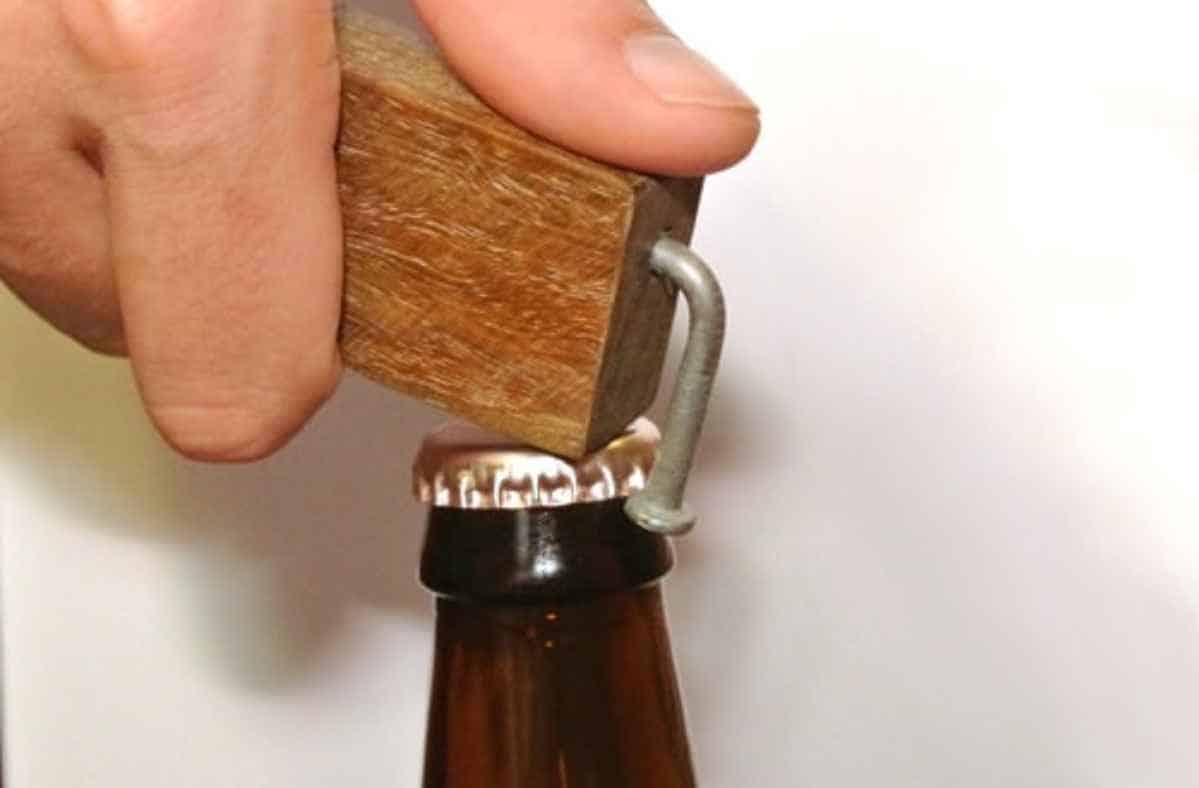 This cute and handy bottle opener will not disappoint you. While the first two projects would require some hardware tools, this next one is very easy to make.
Choose a hardwood and cut it to shape. Pick a nail that has a flat head. Fasten the nail at the top of the wood and carefully bend the nail. Just make sure that the nail head exceeds the width of the wood since this will be the mechanism that will open the bottle. And that's just how easy it is!
4. DIY scrap Wood and Washer Bottle Opener
We'll give you another handy bottle opener. Plus, this can also be a perfect gift for anyone who loves drinking.
You will need a durable piece of wood and a washer. But for this plan, hardware tools are necessary since you need to bore a few millimeters similar to the height of a bottle cap and attach the washer to its side so that the bottle cap will cling to it.
This bottle opener can also be personalized, but precise measurements are needed.
For this project, aside from board or wood and the head of the bottle opener, you will need a neodymium magnet to catch your bottle caps. But the extra cost is worth it for this incredible project.
This project is almost the same as the first one on our list, but the difference is that you don't have to build a box under the opener.
The first thing you need to do is to bore holes in the back of the wood and place the magnets there. At the front side attach the bottle opener at the top. Finish it with varnish or paint, and voila!
See your caps attached to the wood after opening your beer bottle with this opener.
6. Pocket screwdriver/bottle opener/prybar
This plan has three uses: screwdriver, bottle opener, and a prybar. This is also one of those multi-purpose tools that you can keep as a keychain.
You just need a tiny scrap of metal, sketch the plan and cut it. For the screwdriver part, you just need to flatten one of the ends of the metal.
For the bottle opener, you need to cut across the metal using an angle cutter. Just polish it, add a hole on the other end, and you're done. This project is perfect if you're outside camping and in need of a multi-purpose bottle opener.
This next project is the best thing when you're drinking with friends. You'll never imagine opening a beer bottle can be fun as this.
For this plan, you'll need plywood/board, scrap pieces of wood for the edges, a plexiglass, and a lot of nails or screws.
Basically, you need to hammer or screw the nails one inch apart from each other, with the next layer under staggered. Repeat until the board's almost full. Attach the opener at the top and add dividers at the bottom.
Put the glass, and some fun game is ready to be played!
8. Nut and bolt bottle Opener
This one project is a fast and easy remedy for a lost bottle opener. This bottle opener is handy, too!
You just need a bolt and a hex nut. Cut one side of the hex nut enough to place the bottle cap inside the nut. The second step is to attach the bolt to the nut. Polish it, and you're done. This bottle opener is not only handy. It is also a fast remedy. Plus, the cost is cheaper compared to the other projects.
Sometimes, the problem with wall-mounted bottle openers with cap catchers at the bottom is how to easily throw away the caps without unmounting the whole thing.
Well, this is the solution. Basically, this is a flat wall-mounted bottle opener. But the difference between this one from the other projects is that the cap catcher is detachable. A nail is then fastened at the end so that a pail or any container can be hung. Easy cap disposal for this project!
10. Cutting disc bottle opener
This project is one of the ingenious ways of using scrap metal, specifically a cutting disc. Cutting discs are generally considered trash when they are not sharp enough to cut anymore.
However, you can repurpose the old cutting discs into bottle openers to give them new life. You just need to adjust or cut the home in the middle larger to your the suited size and shape enough to fit the bottle cap inside. After that, it's done. You can polish the disc and make the edges more blunt for safety.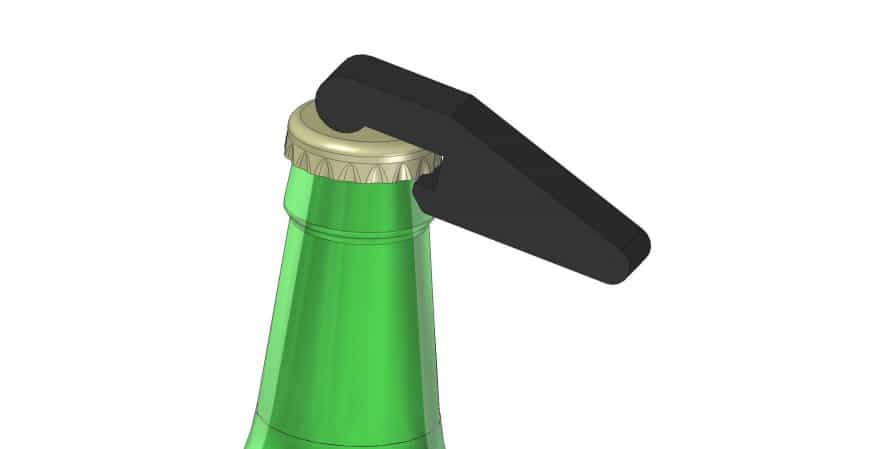 One can have a bottle of beer wherever they want to. The problem is that when you don't have a bottle opener at hand. This next project is mini; you can keep it with your keyring.
These mini pocket bottle openers come in handy since they can fit almost everywhere. If you have knowledge of crafting or converting little scraps of metal, then this is the way to go. Plus, they are also several designs that may convert the bottle opener into a multi-purpose one.
12. Simple metal bottle opener
This style of a bottle opener is one of the simplest and one of the classic designs of bottle openers. Plus, it is only made of one type of material.
If you have another scrap of flat, durable metal, then this one's for you. While other bottle openers in this list are convenient, some people might still search for the opener with a handle. Just cut the metal to your desired length, and pop a hole in the middle. That's simply the steps for this project.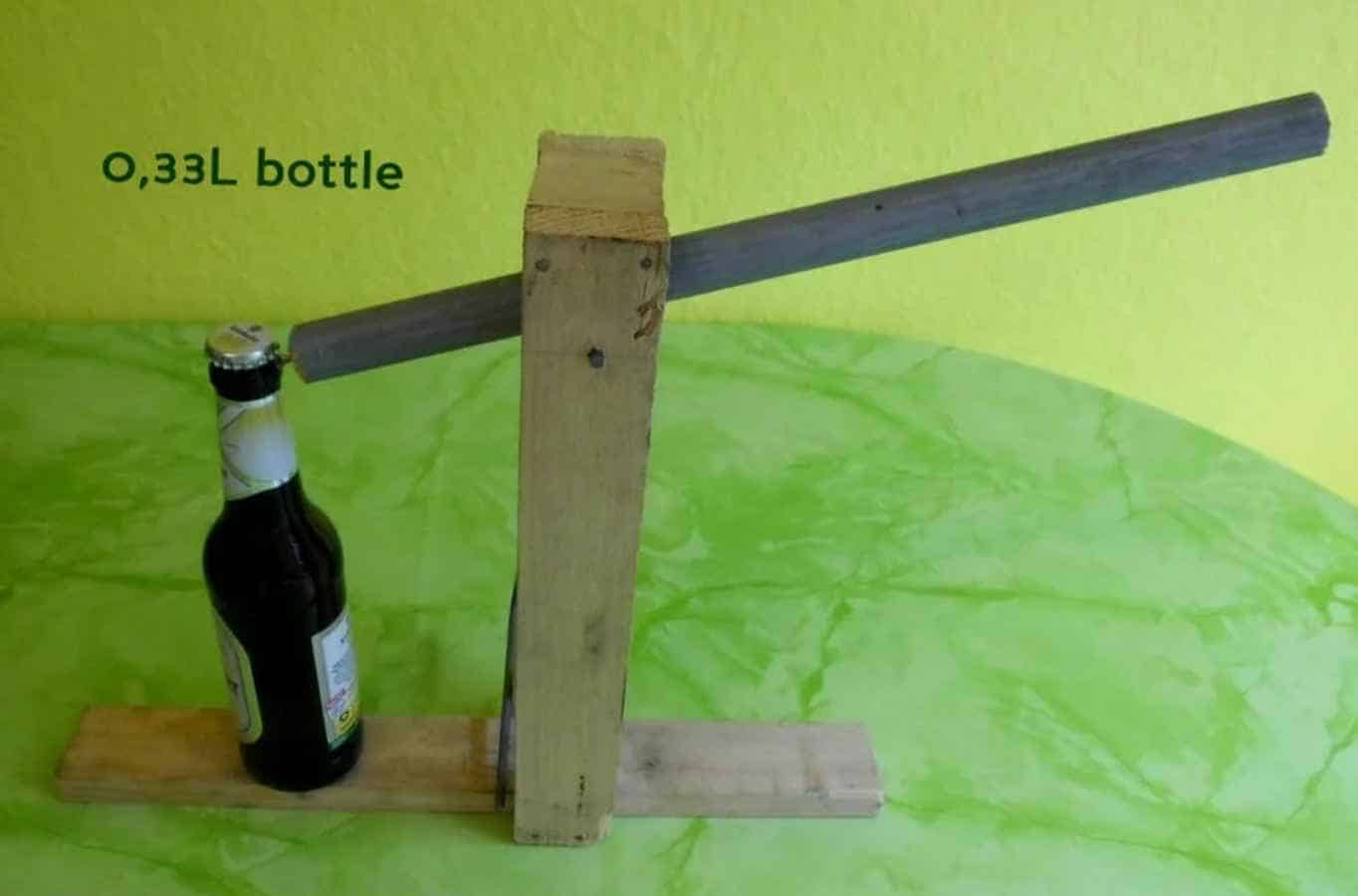 This project is yet one for fun. If you're bored with the classic styles of bottle openers and are drinking with your friends, this bottle opener plan is for you.
There's fun seeing those caps flying. Aside from wood and nails, you'll need a longer piece of metal for this one to act as a lever to the handle, and that will pop the cap into the air.
This one is perfect for this night if you want to chill but want to have fun at the same time. You just have to have a talent for assembling the parts, and you're good to go.
14. Key bottle opener
Do you ever wonder if you can turn your house key into a bottle opener? Well, this is the perfect opportunity to do it!
Since most keys are made of metal. And for sure, you'll have yours hanging around your home, so why not convert it to a bottle opener so the next time you drink, you'll surely have one bottle opener. Just cut in an angle on the head of your key, and you're done! You can even cut all your keys if you want to.
For all those shooting fans there, this last one's for you. Bullet casings are often seen lying on shooting ranges. Aside from converting them to keychains, you can also make a bottle opener out of those.
To make this, you just need to cut a wedge on the side of the bullet casing, and that's it. You can also personalize this as much as you want. Plus, you can also gift this to someone who is also a fan of shooting.
Finishing Up
There are a lot of bottle openers with different functions available in the market, but with the right materials, you can definitely personalize your own. Making a DIY bottle opener does not only get you to save money from buying one, but it also makes the one you made your personal touch.
That's all you need to know. If you've chosen which of these projects you're interested in doing, then chop chop! Get that work started!