Cleveland, Ohio, is a great city for beer lovers. Many local breweries offer a variety of styles and flavors. Whether you want a midwestern hoppy IPA or a malty stout, you can find something to your taste. Explore the local scene with these 15 Best Breweries in Cleveland, OH.
Price: $
Address: 1261 Superior Ave, Cleveland, OH 44114, United States
Phone: 216-206-6176
View this post on Instagram
Sitting in the historical Bryant Building, Masthead Brewing Company has had its doors open since 2018. With a 300-seat bar, the brewery is perfect for big groups with friends and family. The dog-friendly patio lets your pet enjoy the friendly and relaxing ambiance of the place.
The brewery offers its award-winning flagship beer—the Masthead IPA. In addition to the Masthead IPA, the brewery also offers a variety of other beers, such as the Masthead Stout, the Masthead Wheat, and the Masthead Pilsner. The brewery also offers seasonal and limited-released beers.
Price: $$
Address: 7524 Father Frascati, Cleveland, OH 44102, United States
Phone: 216-465-9999
View this post on Instagram
If a wide variety of beers is what you are looking for, then the Terrestrial Brewing Company is perfect. Besides their mainstay brews, such as Canopy Crusher IPA and Public Pilsner, the brewery brings out different types of beers in rotation. With their taprooms having seasonal and sometimes weekly changes, you can ensure a diverse blend every time.
Since 2016, the brewery has opened its door to showcase the local flavors of Cleveland through its blends. The taproom is open for growlers and to-go beers. Their pet-friendly patio makes it a perfect spot for the whole family.
Price: $$
Address: 2717 Lorain Avenue Cleveland, OH 44113, United States
Phone: (216) 631-6585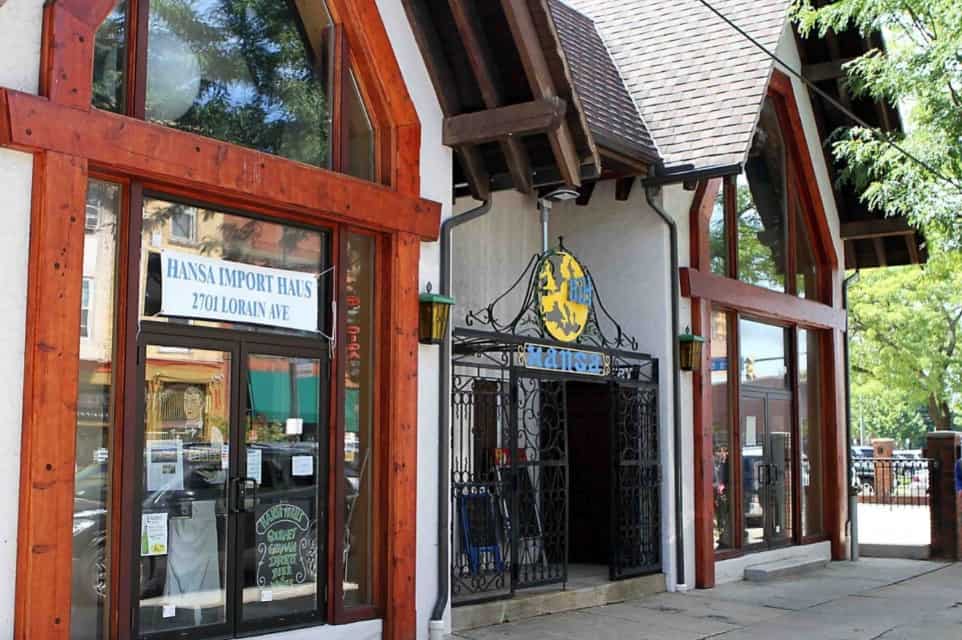 With good beer and food, Hansa Brewery is a blend between a restaurant and a brewery. The brewery is famous for its European blends—specifically German. With fun names such as Bye Felicia, Mr. Meeseks, and Femdom, every drink can spark your interest.
Besides its beer, the joint is known for its delicious European-inspired dishes. Enjoy their unique beer and delicious food inside their very cozy resto. With warm lighting and a friendly ambiance, it's an excellent brewery for more intimate beer drinking.
Price: $$
Address: 4125 Lorain Ave, Cleveland, OH 44113, United States
Phone: +1 216-202-1386
View this post on Instagram
Coming from the mind of Paul Benner and Justin Carson, Platform Beer Co produces a good variety of different blends of beer. Available in their taproom, this brewery is excellent if you want something new to taste. There are also snacks and dishes you can chew on while you drink their beers.
Although they only make a few quantities of every IPA, stout, lager, and sour, they often feature seasonal blends. Through this, the seasonal changes and local flavors from the area continue to change, leading to an exciting visit every time.
Price: $$
Address: 1526 W 25th St, Cleveland, OH 44113, United States
Phone: +1 216-862-4048
View this post on Instagram
Bookhouse Brewing takes its name from the historic Bookhouse building, which it has been serving since 2014. The brewery sits a few blocks from the famous West Side Market. With a very relaxing atmosphere, warm lighting, and a rustic interior, the brewery is aesthetically pleasing.
Artisan and historical, Bookhouse Brewing offers small-batch brewing production. The unique flavors of their different blends can provide a good selection. It's a perfect spot for some alone drinking, patio, or group night out.
Price: $
Address: 1361 E 55th St, Cleveland, OH 44103, United States
Phone: +216-465-1352
View this post on Instagram
Goldhorn Brewery is excellent if you want your beer with delicious bites. With their German-style beers, you can taste Europe in the comfort of Cleveland. The brewery offers year-round and seasonal beers with a rotating selection of limited-release beers.
The Goldhorn Brewery offers an excellent menu of European pub foods, such as pierogies and soft pretzels. It's a perfect spot for group drinking due to its long tables and many sharable food servings.
Price: $
Address: 17448 Lorain Ave, Cleveland, OH 44111, United States
Phone: +1 216-417-8082
Working Class Brewery came from the mind of Richard Skains. A humble man from a professional background in working many breweries, the brewery has a mission to offer excellent quality beer to the working class. The brewery presents five mainstays and rotations of other seasonal blends.
Humble and cozy, the brewery is an excellent place for fun and relaxation. You can enjoy a nice downtime with open mic nights and other events. It's also child and pet-friendly, so every part of the family is welcome.
Price: $$
Address: 2516 Market Ave, Cleveland, OH 44113, USA
Phone: 216-771-4404
View this post on Instagram
Great Lakes Brewing Company is a fixture of the beer industry in the Midwest. With thirty years in the game, the owners, Patrick and Daniel Conway know what it means to stick. Great Lakes Brewing Company was known for its flagship beer, Dortmunder Gold.
Try out their wide selection of signature blends, such as their 30th Anniversary IPA and Aloha Ale. Whether you like it in the tap, bottle, or can, Great Lakes has a beer to choose from. Classified as a B corporation, you can ensure that they are both sustainable and of excellent quality.
Price: $$
Address: 2043 East Fourth Street, Cleveland, OH 44115
Phone: 216-331-0805
View this post on Instagram
A brewery and pub simultaneously, Butcher and the Brewer is here to serve great beer and excellent food. From the mind of a chef and brewer, founders Jonathon Sawyer and Eric Boggs know how to produce top-quality experiences. With their delicious signature blends, you can enjoy many brewery favs such as beer, ciders, and seltzer.
The lunch menu features sandwiches and salads, while the dinner menu features entrees such as chicken, steak, and fish. The casual atmosphere makes the restaurant perfect for friends and family nights out. It's also pet-friendly, so every member is accounted for.
Price: $
Address: 777 E 185th St, Cleveland, OH 44119, United States
Phone: +1 216-534-6992
Inspired by Hefeweizen, The Cleveland Brewery is the place to be if you love European blends. Ever since its opening in 2014, the business has boasted a good number of different beer varieties. A lot smaller than its contemporaries, this brewery is a certified hidden gem.
Along with delicious beer, their tasting room is also home to many good foods you can enjoy. The brewery is also a popular spot for live music and events. If you are visiting 185th Street, check out The Cleveland Brewery!
Price: $$
Address: 1947 W 25th St, Cleveland, OH 44113
Phone: +1 216-621-4000
View this post on Instagram
Market Garden Brewery has something for everyone, whether you're a beer lover or not. The brewery offers various beers, ranging from IPAs to stouts. It even has a selection of non-alcoholic beverages for those looking to take it easy.
The food menu at Market Garden Brewery is just as diverse as the beer selection, with options like pretzels, burgers, and salads. No matter what you're in the mood for, you're sure to find a beer to enjoy at Market Garden Brewery.
Price: $$
Address: 2050 Lee Rd, Cleveland, OH 44118, United States
Phone: +1 216-214-2120
View this post on Instagram
If you want an excellent selection of sours, meads, and ciders, then Bottlehouse is a great brewery for you. The brewery features a choice rotation of local and foreign ingredients. Featuring Norwegian yeast, there is a nice mix of standard and unique flavors within every blend.
The tap room features many beer selections, although they offer limited snacks. You can even get lagers and bottles on the go.
Price: $$
Address: 2885 Detroit Ave, Cleveland, OH 44113
Phone: +1 216-666-2568
View this post on Instagram
Saucy Brew Works is a Cleveland-based brewery specializing in unique and flavorful beers. Since its opening in 2017, the brewery has quickly become a local favorite, winning multiple awards for its inventive brews. From their flagship beer, the Cleveland Brown Ale, to their seasonal offerings, Saucy Brew Works has something for everyone.
Their taproom is located in the historic Ohio City neighborhood and is a great place to enjoy a cold pint or two. The pub is spacious and airy, with plenty of seating and a large bar. The staff is friendly and knowledgeable and is always happy to help find the perfect beer for your taste.
Price: $$
Address: 818 Huron Rd E, Cleveland, OH 44115
Phone: +1 216-331-5600
Whistle and Keg features a wide selection of local craft beers. The bar also has a pub food menu, such as burgers and wings. The atmosphere at the whistle and keg is lively and often rowdy.
Sitting near the Quickens Loan Arena, the bar is a popular destination for Cleveland sports fans, especially during football season. With great food and excellent beer, you will enjoy the modern twist to the traditional taprooms.
In Summary
Whether you're a beer lover or looking to try something new, Cleveland's breweries sure have something for you. So next time you're in the city, check out some of these great local breweries.