North Carolina made it to the list of the largest craft beer breweries in the American South. In Charlotte alone, one can find more than 30 spots. These breweries range from family pubs to chill hangout spots for millennials. Indeed, as the saying goes, a cold glass of beer cuts across all ages!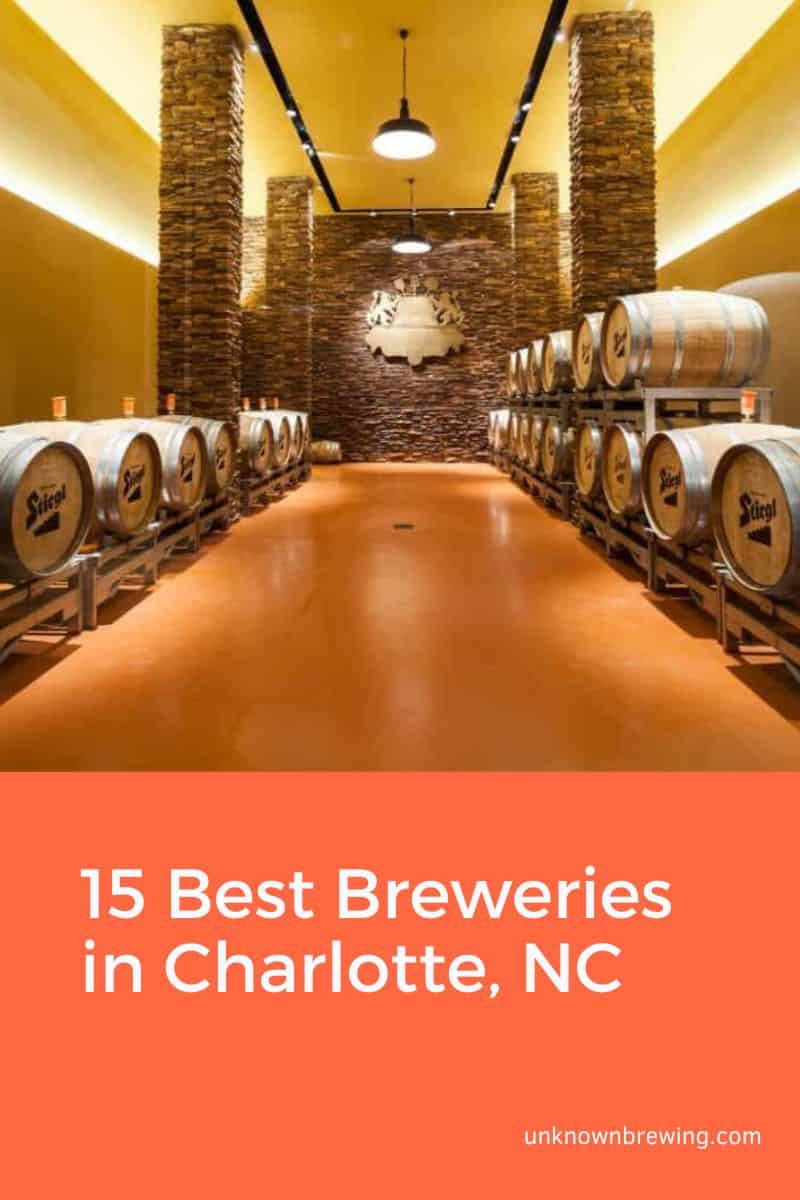 So, whether you like a momentary break or have a taste of crème de la crème craft beers, you're lucky to arrive at this blog! Because you don't need to look left and right anymore. Find your next sipping spot in these 15 Best Breweries in Charlotte, NC.
1. Divine Barrel Brewing
3701 N Davidson St, Suite #203 | 980-237-1803 | $$
View this post on Instagram
Delight your taste buds in this award-winning brewery nestled in the vibrant neighborhood of NoDa, Charlotte, NC. The crowd hailed this place for its rich flavor combinations and modern brewing style techniques. Find them at their lovely taproom and check out their beers!
On top of everything, Divine Barrel Brewing has food options too! So, if you're looking for a delightful meal that can go along with your favorite brews, this place is the ultimate destination!
Best to try: Ice Cream Paint Job (Raspberries, Sweet Cherries and Blueberries), Cadillac Rainbows, Imaginary Rulebook
2. Birdsong Brewing Co
1016 N Davidson St | 704-332-1810 | $$
View this post on Instagram

Founded by great people who deeply love beer, Birdsong Brewing Co is a must-find brewery in Charlotte, NC. If you need a hangout place to sit back, chill, and relax, stop by, order the home's favorite beer, and hang out in their taproom and patio.
One of our favorites, which I highly suggest you try, is their Rewind Lager. It's a contemporary American Pilsner that features a crisp and refreshing flavor. Want to level up the game? Go for their year-round beers, such as Lazy Bird Brown Ale, or their hot and spicy beer, Jalapeno Pale Ale.
Best to try: Jalapeño Pale Ale, Higher Ground IPA, Lazy Bird Brown Ale, Mexicali Stout
3. NoDa Brewing Company
2921 N Tryon St | 704-900-6851 | $$
View this post on Instagram
Since 2011, NoDa Brewing Company has offered fantastic cold beers for the Carolinas. Once you visit this brewery, I bet you'll love its cozy, laid-back bar room, perfect for hanging out with friends.
Don't think twice; grab a beer at their OG or North End Tap Room. But if you want to stay at your flat, shop NoDa beers near local bars, restaurants, and grocery stores. Check their page from time to time to keep in the loop for their weekly featured events and new beer releases!
Best to try: Hop Drop 'N Roll, Jam Session, Coco Loco, Hop Cakes, Gordgeous
4. Wooden Robot Brewery
1440 S Tryon St #110 | 980-819-7875 | $
View this post on Instagram
One of the most famous breweries you can find in Charlotte, NC, Wooden Robot Brewery welcomes you into their South End and Noda Branches. Both spots showcase a taproom and patio, so everyone has a double chance to indulge in the brewery's funky options and experimental beers.
For a head start, try the Good Morning Vietnam, the crowd's favorite coffee vanilla blond ale. But if you're ready for something extraordinary, go for their Farmer's Daughter Witbier, a refreshing beverage brewed using cucumbers.
Best to try: Good Morning Vietnam, What He's Having IPA, Overachiever
5. Free Range Brewing
2320 N Davidson St | 980-201-9096 | $$
View this post on Instagram
Bring back good memories by going to this family-owned and operated brewery in North Carolina, Free Range Brewing. This place is famous for using locally sourced ingredients in crafting tasty beers. Let your taste buds roam and try their unique beers.
Our personal favorite would be Carolina Fruited Saison with Strawberries, My Heart and Soul. Or if you're up for something sweet and fruity, try their Susie, Was a Real Peach which is Carolina Grisette loaded with peaches.
Best to try: Cream Of The Crop, Therapy Session, Sea Of Companions, All You Knead Is Love
6. Devil's Logic Brewing
1426 E 4th St | 704-666-1001 | $
View this post on Instagram
Drink clean, crushable Beer at Devil's Logic Brewing. If you're the person who genuinely appreciates the fruity taste in a cold glass of beer, try Heretic Anthem with notes of passion fruit, gooseberry, and lime.
Since classics would never go out of style, try Barbarian Blonde, a classic American beer with a light citrusy aroma and mild malt sweetness.
Of course, beers are best enjoyed when you have them with your favorite snacks. Mix and match with Caprese Pizza loaded with fresh mozzarella, basil, and tomatoes. Or go for something simple but hearty such as Cuban, a bread filled with ham, Swiss, roasted pork, and pickles!
Best to try: Bang A Uey, Get the Gose On the Berries_BBR, Hazed Not Fazed
7. Lenny Boy Brewing Company
3000 South Tryon St | 980-585-1728 | $$
View this post on Instagram
Lenny Boy Brewing Company is a cozy brewery and taproom that offers its guests craft beers and kombucha in a spacious, rustic setting. Feel at home and connect by visiting their exclusive art shows, fitness events, festivals, and documentaries.
One of the best things we enjoy in this brewery is the endless options of alcoholic and non-alcoholic beverages.
Everyone can have a great time because there's a wide selection of drinks, from traditional lagers and ales to organic and gluten-free kombucha. Head now to their taproom and check out their unique food menu!
Best to try: Citraphilia, Booty Call, Tropicalus, Burn Down Brown, Ground Up Coffee Stout
8. Triple C Brewing Company
2900 Griffith St | 704-372-3212 | $$
View this post on Instagram
Here's a dog-friendly brewery featuring different beers in a comfortable spot, with a patio set and games. Explore the unique lines of beers, whether a classic barrel-aged stout or a carefree drink, blonde Ale. In addition, guests find their taproom a one-stop source for bottles, growlers, kegs, and pints.
Across this brewery's taproom, you can spot The Barrel Room, a private event space perfect for concerts, intimate celebrations, weddings, and corporate events.
Finally, find your favorite beer's perfect match at Izzy's Triple C. You can have something to munch on, like pizza and seasoned wings, over a cold beer!
Best to try: Baby Maker, 3C IPA, Golden Boy Blonde, White Blaze, Up All Night Breakfast Porter
9. Sugar Creek Brewing
215 Southside Dr | 704-521-3333 | $$
View this post on Instagram
Sugar Creek Brewing Company presents a rustic-style place with a taproom offering imported and craft beers along with simple appetizer snacks. Featured in a documentary, Beers of Joy, this brewery welcomes you on a journey in the entertaining world of beers.
Check out their list and try their Belgian-inspired beer. If you're in the mood for a grand celebration, visit their venue perfect for all occasions.
So, swing by this place while scouting for a beer to refresh your mind and body. You'll indeed find all their drinks intensely drinkable and immensely satisfying!
Best to try: Sugar Creek Pale Ale, Sugar Creek White Ale, The Big O
10. Heist Brewery
2909 N Davidson St #200 | 704-375-8260 | $
View this post on Instagram
The Heist is one of the original breweries that jumpstarted the craft beer scene in Charlotte, NC. It has twin branches, Camp North End and Noda. This spot is a popular "brunch and beer" place for cocktails, experimental brews, and dark beers.
I recommend trying their extremely hype Citraquench'l, a New England IPA. Producers craft this beer with Citra hops, bursting with a tropical flavor with a smooth and dry finish. You'll never go wrong by pairing your favorite craft beers with classic American-style snacks like burgers, wings, chicken wraps, and nuggets!
Best to try: Citraquench'l, Blurred Is the Word, Not From Concentrate, MO-J
11. Town Brewing Company
800 Grandin Rd | 980-237-8628 | $
View this post on Instagram
What makes Town Brewing Company special is its featured unique spaces, delicious beer, and creative menu. This place is delighted to open its door for your private events, from business meetings to special occasions.
It offers intimate spots and a large taproom, ideal for custom events. And if you feel like having a momentary snack break, level up the game! Pair up your favorite cold beers with small plates of Root Vegetable Salad, Classic Flatbread, or Cheesy Mac.
Best to try: Broken Tarted, My Apologies, You're Welcome, Escape Plan, Monkey Knife Fight
12. Armored Cow Brewing Co.
8821 JW Clay Blvd #1 | 704-277-6641 | $$
View this post on Instagram
Do you want a welcoming, family-friendly place to enjoy the best craft beers while having the best time of your life?
Visit Armored Cow Brewing Co, where you can enjoy beers, wines, and other non-alcoholic beverages. But if you're going for something healthy, don't worry and try their gluten-free beer brewed using 100% gluten-free grains.
Moving on to their beer selections, never skip the traditional ones. Sun Spun Lager is a popular, light, citrusy beer perfect for drinking on a hot Carolina day. Something dark and intense choice would be Bitchin Betty exuding a taste of chocolate and honey malts.
Best to try: Bang-Bang IPA, Bitchin Betty, Hell Yeah!, Fun51weizen
13. Brewers at 4001 Yancey
4001-A Yancey Rd | 704-452-4001 | $$
View this post on Instagram
No one can complete the list of best breweries in Charlotte, NC, without mentioning Brewers at 4001 Yancey. This place collaborates with different breweries, such as Southern Tier Brewing Company and Victory Brewing Company. Its taproom is known for Belgian and French-style ales.
On top of everything, this brewery's food is splendid and flavorsome. No wonder it's a natural place for locals to satisfy their cravings over a cold glass of beer while relaxing on the beautiful outdoor patio.
Best to try: Hazy Daze, CLT Brew'd Light Breeze,
14. Suffolk Punch Brewing
2911 Griffith St | 704-319-8650 | $$
View this post on Instagram
Suffolk Punch Brewing is a spot showcasing a wide array of styles of beers. The options are endless, whether you're searching for the classics, strong seasonal beers, the latest trends, or barrel-aged, limited releases! You can play cornhole and checkers with your buddies once you visit this brewery.
One of the things we love about this place is its Culinary Café, where everyone gets to enjoy its ever-evolving menu featuring unique meals. If you're a beer lover, explore their taphouse, which showcases a rotating selection of carefully curated and specialty-crafted beers.
Best to try: Hyde In the Haze, A Patchwork Orange, Blue Daisy, Pulp Prescription
15. Resident Culture Brewing Company
2101 Central Ave | 704-333-1862 | $
View this post on Instagram
Finally, enjoy exceptional beers on a Friday night at Resident Culture Brewing Company. This liberated spot release a chill, upbeat, and easy-going vibe. Featuring a wide variety of beers, this brewery offers its guests IPAs, pale ales, sours, and stouts.
Here's our pro tip if it's your first time at the place. Try their Lightning Drops, Stadium Nachos, and La Petite Bête. But if you like a laid-back evening, they also have bottled beers and cans to-go, which you can savor at your place.
Best to try: Lightning Drops, Whatever You Feel Just Dance It, Universal Mind
Where Beer Comes Pretty Close
Indeed, the Queen City has now exploded, with many breweries everywhere. From left to right, there are a lot of drinking and chill-out spots all over the place.
Whether you like to cool down and drink beers or you're about to host grand celebrations, there are enough options for everybody. So, light beer with a kick in these 15 Best Breweries in Charlotte, NC!