In today's competitive beer market, simply having excellent quality and an outstanding flavor isn't enough. Walk into any liquor store, and you'll see rows of colorful craft beers on every shelf. What do you do to gain a competitive advantage? How do you stand out?
An exciting beer label could tip the scale in your favor. Powerful imagery can convince new consumers to try out your beer. This article provides a step-by-step guide to making your own beer label. Plus a few hacks to help you make a competitive and TTB-compliant beer label.
But first, what elements should a beer label have?
What Should Be On a Beer Label
A good beer label should capture the quality and character of your brew. It should also meet the mandatory label requirements of the Alcohol and Tobacco Tax and Trade Bureau (TTB). Compliance with these conditions is critical for TTB label approval, a certification you must attain to sell your beer.
Your beer label must have eight key elements to attain TTB approval. These elements include:
1. The Beer's Brand Name
The brand name is the most prominent information on the beer label. It helps consumers and regulators identify your beer. While the brand name is often used as a marketing tool, it shouldn't be misleading.
The TTB demands that the brand name reflect your beer's identity, age, origin, or other identifiable characteristics.
2. Statement of Alcohol Content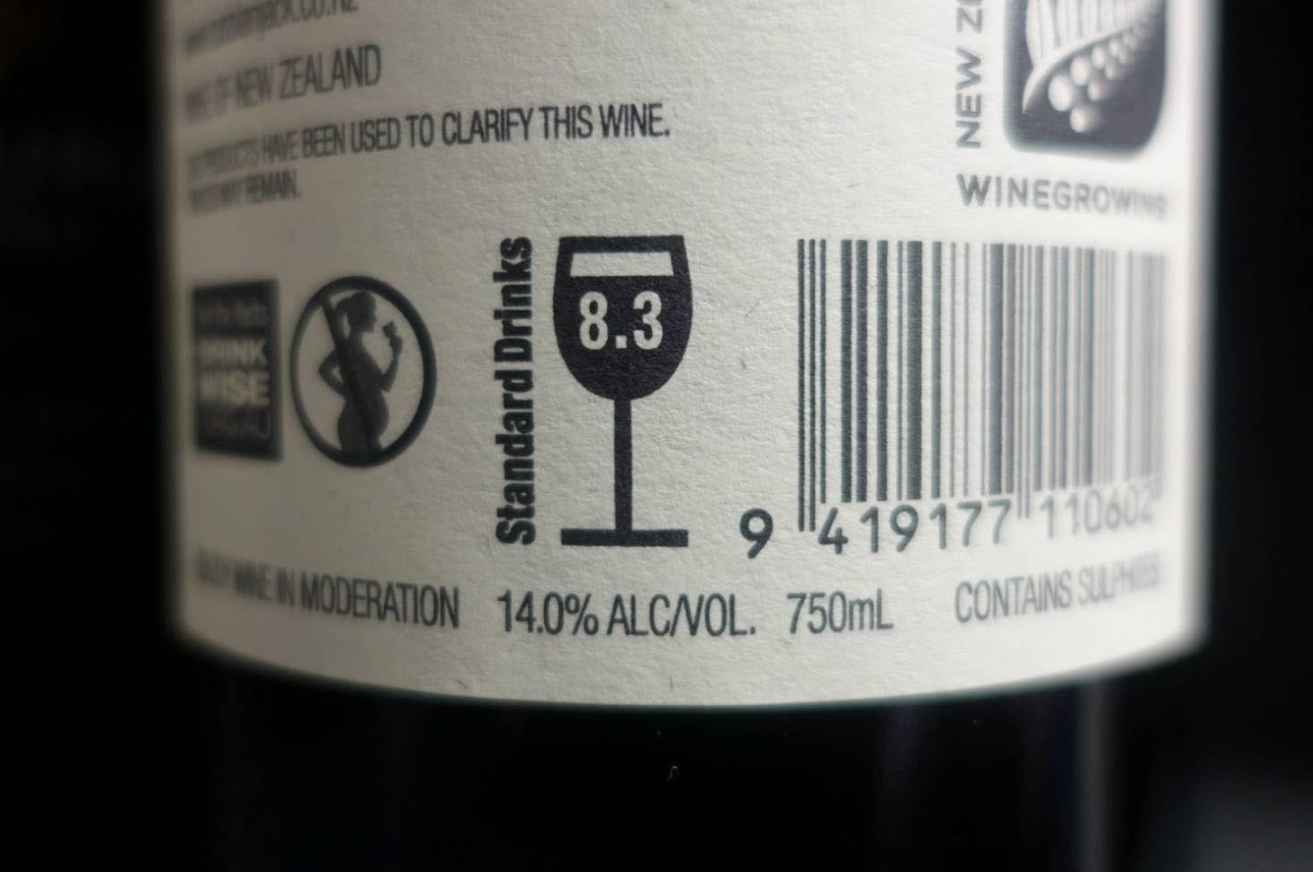 Including the statement of alcohol content is optional unless required by your state or federal law. If it is required, the alcohol content should be expressed as a percentage by volume. This figure is listed to the nearest 0.1%.
For example, if your beer is 5.64% ABV in strength, it is expressed as 5.6%
Statements of alcohol content can be expressed in any of the following formats:
ALCOHOL (ALC) BY VOLUME (VOL) 5.6%
ALCOHOL (ALC) 5.6% BY VOLUME
5.6% ALCOHOL (ALC) BY VOLUME (VOL)
5.6% ALCOHOL (ALC) / VOLUME (VOL)
Whichever format you choose, the statement should be in prominent coloring with a uniform font style and size.
3. Disclosures of Special Ingredients
The TTB demand that you disclose certain ingredients should they appear in your beer. These ingredients include:
Ingredient (Condition)
Statement of Disclosure
Aspartame (printed in all caps)
"PHENYLKETONURICS: CONTAINS PHENYLALANINE"
FD&C Yellow No. 5
"Contains FD&C Yellow #5"
Saccharin
"Use of this product may be hazardous to your health. This product contains saccharin which has been determined to cause cancer in laboratory animals."
Sulfite (if it contains 10 ppm or more)
"Contains sulfites"

"Contains(a) sulfiting agent(s)"
Each ingredient will need a separate statement to warn the consumer.534
4. The Name and Address of the Beer Producer or Packer
Your beer label must include the name and address of your bottler, producer, or packer to attain TTB approval. The stakes are even higher when you import a beer. You will have to include the details of the entity that imports your beer.
5. Beer Style and Type
The consumer needs to know what type of beverage they are drinking. And a beer label should provide this information. You should assign a designation that identifies the class or style of your beer.
Acceptable designations include:
"Malt Liquor"
"Imperial Stout
"Lager"
"Festbier"
6. The Bottle's Net Contents
The TTB demands that you list the net contents of your beer bottle. Net content should be expressed in American measurements. You can also choose to display them in metric units.
Check out the guidelines used by the TTB.
7. Health Warning Statement
The TTB defines liquor as any beverage that contains at least 0.5% ABV. And all alcoholic beverages sold in the United States must display a health warning statement. A proper health warning statement should have the following properties:
Starts with the phrase, "GOVERNMENT WARNING." Typed in all caps and in bold
Explains the risk of alcohol consumption to pregnant women
Explains the risks of drinking and driving
8. Country of Origin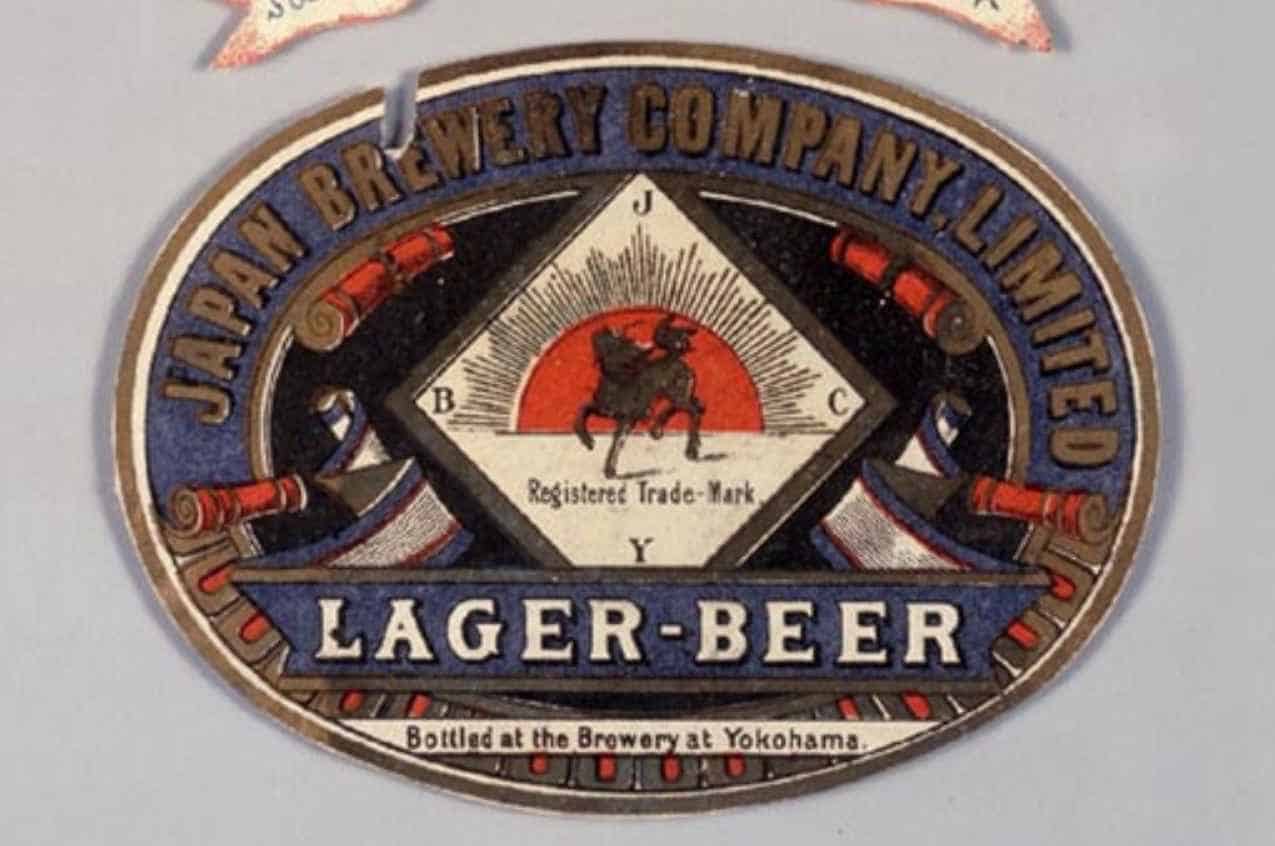 This requirement only applies to imported beers. Any beer produced outside the US must indicate its country of origin. Formats accepted by the TTB include:
"PRODUCT/PRODUCE OF [country]"
"PRODUCED/BREWED IN [country]"
"PRODUCED/BREWED AND BOTTLED/PACKED IN [country]"
"PRODUCED/BREWED AND BOTTLED/PACKED BY [country]"
"PRODUCED/BREWED BY[country]"
"[country] [beer style]" e.g., ENGLISH ALE
This requirement does not have font restrictions.
Video Source:
Materials Needed to Make a Beer Label
To make a beer label, you'll need certain materials, including:
A computer
An internet connection
A design software
A printer
Some sticker paper
A pair of scissors
Steps to Making Your Own Beer Label
A beer label is a crucial branding tool. You can make a label that accurately represents your brand by following the steps below.
Step 1: Come Up With a Name for Your Beer
A great name goes with a fantastic drink. When you pick up a bottle, the name is the first thing you notice. The ideal name will encourage consumers to purchase your beer. You need a creative yet memorable beer name.
Craft brewers come on top when it comes to naming their beers. Studying the names of their brands to get ideas of your own.
Step 2: Decide on the Size of the Beer Label
Beer labels vary greatly in shape and size. Some beers feature horizontal bands, while others have oval-shaped labels. With a piece of paper, you can cut out a sample label and see how it fits on your beer bottle. Adjust the layout until you find the ideal size and form.
Step 3: Create a Label Design
When creating a beer label design, you have three options:
Make a beer label from scratch with design tools
Use online beer label templates
Hire a freelancer to design for you
Making a Beer Label From Scratch
There are tons of design software that you can use to make a beer label. These options range from free to subscription-based programs. The simplest and cheapest tools are already installed on your computer. These programs include Microsoft Paint and Paint 3D.
Even though they are cheap, free imaging tools don't have the features paid programs offer. Some of the best design tools in this category include Adobe Illustrator and CorelDraw. These are tools that professional designers use.
Use Online Beer Label Templates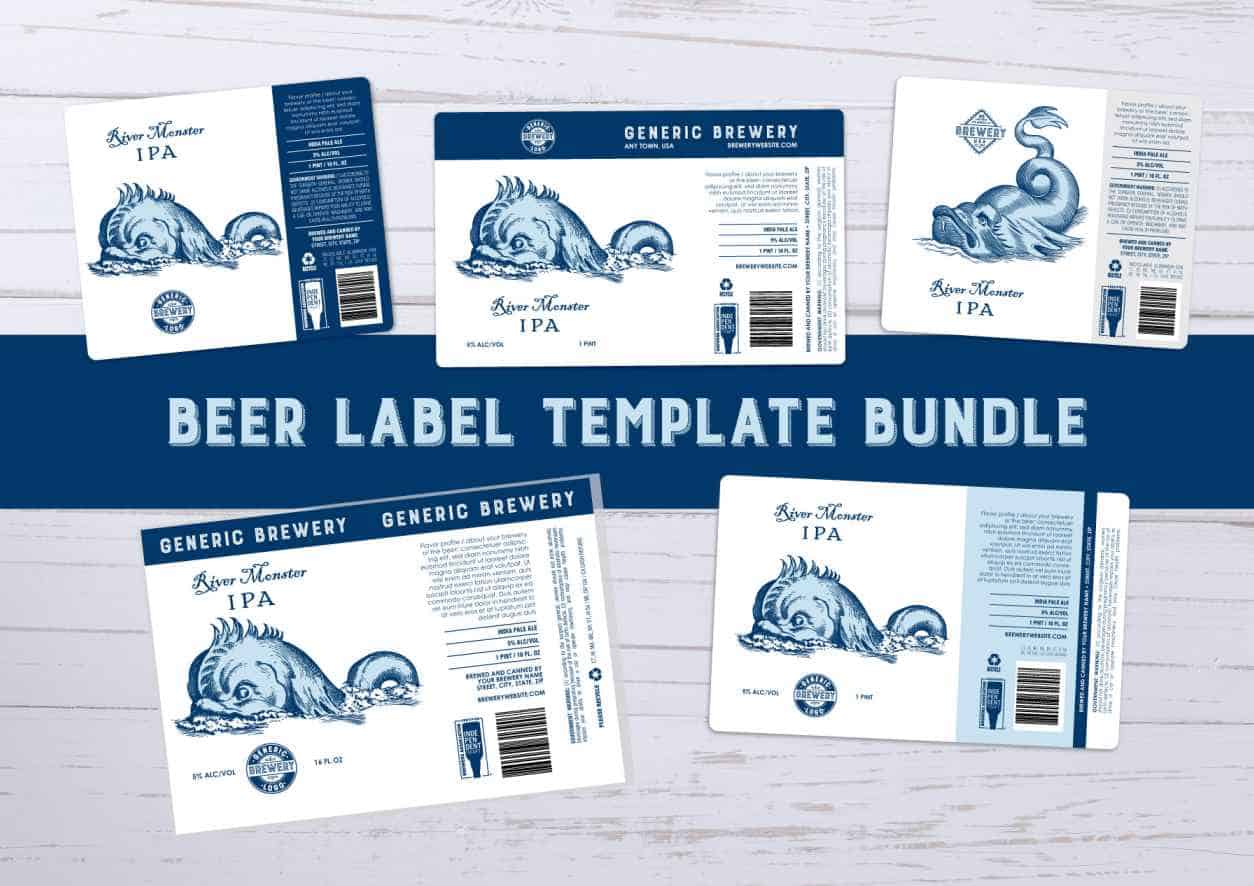 Maybe you want to make a professional-looking beer label but can't afford $400 for Adobe Illustrator. You can opt for online beer label templates. Websites like Canva and Beer Labelizer offer users tons of free label templates.
Less than 10 minutes, you can have a decent beer label. And all for the prize of $0. With the dawn of artificial intelligence, you can leverage the power of AI to make compelling beer labels.
While beer label templates are cheap and convenient, they are not unique. Your competitors can hop on the same website and create a similar design.
Sometimes the best approach is to hire a professional. And thanks to the gig economy, you can hire a professional designer with the click of a button. You can find professional designers at affordable rates on platforms like Upwork and Fiverr.
Step 4: Print Your Beer Label Onto Sticker Paper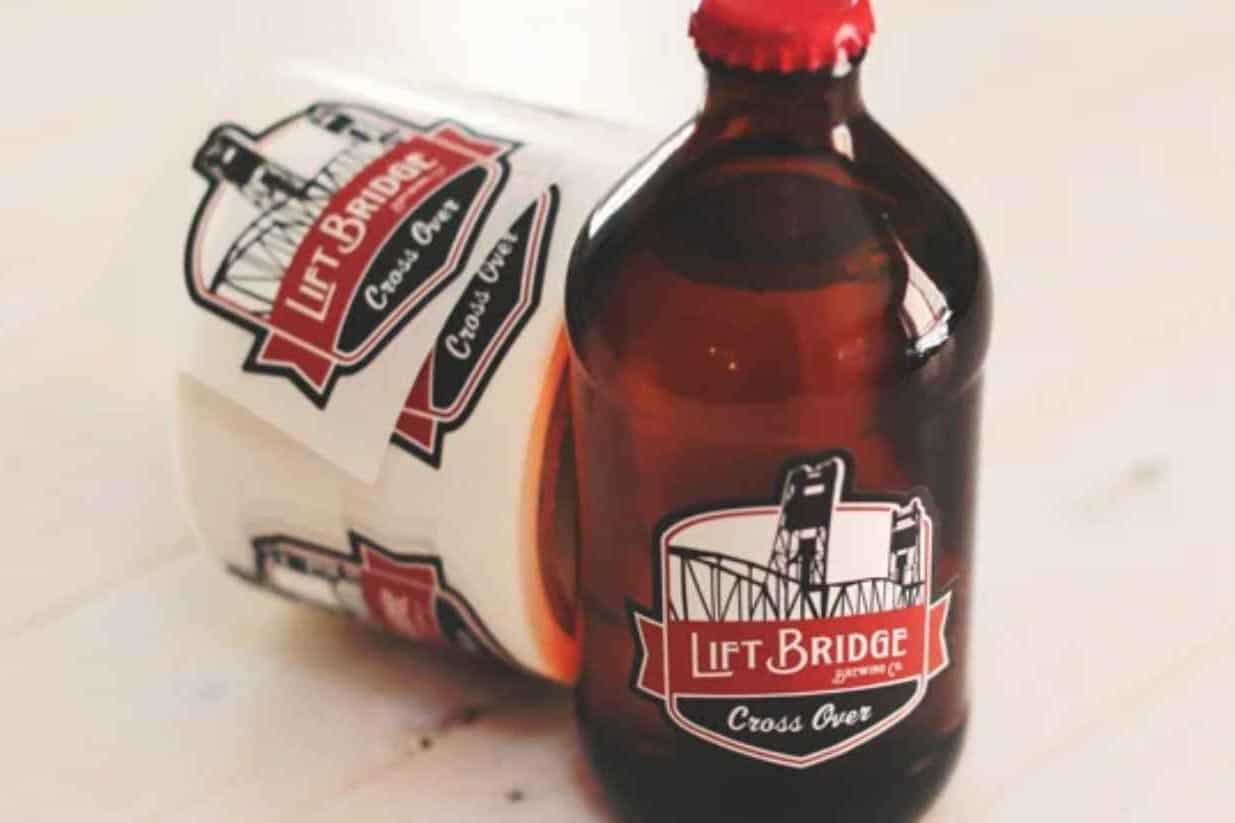 Once your design is ready, you can print it on sticker paper. Sticker papers are made from different materials. Common examples include:
Polypropylene
Glossy Paper
Recycled Vellum
Polypropylene or pp stickers are made from plastic. They are very thin yet durable. A popular beer that uses polypropylene stickers for labeling is Heinekein. Glossy paper in a premium labeling material. It has a mirror-like shine. You'll find these labels on craft beers.
Recycled vellum stickers make excellent beer labels. At 3.2mill, they are the thickest. These stickers are appropriate for both beer bottles and cans. Choose the appropriate sticker material for you. Load your printer with sticker paper and print out your design.
Step 5: Cut Out Your Design from the Sticker Paper
With a pair of scissors, cut out your design from the sticker paper. Start by sniping a rough shape around the label before trimming your way into the design.
Step 6: Affix Your Beer Label to Your Bottle
First, you want to clean and dry the surface of your beer bottle. Dirt and grease can compromise the label's adhesive. Remove the sticker backing from your beer label. Carefully position the beer label before sticking it to the surface of your beer bottle.
Congratulations, you have a beer to submit to the TTB for approval.
Video Source:
How to Make a Beer Label: Tips and Tricks
Below are hacks that will help you create a bespoke and attention-grabbing beer label:
Choose the Appropriate Theme: The theme of your beer label plays a critical role; it can draw or repel potential customers. Select a theme that perfectly represents your brand and brew. If you have a problem choosing a theme, consult a professional designer.
Use Readable Fonts: Your font style can help you communicate the right message and build a strong brand. You may be tempted to use crazy-looking fonts. But all your branding efforts will be in vain if the consumer can't read what's on the label.
Know Your Audience: When targeting a younger audience, it's okay to go crazy with quirky designs. But this strategy doesn't work with older consumers. A minimalist design works best for a mature and classier crowd.
Conclusion
A beer label is a crucial branding tool. A good beer label should communicate the right message while visually seducing the customer. You never get a second try at a first impression.
With the tips and tricks in this article, you can make a visually striking beer label that is TTB compliant. Take your homebrewing to the next level; create a beer label for your craft beer.